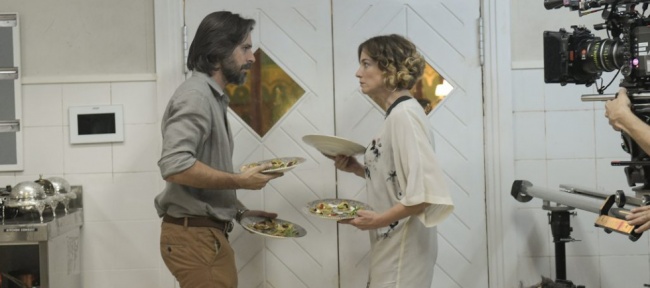 Two weeks after the premiere of its last two episodes, Movistar + has confirmed the renewal for a second season of 'Nasdrovia', a series whose now first season left us wanting much more.
Leonor Watling and Hugo Silva once again lead the cast of this comedy that, inspired by the book 'The man who hated Paulo Coelho', tells the story of two successful lawyers who, in the midst of the crisis of their 40s, decide to open a restaurant of Russian food. What they did not count was that, in this flight from the monotony, they ended up facing the Russian mafia and finding themselves again.
"We could not be more excited about the second season of 'Nasdrovia' because it means working again with Marc Vigil in directing (and now also writing); with Leonor Watling and Hugo Silva again in charge of an incredible cast; and, for Of course, with Movistar + and The Mediapro Studio, which give us all the freedom to make the series that we would like to see ", commented the creators of the series, Sergio Sarria, Luismi Prez and Miguel Esteban.
"The new season will allow us to delve into the secondary characters by making it more choral. We will discover more about the life of the Russian mobsters without leaving aside Edurne and Julin, who will face their new life as members of the organization in a very different ", conclude its creators and scriptwriters.
In the same sense, Susana Herreras, executive producer of 'Nasdrovia' at Movistar +, has valued that "from the first time Sergio Sarria told me about this story I thought it was absolutely different from everything we had received up to then. When we read the script, a long time later, we realized something even more important: Behind that brilliant concept there was truth and emotion. It had universal conflicts, with which we all identified, lived by intelligent and funny, unforgettable characters. "
"Thanks to Marc Vigil for tirelessly rowing to put on its feet with such brilliance the incredible universe co-written by Sergio, Luismi and Miguel, Javier Pons and The Mediapro Studio, the casting and each of the teams. Thanks to all of you for taking us comedy so seriously. We cannot be more proud of the result and, therefore, we cannot be more happy to confirm the second season of 'Nasdrovia' ", concludes Herreras.
Also Javier Pons, CEO of Globomedia (The Mediapro Studio), has stressed that "there is no better guarantee of success for a series than to announce its second season when the premiere of the first has just finished. 'Nasdrovia' is a different project, Created by Sergio Sarri, Luismi Prez and Miguel Esteban, screenwriters with a lot of experience in entertainment, but who had not approached fiction until now. Its debut has brought freshness to the series narrative and its own positioning between comedy and drama, that with the help of Marc Vigil and with the great cast of actors that we have, he has conquered the audience of Movistar + ".
Click here to see it on YouTube. This and other trilers you can find on our Dailymotion channel,
or in the section Movie trailers and videos of the web.