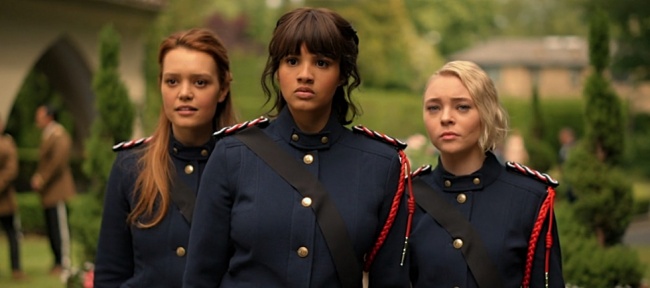 'Motherland: Fort Salem' it is a mixture as impossible as by dint of those very impossible, addictive and ultimately irresistible. There are many things that we can say about it that although they are not necessarily bad, they rarely offer such a positive balance. Or so relatively positive … because in the world of series, probably, everything is the result of a relative opportunism.
With series we don't usually have as many qualms when it comes to cutting our losses as with movies. Most obviously, its duration: You don't see ten hours of something that you don't consider worth your attention. If we get to the end, it is for something … although sometimes it may be difficult for us to acknowledge it in public: So much that we have been able to see it as if we have, it has been, because something has made us useful.
It is not difficult for me to admit that I have seen the first season of 'Motherland: Fort Salem' until the end, and if I have done it, it has been because it has made me useful. Neither in the first nor in a premeditated way, but in the second, with a little patience and a little predisposition, which after all I believe that no one and everyone at the same time is its target audience: seen nothing until we have seen something.
'Motherland: Fort Salem' It's a kind of youthful X-Men reverse … with witches instead of mutants, and with Mansin X turned into a military academy serving the army. As if Stanley Kubrick had directed 'The metallic jacket' with the same sensitivity with which Andrew Fleming directed 'Young men and witches'. All this under an appearance of lax, shabby seriousness but endearing at 'Battlestar Galactica'.
A strange and unstable hodgepodge that actually looks like the result of a multiple accident, as if two, three or more series had collided with each other and someone passing by had picked up and assembled the brightest pieces, not the best or brightest. consistent. As soon as he seems to want to go out to eat the world as soon as he seems to not even feel like getting out of bed.
As firecracker as unstable, 'Motherland: Fort Salem' it oscillates between the good and not so good, being able to make the ridiculous look distinguished and the distinguished appear ridiculous. Between those two waters where one, after ten hours, is still not clear to what extent the series can be considered as something good or something bad. But you've been there, in front of her, for those ten hours. Voluntarily.
And it is disconcerting but in a challenging way, at least, for those who have a callus to explode expectations chapter by chapter and a taste for doubt as a way of life. For those who like to be pulled out of the chair when they get settled. Or at least it seems like it, being commendable as despite the regrets she never hides and is always enthusiastic to be able to defend her pride.

By Juan Pairet

@Wanchopex