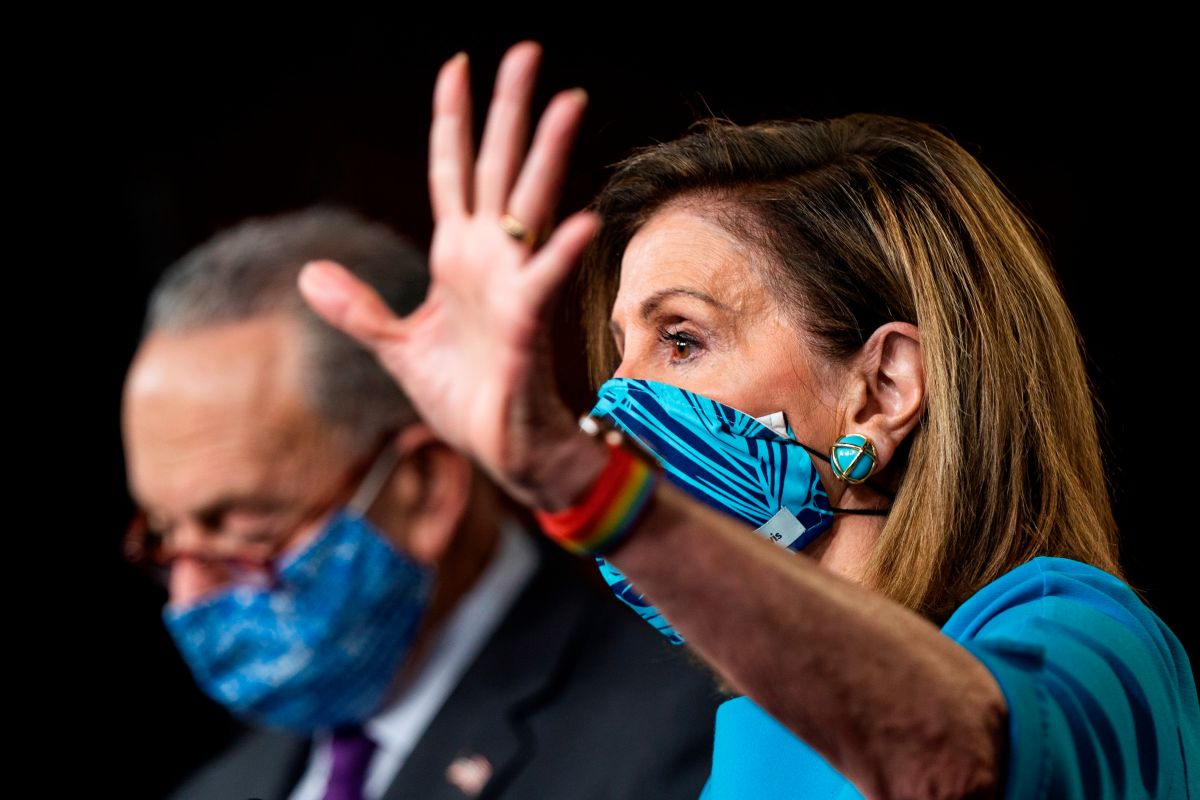 Pelosi and Schumer last week
Photo: Jim Lo Scalzo / .
Joe Biden, former US vice president (2009-2017) who will return to the White House in January now as president, mixed English and Spanish by paraphrasing the Hispanic hospitality phrase "My home is your home" yesterday, while he was 78 year old.
On purpose or by mistake, Biden told the Speaker of the House of Representatives, Nancy Pelosi, and the Senate Minority Leader (NY), Chuck schumer -the most powerful Democrats in Congress-, who they would have a lot of influence in your White House, stating: "In my Oval Office, my house, you house."
"In my Oval Office, mi casa, you casa," Biden said literally, wearing a mask. The phrase emerged yesterday at a meeting in Wilmington, Delaware, which included the vice president-elect, Sen. Kamala Harris, the New York Post reported. Was the first meeting between all of them after the elections of November 3, whose result President Donald Trump continues to question.
"I'm going to need you. I hope we spend a lot of time together, "added the president-elect. when reporters were allowed to briefly witness a portion of his meeting with Harris, Pelosi and Schumer. But Biden did not respond to questions from the press, Fox News said.
The report of the conversation was made by Jen Psaki, who served as director of communications in the Barack Obama White House and is assuming a leadership role in the transition of Biden and directing his eventual nominees to the cabinet through the confirmation of the Senate.
Psaki told reporters that Biden, Harris, Pelosi and Schumer are "in a closed agreement that there needs to be emergency assistance (…) To help families, to help small businesses. There is no more room for delay and we must move forward as quickly as possible. "
While Schumer and Trump, both New York natives who have known each other for decades, have spoken on the phone during the pandemic about the urgent coronavirus relief, Pelosi and the president have not spoken in more than a year.
Trump, Pelosi and Schumer last met during a heated meeting in the Oval Office on October 16, 2019, from which the congressional leader stormed when Trump criticized her leadership style.
Joe Biden tells Nancy Pelosi White House is "my house, you house" https://t.co/sbBg5XefWD

– Newsweek (@Newsweek) November 21, 2020
This afternoon, @KamalaHarris and I met with @SpeakerPelosi and @SenSchumer to discuss how we'll get this virus under control, deliver much-needed relief, and build back better than before.

We're getting right to work for the American people. pic.twitter.com/jbeNpsimdj

– Joe Biden (@JoeBiden) November 21, 2020