The Mercedes EQC is not expected to become a powerful electric SUV, and thus stand up to the S versions of its rivals with the four rings. However, it does not prevent it from looking more aggressive style by incorporating the AMG Line finish. An upgrade package for the EQC 400 4MATIC, a unique configuration for all of Europe.
The new debuts Mercedes EQC 400 4MATIC AMG Line. It is not a high-performance version of the star's zero-emission SUV, but only a package of equipment that greatly improves the aesthetics, bringing a more aggressive touch to the first model of the luxurious range of electric cars.
A very important novelty for those most interested in the Mercedes EQC, which differs from the base version by a few special and more sporty details. And it is obvious that the new front bumper with completely smooth sides, regardless of the closed air intakes of the starting model. Now, they are gills are much thinner and more discreet, embraced by a chrome profile extending through the bottom air intake from end to end, giving a different look to the Mercedes model, even more modern.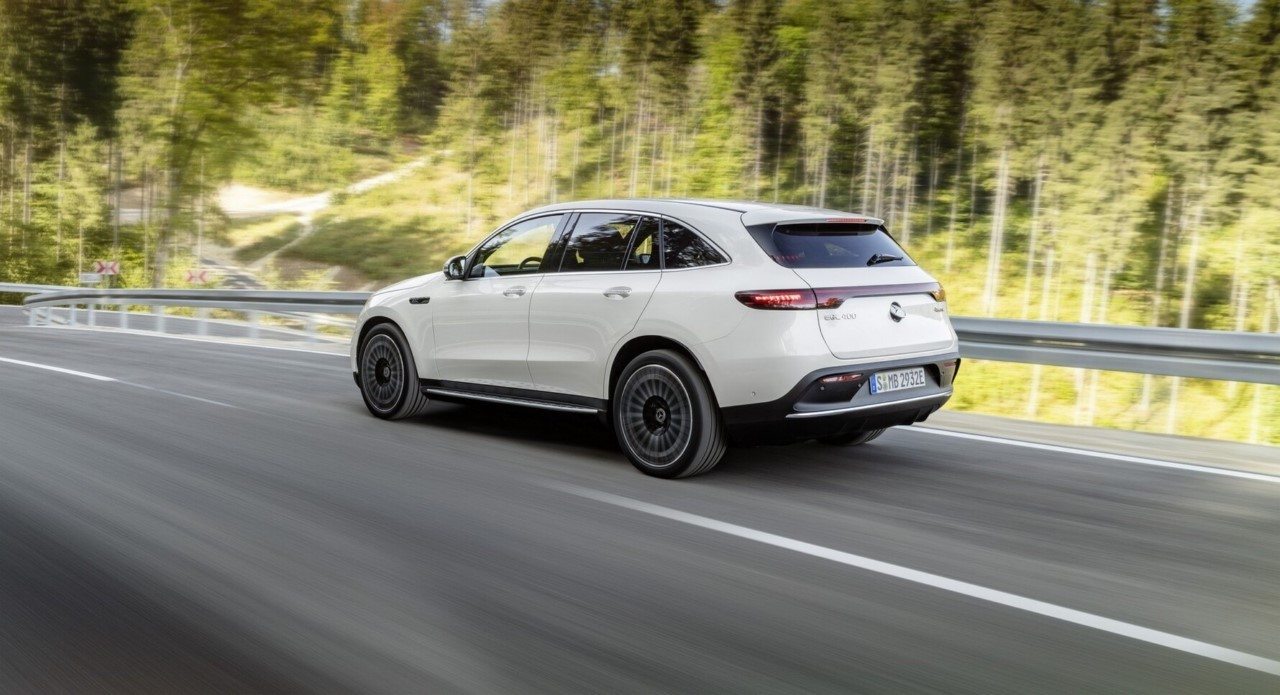 The new Mercedes EQC 400 4MATIC AMG Line adopts sporty details, such as the rear diffuser
The Mercedes EQC brings a plus of sportiness with the AMG Line trim
What's more, the closed panel of the upper grill has been opened wide, appearing in glossy black, with a large star in the center on two chrome filaments. The star brand also offers some 19-inch cast aluminum wheels in typical AMG 5-twin-spoke design, painted in bright gray. At the back, it features a new bumper insert, with a large diffuser that extends across the width, decorated in chrome. In addition, the mirror caps are presented in body color.
Inside, the "AMG Line" trim also brings new features. The Nappa leather-wrapped multifunction steering wheel with a flattened, sporty design is both the leather-trimmed sport-trim front seats, along with the door panels lined in black and the stitching colored in rose gold or gray scattered throughout the interior. The dashboard features carbon-look trim and stainless steel pedals with black rubber cleats. A special equipment that is complemented by a series of other elements, which make it a top of the range:
Luggage compartment lid «EASY-PACK» Quick tire repair kit «TIREFIT» Interior ambient lightingComfort seat package Mirror packageActive parking assist with «PARKTRONIC» Acoustic and thermal insulation glassReversing cameraAdvanced sound systemRemote and extended loading services « Mercedes me Charge Premium »
The Mercedes EQC 400 has two electric motors that deliver a maximum power of 300 kW, equivalent to 408 hpwith all-wheel drive and a maximum range of 462 kilometers, thanks to its 80 kWh lithium-ion battery. Since last January, it includes a 11 kW on-board charger for three-phase current as standard. With it, it takes 7.5 hours on a home charger to achieve a full charge, and only 40 minutes on a DC fast charger, with a maximum power of 110 kW.
The interior of the Mercedes EQC 400 4MATIC AMG Line improves its presence, with a more sporty air