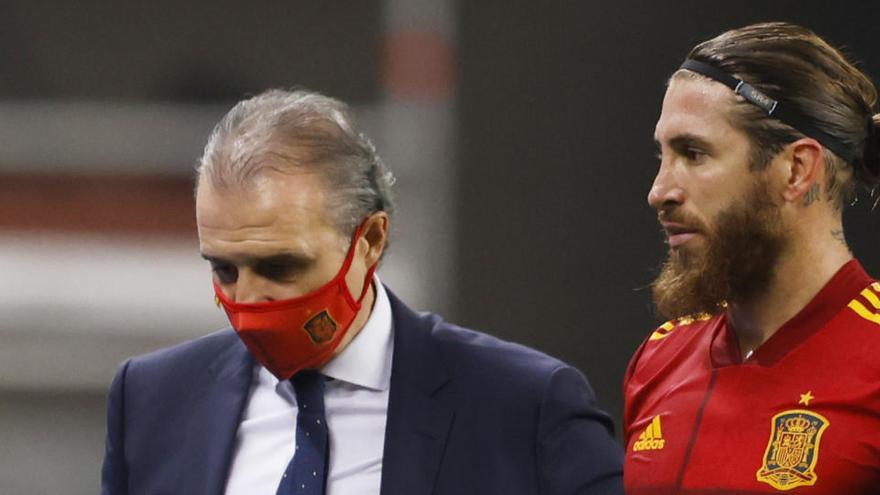 Real Madrid defender Sergio Ramos suffers a muscle injury in the biceps femoris in his right leg and will be off between ten and fifteen days, as determined by the tests to which he has been subjected this Thursday.
The white captain, who suffered a puncture on Wednesday, in the match with the Spanish team against Germany and had to be replaced, he will surely miss the duels against Villarreal and Alavés LaLiga Santander, and next Wednesday, in Milan, against Inter, in the Champions League.
The presence of Sergio Ramos for him next meeting of the European competition, against the Shakhtar on December 1, is doubtful.
"After the tests carried out on our player Sergio Ramos by Real Madrid's medical services, he was diagnosed with an injury in the biceps femoris of the right leg. Pending evolution ".
Varane, headdress
On the other hand, the French defender of Real Madrid Raphael Varane suffers a blow to the left shoulder, as detected by the tests to which he was subjected this Thursday by the white club's medical services.
The Frenchman, who was substituted in the match that his team played against Sweden, arrived in Madrid with discomfort. But nevertheless, Varane will join Zinedine Zidane's squad on Friday to test his physical condition and if he can be available for the clash that his team will play on Saturday against Villarreal.
The situation of the French is especially worrying for Zidane. After knowing the safe loss of Sergio Ramos, who will be out of the pitch for between ten days and two weeks due to an injury to the hamstring in his right leg, Varane's presence in the next matches is relevant despite the fact that Nacho Fernández already trains normally.
Hazard and Militao return
Belgian Eden Hazard and Brazilian Eder Militao tested negative in the last coronavirus test they underwent and exercise normally with the rest of their classmates.
Hazard and Militao, affected by the virus like Casemiro, who on Wednesday already placed himself under the orders of Zinedine Zidane, reinforce the Real Madrid squad, affected by the numerous casualties due to injury and with the duel against Villarreal on Saturday and against Inter in Milan on Wednesday, as immediate challenges.
As . learned from club sources, both players are in perfect condition and have already joined the group dynamics. Previously, during the isolation time, the players have worked in their respective homes.
The incorporation of the Belgian and the Brazilian clears the Madrid scene that already incorporated Casemiro on Wednesday. The French coach has the safe casualties due to injury to full-back Álvaro Odriozola and Uruguayan Fede Valverde.
Neither will play the next day. Valverde, who already missed the game against Valencia, suffers a fissure in the posterior tibial spine of his right leg, while Odriozola was diagnosed with a calf injury in his left leg on October 3. His return to the playing fields is close according to plans.