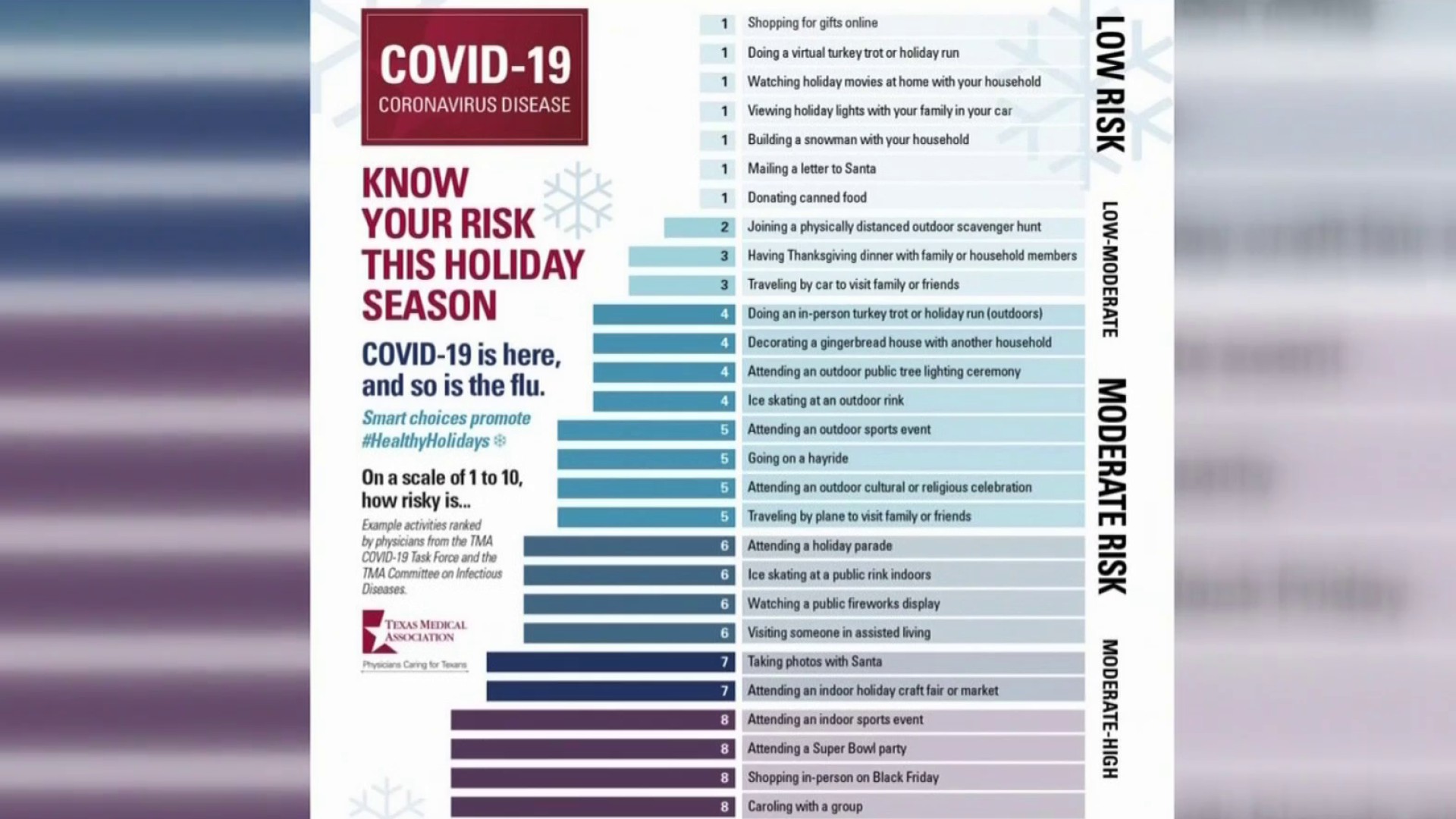 SAN ANTONIO – As the end-of-the-year holiday season rolls around, the Texas Medical Association released a list of activities that may put you at higher risk for COVID-19.
The entity had previously revealed a similar list, but the new one is adjusted to the Thanksgiving and December celebrations.
The list consists of five risk levels: low, low-moderate, moderate, moderate-high, and high.
However, a number from 1 to 10 is also assigned to each activity to specify more precisely how dangerous it is, with 1 being minimal risk and 10 being highest risk.
Less risky activities include shopping for gifts online, watching movies at home with only household members, driving to see Christmas lights, making a snow monkey, sending a letter to Santa Claus, and donating food canned.
Meanwhile, moderate risk activities include attending a public Christmas lighting event, ice skating on an outdoor rink, attending an outdoor sporting event, attending an outdoor cultural or religious celebration, and travel by plane, among others.
The activities with the highest risk of contracting COVID-19 would be to have a party with friends and family, attend a massive celebration indoors and with songs, and celebrate the New Year in a bar or nightclub, among others.
The Texas Medical Association noted that, when measuring the level of risk, it was also considered that people who participate in any of the activities on this list are following safety recommendations, such as social distancing, the use of masks, and wash your hands constantly.
However, the more people there are in a space for a long period of time, the greater the risk of contagion, especially if the site is indoors and with individuals who are not wearing masks, who are projecting their voices, and are consuming alcohol. the agency specified.