Last season, the year of Eden Hazard's debut with Real Madrid, journalists chased the Belgian through the mixed zone to learn other secrets beyond his football. One of them was Ricardo Sierra, Movistar + microphone in hand, who stood in front of him in search of something so alien (in principle) to sport as a linguistic advice. "Tell us exactly how your last name is pronounced because we continue to have doubts." Sierra chose the quickest route, that of asking the protagonist. But how do storytellers refer to and communicate with the stars of a competition in which fifty or so different backgrounds coexist? These are the tricks and anecdotes of six professionals from Spain, Japan, Algeria, Germany and Denmark who narrate LaLiga Santander.
Miguel Ángel Román, Ricardo Sierra's partner at La Casa del Fútbol, ​​explains that when in doubt he usually goes to two types of sources: the press departments of the teams or an Internet portal where the pronunciations of hundreds of players can be found. Having made the previous clarification, he exposes his method. "I try to be as faithful to the original language as possible, with two caveats. If the way of saying the name, even if it is incorrect, has already been installed in the imaginary or if the name has a sound that does not exist in Spanish. That will make the viewer uncomfortable because he is not used to it ". And he gives an example: "I studied French in high school and a couple of times I got that French r, which sounds like a ge, with Lemar, from Atlético. It didn't take long for criticism to arrive on Twitter, "he says.
Professionals from countries as different as Madagascar (Stepháne Collet, with a brief career at Real Sociedad), Greenland (Jesper Grønkjær, who played for Atlético de Madrid) or Burundi (Mohammed Tchité, scorer who made vibrate the fans of Racing de Santander). In the current edition, 51 nationalities are represented.
An authentic linguistic puzzle that is completed with players born in Catalonia, Galicia or the Basque Country. "If you make the effort to learn a Slovak name, how can you not do it with one from here?", Argues the Movistar + narrator. And to the gibberish are added personal peculiarities, the fact that there are players who choose how their name is pronounced independently of the phonetic rules of each language. Like Roger Martí, the Levante UD striker, who does not pronounce himself in Spanish or Catalan, but in the footballer's own language. "Complaints come to us that we don't say it in Catalan, with the sound of the ge and the silent erre, but it is that we pronounce it with the Greek i, Royer, because the Valencian player has said that he prefers it that way."
Spanish journalists are not the only ones who face these kinds of dilemmas. Jan Platte, DAZN narrator, fell in love with Valencia and the city's team, when his eight-month stay as a student coincided with the double of the Valencian players led by Rafa Benítez. Today, with the Spanish background that he retains from that time, he has become the manager of LaLiga Santander for DAZN in Germany. "With players like Jordi Alba sometimes we have doubts. Should we pronounce it in Catalan or Spanish, with the Greek i instead of the j? You listen to both of them on television ", he confesses.
Others like Henrik Fallesen, from the TV 2 chain, which has the rights to broadcast Spanish football in Denmark, flag their progress when they have overcome the initial hesitations: "It took me time, but now I feel comfortable saying Martín Aguirregabiria (Deportivo Alavés). I know that many storytellers just call him Martín, but now that I have practiced a lot, I want to use his last name, "explains this journalist, whose vocation began early, impersonating the voice that came out of television from his living room, and exhibits the post -its where each game points statistics and small stories of each footballer.
Yuji Nishi, 37 years old and living in Tokyo, the capital of Japan, has been the voice of LaLiga Santander matches since 2016 for those who follow the competition from the Japanese country. He also works for the DAZN network and narrates the matches in both English and Japanese. "Changing from one to the other is not difficult and neither is the pronunciation of the names of Spanish footballers because the Spanish and the Japanese have a similar way of reading the alphabet. However, there are some African players who do give us some headaches ", reflects Nishi, who took a Spanish course at the university, fell in love with Spanish football in 1992 when he saw the Guardiola, Stoichkov or dream team live. Koeman in the 1992 Intercontinental Cup final, played at home.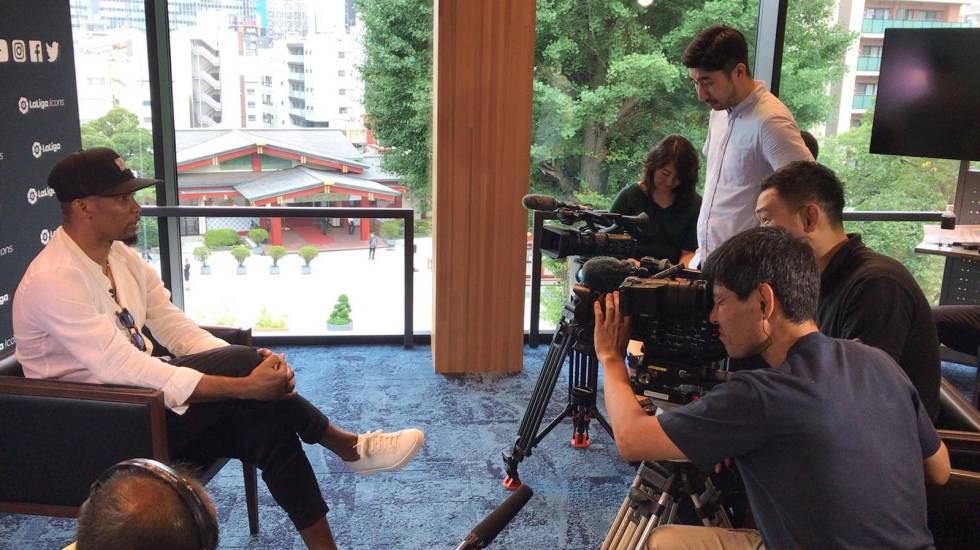 The journalist Yugi Nishi, standing with other colleagues, during an interview with former Barcelona player Samuel Eto'o.
"Many times I left empty-handed"
On other occasions, difficulties appear not so much when it comes to saying the names of the players, but when communicating with them. Djamel Djabali, the first correspondent who landed in Europe in 2003 with the mission of covering the beautiful game for the Al Jazeera Sport chain (now BEIN Sports), says that at first he suffered in the mixed zones. "I was always looking for someone who spoke English or French and many times I left empty-handed. I remember that the first person who attended me was Ronaldinho, in a match at Anoeta, because before he had played at Paris Saint-Germain. The second I caught was Pablo Alfaro, from Sevilla. Quite a gentleman who spoke perfect English ", relates this veteran Algerian journalist, who in more than 30 years of profession has covered events such as the Olympic Games or the World Cups.
"I have been living in Madrid for 17 years and when I arrived I enrolled in the Official School of Languages. But since I was always traveling, from top to bottom, I had a hard time keeping up with the classes. In the end I learned the language on my own, reading newspapers, listening to the radio, talking to people on the street… ", adds the person in charge of narrating Real Madrid games in Arabic for 23 countries in North Africa and the Middle East, with a potential audience of 150 million viewers.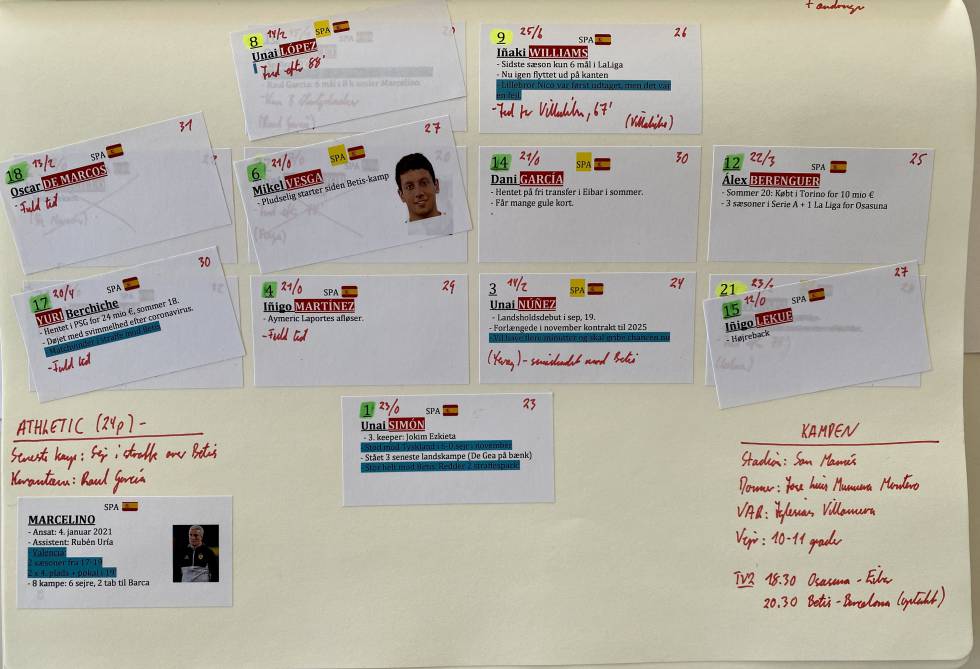 Notes from the Danish journalist Henrik Fallesen before a match between Athletic Club and Valencia CF this season.
Interest in Spain and its culture has also been helpful in exercising the trade and taking an interest in LaLiga Santander. Martin Gottschalk studied and lived in Barcelona in 2014, "the year Luis Suárez was signed," he recalls, returning five years later as one of the envoys of the Danish TV 2 to tell his compatriots the excitement of ElClásico. "I have the privilege of transmitting great emotions. It is a great responsibility, but also a very fun job because you never know what will happen ", explains this professional microphone who began narrating LaLiga Santander matches in 2019.
A passion shared with Miguel Ángel Román, who, by striving for the correct pronunciation of the ex-Sevilla player Grzegorz Krychowiak, went against the current of an entire country. "Here everyone got used to the Spanish ch, but in Polish those letters sound like a jot. I was the only one who did it, but I insisted until the end ".
You can follow EL PAÍS Sports on Facebook, Twitter or subscribe to the Newsletter here.