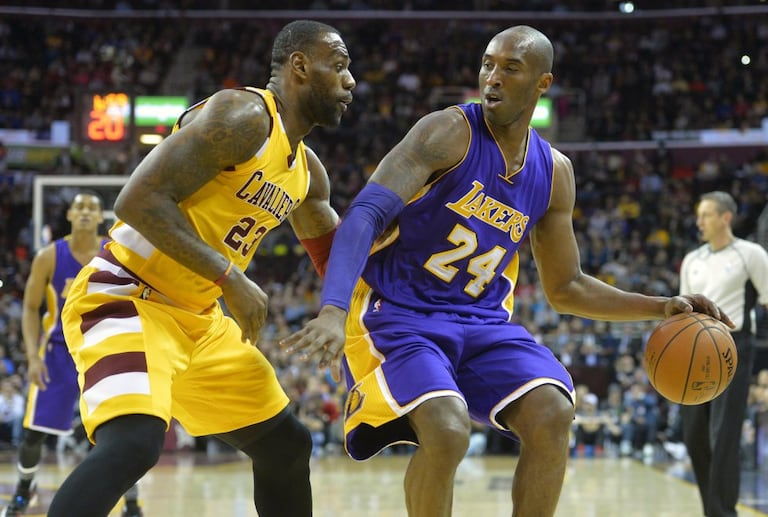 LeBron defends Kobe Bryant in a Cleveland-Lakers in 2016.David Richard
Michael Jordan is the myth; Kobe Bryant, the mirror in which most NBA players shape their game. The ruling generation came to compete with the icon who played 20 seasons in the Lakers, from 1996 to 2016, or, in the case of the youngest people like Doncic, they could see him in action and even had the opportunity to talk with him. The mark left by Kobe, who died on January 26, 2020, when he was 41 years old, in a helicopter accident in which his daughter Gianna, 13, and six other people also lost their lives, is indelible. Sums it up Doc Rivers, his rival when he was coach of the Celtics, his friend in Los Angeles, now coach of the Sixers: "His impact has been lasting. Players try to imitate their style of play and their way of being. They have the Mamba mentality, just like him. He changed the game and that's a sign of his greatness. "
When Michael Jordan retired on April 16, 2003, he was 40 years old. Two months later, LeBron was chosen by the Cleveland Cavaliers at the top spot in the draft. Their paths never crossed, they didn't meet in the NBA. They had met two years earlier, on a visit by Michael Jordan to one of the courts where signs of the greatness that awaited LeBron were beginning to be seen. "It was like meeting God for the first time. This is how I felt when I was 16 and met MJ, "says LeBron. But the direct rival of the idol of Akron (Ohio) on the courts and also his partner in the United States team was going to be Kobe, six years older and already a figure in the Lakers, with whom he had already won three titles (2000 , 2001 and 2002).
Their rivalry was as intense as their friendship. That very special relationship led to LeBron being one of the last to communicate with Kobe before his death. The day before, LeBron had surpassed Kobe's 33,643-point mark to rank third in the all-time top scorers standings, behind only Kareem Abdul-Jabbar and Karl Malone. "Keep pushing the game forward. Much respect bro, "Kobe tweeted. LeBron replied, "The story is too much. In short, now I'm wearing the Lakers jersey in Philadelphia, where is he (Kobe) from ", replied LeBron, who in that game against the Sixers wore shoes with the message Mamba 4 Life and 8/24 KB, in reference to the numbers of the shirts that Kobe wore in the Lakers, both retired in his honor. That Sunday morning they spoke on the phone. Hours later, the helicopter accident occurred, which is still being investigated.
Asked about the 1-2-3 Mamba scream that Lakers players conjure up when they form a pineapple before every game, LeBron explains: "There are many things that die in this world, but legends never die. He was one of those. It's about representing that ". On Monday, the Lakers won in Cleveland (108-115), and LeBron dedicated his fantastic performance to Kobe, scoring 46 points, his highest score since November 2018.
"Play for him and like him"
Stephen Curry, 32, a three-time champion with the Golden State Warriors and a two-time MVP, reveres Kobe: "He was the Jordan of our generation in terms of iconic moves, solving one-on-one, hiding the ball, winning shots… I tried all his movements. Paul George, 30, one of the Clippers stars, reveals himself: "He was my Michael Jordan. All the children of Southern California wanted to be like him. I started playing for him and I wanted to play like him ".
In December 2019, Kobe greeted Doncic in Slovenian from the front row of spectators as the Lakers-Dallas game was played. "He and LeBron are the people who have motivated me the most to play basketball," emphasizes the 21-year-old Slovenian guard. Greek Giannis Antetokounmpo, 26, NBA MVP for the past two seasons, proclaims: "I grew up watching Kobe. It was one of the reasons I started playing basketball, one of the reasons I'm here today. Kobe means greatness and charisma. It inspired people around the world. "
Pau's 'older brother'
The relationship between Kobe and Pau Gasol was decisive for the Lakers to play three finals in a row and win the titles in 2009 and 2010. The 40-year-old Spanish center, who played for the Lakers from February 2008 to June 2014, says that Kobe is for him the closest thing to an older brother. "I miss him. I miss your presence. I miss your attitude. Not many players have it, "he explained shortly after Kobe passed away. "The White Swan, the Black Swan [así se refería Kobe a los momentos buenos y malos de Pau]. All those things didn't bother me. They didn't frustrate me. He showed me that he cared about me. It was a tough love. He challenged me because he expected more from me. When someone challenges you, it means that they care about you. When they ignore you, they don't care about you. That's when you have to worry. Maybe I'm spoiled because I know what it's like to feel victory and I love that feeling. It changes my mood. It affects me. I believe that winning will extend my career and motivate me to do more. Being with Kobe has had an impact on my life, "wrote Pau.
After the tragedy, he and his wife, Catherine McDonnell, were with the Kobe family in Los Angeles. "We wanted to be close to Vanessa and the children and to be there, like Uncle Pau, for whatever they needed," he says. He sent flowers to Vanessa on the April day of the couple's 19th wedding anniversary, and a birthday cake on the May day of Gianna's 14th birthday. In honor of her, the Spanish pivot baptized his daughter, born in September 2020, with the name of Elisabet Gianna.