So close and yet so far…
Standing by the fence that divides Mexico from the United States, from Tijuana, Rocío Rebollar yearns to return home. That is where she was pulled from on January 2, 2020, when she was deported.
And as she walks along the border, she carries the photos of her children in her hands, which for Rocío are now only pieces of paper that do not replace the memories of those days when Karla, Xitlaly and Gibrám celebrated their birthday with her in San Diego. , Mother's Day, Thanksgiving, and the holidays.
Today, those days seem very distant, and they fade like dreams, since a little over a year ago she was deported that cold morning in early January, in which without respite and in just minutes, when she arrived accompanied by her children , his lawyer, and the media that followed the case to the Edward J. Schwartz federal building, Rebollar was expelled to Tijuana.
However, in the midst of the pandemic, his loneliness grows greater and the pain more intense. Health protocols, and the recommendations that the United States gives its citizens not to cross the land border for non-essential travel, make this separation from her children an ordeal for her.
"Everything is sad. The separation, not seeing his mother and me not being with them. Not being able to see my grandchildren. Seeing them physically, because it is not the same to see them on the phone ", says Rebollar while sighing when seeing photos of the little ones that with their screams, and his games brightened his days every time his daughter Karla asked him to take care of them.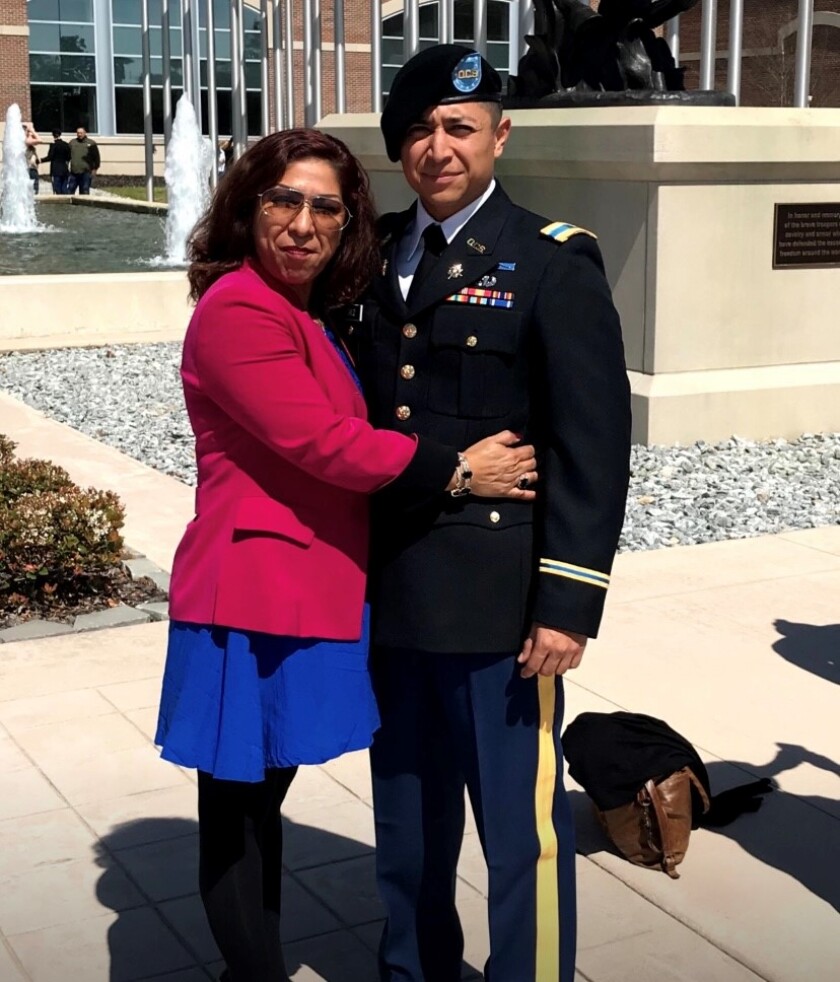 Rocío Rebollar with her son Gibram Cruz, who serves in the United States armed forces.
(Rocío Rebollar.)
"I lived more than half of my life in the United States. 31 years. And this has been very difficult, Tijuana is a very dangerous city and fear kept me locked up for 6 months, almost without leaving ", she tells about her experience recently arrived in a city that she did not know, and where she has a sister who allowed her to live a time with her.
Rebollar is a believing woman. He has faith, and he clings to it. Believe in miracles. She says that God has already forgiven her. And now he is seeking another pardon, that of the United States federal government.
"I have high hopes. I have prayed a lot so that everything goes well and that they give me that federal pardon and that I can return to my home, and resume my life, "he says with nostalgia.
The reasons for your deportation
The history in the United States of Rocío Rebollar, originally from Guerrero, began when she arrived in California undocumented in 1988. She settled in San Diego. And in 1995, when she was working in a hotel in that city, she was arrested in a raid and expelled from the country. He did it voluntarily. But he returned illegally to California again, because his young children were here. Unfortunately years later, she was expelled again on two more occasions, (in 2005, and in 2009), and in both cases she re-entered North American soil without having immigration documents.
"I did it because I couldn't leave my children alone. He was the breadwinner of the family, and he had to be with them, "she says, convinced that her role as mother was essential. She wanted to give her children a better life than the one she had in Guerrero.
After her deportation, Rocío Rebollar has turned to technology to live with her family in California.
(Rocío Rebollar.)
However, during the administration of Donald Trump, the aggressive policy of deportations, passed over those criminals who were a priority in the time of President Barack Obama. Under the orders of the Trump administration, pending processes had to be carried out.
Your son way is in the military
Rebollar, who has a son in the United States Armed Forces, appealed to the service of Gibrám Cruz, a young 31-year-old lieutenant who is part of the intelligence team, and whose work I think would be an important factor in supporting and protecting the his mother's stay on American soil.
"My son is serving the government. Risks his life. He spent 6 years on missions in another country. In Italy. And also in other places where on one occasion he was about to lose his leg. These are things that people don't know. The saddest thing is that he risks his life to protect the United States, and he could not protect his own family. She couldn't protect her house, "she says with tears in her eyes, sitting on a bench in that park next to the border fence that separates her from those she loves so much. And he adds that the voice of his son Gibrám was also silenced. His superiors, seeing the attention that his mother's case generated in the media in both English and Spanish in the days prior to his last deportation in January 2020, prohibited him from speaking to the press again. And last year they kept him in Qatar for more than 6 months without being able to contact her. In addition, he is denied permits to leave the country and does not even allow him to visit his mother.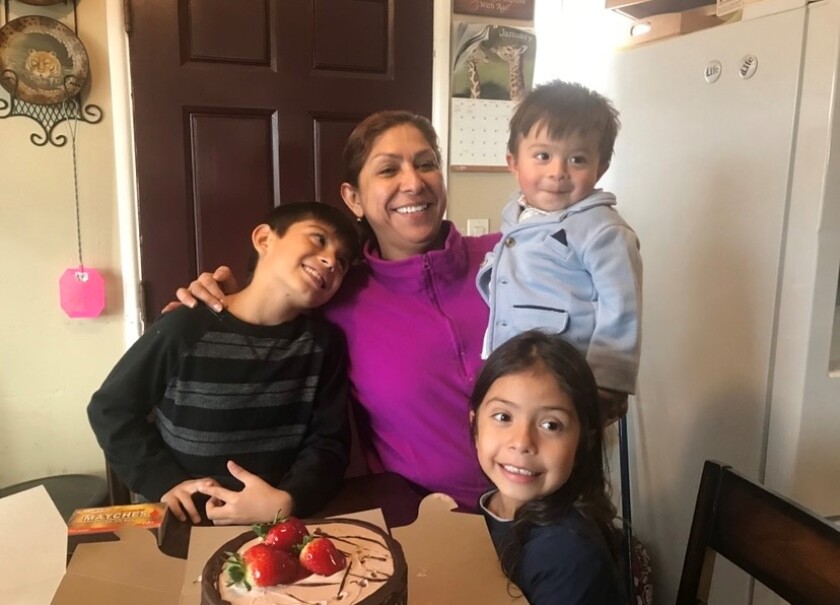 Rocío Rebollar with her grandchildren.
(Rocío Rebollar)
Vice President Kamala Harris and the Rebollar case
Despite so much pain, Rebollar is hopeful that one day he will return to San Diego with his people. In 2019, when her immigration case was in one of the most critical stages, her lawyer Tessa Cabrera contacted the office of the then California senator, Kamala Harris, to request her support and intervention in the Rebollar case.
Rocío remembers those moments …
"Look, when the senator was supporting me, she was like someone very important who was raising her voice for me. But now things have changed. She is the vice president and is in one of the highest positions a woman can have. And she, as a family of migrants, knows the suffering that the separation of families means, "says Rebollar.
And about that communication they had with Harris, Rocío's lawyer, Tessa Cabrera keeps the emails that they frequently exchanged with Harris. And during an interview with Cabrera at his offices in San Diego, he showed us the file with that information, which today takes on special importance because it could revive the Rebollar case.
"It is very important because now the senator is the vice president of the country. She has the power to take an interest in the case again, and correct the terrible mistake they made in the previous administration by deporting her without a criminal record. "
In turn, Rebollar admits having crossed over as undocumented but argues that she never benefited from any government aid. And for this desperate mother, neither the laws nor the fence that divides Mexico from the United States managed to separate her heart from the home where she left those she loves.
Never abuse the system. Don't grab public aid. I made money because I had my business. I got three college kids, I bought my house which, although it is said easy, in the United States it is not easy. I was a person who was generating money ", she says, convinced that she had done the right thing.
And although the immigration bill that the Joe Biden administration presented during the first days describes the possibility of allowing certain people deported under the Trump administration a path to residence, the truth is that it is not yet detailed.
In addition, in the first days of February, it was reported that President Joe Biden would review some of the cases of veterans and relatives of military men deported under the aggressive policies of former President Donald Trump. But it is not yet clear when there would be any relief for those immigrants in their situation.
Attorney Tessa Cabrera talks about Rebollar's legal options.
"Your only option is to ask for the discretion of this government. Something like "Humanitarian Parole", or permission for humanitarian reasons, which is what would allow him to return to the country. And to achieve this, your case would have to be in the public interest. For this reason, the family requests help through social networks to sign a petition that supports their return to their home, with their family, "says Cabrera as he opens on his screen the online petition on the Change.org platform, entitled" Can you spare a minute to help Rocío Rebollar? ". So far they have gathered more than 4,000 signatures, and their next goal is 5,000.
Meanwhile, Rebollar, who now rents a room at a friend's house, and continues to live in Tijuana hoping to return, continues to work in her business selling natural products by making phone calls and on social media. Occasionally he makes video calls with his children and grandchildren who constantly ask, "Why does Grandma live on the other side of the border?" "Why can't we go to your house"?
Sitting on the bench in that park that makes her feel closer to home than the 15 miles separating her, and a border fence, Rocío says: "I have not adapted to living here and I really don't think I can. I have not seen my grandchildren for a year. They've already grown up and I'm not there. Neither does my son. And my daughters just once. This suffering seems to have no end ".
Her mother's death
And to all that suffering he adds the death of his mother in mid-2020, as a result of the damage suffered after a fall at his home in San Diego. Rocío and the lawyer Tessa Cabrera tried to process a permit with the immigration authorities at the San Ysidro checkpoint, so that she could be by her mother's side when she was dying, but they denied it.
"I was hoping they would give it to me, but when we were there, on the line, we took the paper, the hospital document where they explained that he only had a few days left. They did not give it to me. They denied me. They said that because of the deportation they couldn't give it to me. I cried of impotence, I cried of sadness, because I hoped at least to be able to say goodbye to my mother, "he said with tears in his eyes.
Rocío's story also attracted the attention of a team of French producers who in March of last year were traveling the Mexican border documenting stories of deportees like hers. They chose 3, and titled the documentary "ON THE LINE, LES EXPULSÉS DE LA AMÉRIQUE", which in France has already come to light and was awarded, and could soon be shown in Mexico and the United States, on a major digital platform. Rocío even told us that she has an invitation to France for the month of April for a special presentation. However, the contingency due to the COVID19 pandemic could prevent you from traveling.
Meanwhile, not even the cold of a day in February 2021 in which Rebollar walks on the border that marks the limits between San Diego and Tijuana, prevents him from staring north, hoping that there someone will turn south and relive his case.
Think of Kamala Harris.
"Let's hope he doesn't forget because I am trusting God and believing in his promise," says Rebollar.
window.fbAsyncInit = function() { FB.init({
appId : '125832154430708',
xfbml : true, version : 'v2.9' }); };
(function(d, s, id){ var js, fjs = d.getElementsByTagName(s)[0]; if (d.getElementById(id)) {return;} js = d.createElement(s); js.id = id; js.src = "https://connect.facebook.net/en_US/sdk.js"; fjs.parentNode.insertBefore(js, fjs); }(document, 'script', 'facebook-jssdk'));