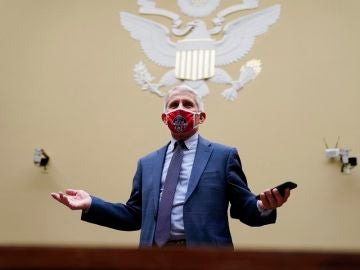 The United States remains the country with more infections and more deaths due to coronavirus, is where they have suffered the most from the impact of the disease. They continue to add 2,000 deaths and 100,000 infections every day.
The management of its former president Donald Trump and a complex federal structure for decision-making have been some reasons. The main specialist in contagious diseases in the United States, Anthony Fauci, has valued that "half a million deaths is something terrible. It is historical. We have not seen anything like it since the flu of 1918", in an interview with the NBC network.
The main health adviser assures that it is very possible that in 2022 they will still wear a mask and has ventured that the country could approach "a degree of normality" by the end of the year.
The president of the United States, Joe Biden, has announced that when the barrier of half a million fatalities is exceeded hold a candle lighting ceremony at the White House. This figure is expected to be reached this Monday, so preparations would be underway.
Although the United States has recorded 28,129,860 people infected with coronavirus, according to Johns Hopkins University, COVID-19 cases, hospitalizations and deaths have fallen dramatically since they peaked in early January.
Additionally, the pace of vaccines is on the rise, with more than 61 million doses administered so far, according to a state-by-state tally. The figures show that 5.7 percent of Americans they would already be fully immunized against COVID-19.
However, according to Fauci's projections, between 70 and 85 percent of the United States population should receive the vaccine for herd immunity to be effective.