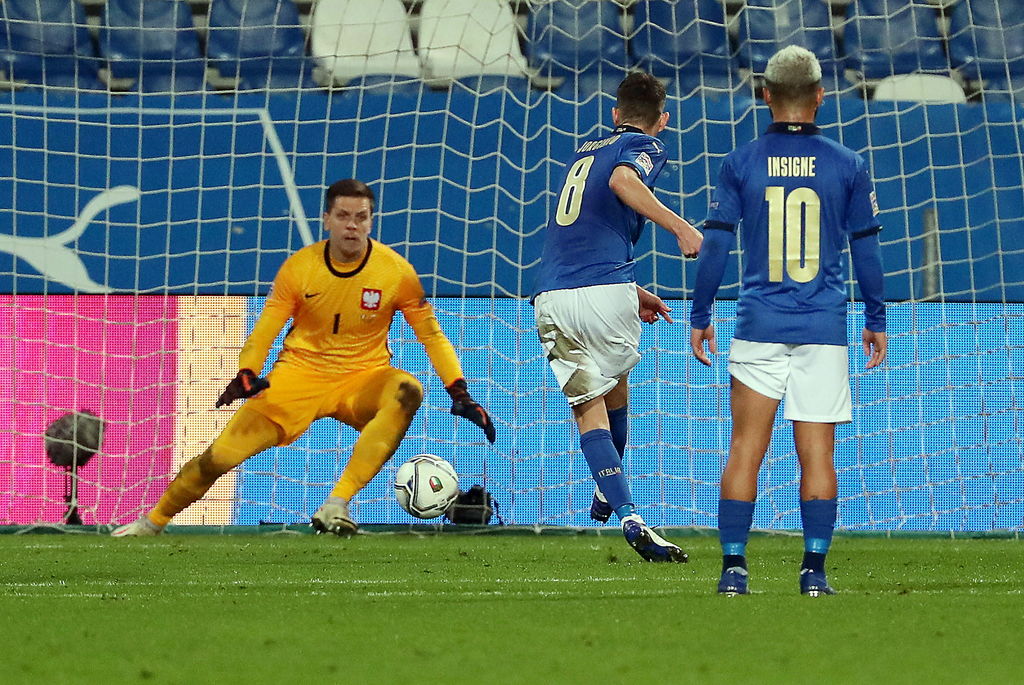 Three years after they shamefully failed to qualify for the World Cup, Italy is back among the best in Europe.
Meanwhile, England were out of contention for the Nations League finals despite having yet to play a first round match.
An Italian team heavily affected by the coronavirus still managed to beat Poland 2-0 yesterday. This gave the Azzurri control of the group, while England lost 2-0 to qualifying leader Belgium.
A win on Wednesday in Bosnia-Herzegovina will allow Italy to host the finals of four teams in October, a few months after hosting the first match of the Euro in Rome.
"It is our culture. The Italians give their best in the worst moments and we bond more. It is what I asked these guys before the game and they were extraordinary," said assistant coach Alberico Evani, who has been replacing coach Roberto Mancini on the bench.
Mancini is in isolation at home with COVID-19, as is forward Ciro Immobile, winner of last season's European Golden Boot. In total there were 20 Italian players who were not available due to the virus or injury.
Jorginho scored a penalty for Italy midway through the first half after Andrea Belotti was brought down inside the area. Domenico Berardi added another goal late in the second half after a pass from Lorenzo Insigne.
Italy leads Group 1 of League A with nine points. The Netherlands are second with eight goals after beating Bosnia 3-1. Poland is still in the fight with seven units, while Bosnia is last with two.
BELGIUM CLOSE TO THE FINAL
Dries Mertens scored a magnificent free kick and Belgium put an end to England's hopes of reaching the finals.
Belgium took the lead in the 10th minute when Romelu Lukaku sent a pass to Youri Tielemans for a deflected shot.
Mertens later made it 2-0 in the 24th minute by passing his shot over the English wall – which failed to jump – after a foul on Kevin De Bruyne.
Belgium is leader of Group 2 of League A with 12 points. Denmark is second with 10 after a 2-1 win against Iceland. England have seven points and Iceland none.
DE BOER FINALLY WINS
Frank de Boer finally claimed his first victory as coach of the Netherlands national team after Georginio Wijnaldum scored a double on Sunday to guide his team to a victory over Bosnia and Herzegovina in the Nations League.
Wijnaldum, who assumed the role of captain after the absence of Liverpool teammate Virgil van Dijk due to injury, scored from close range at 6 and 14 minutes to mount victory in the empty Johan Cruyff stadium. Wijnaldum has scored seven of the team's last 12 goals.
Memphis Depay fired a pass from right back Denzel Dumfries for the Netherlands' third goal 10 minutes after halftime.
👍 I like it 😍 I love it 🤣 funny 😮 surprised 😡 angry 😢 sad