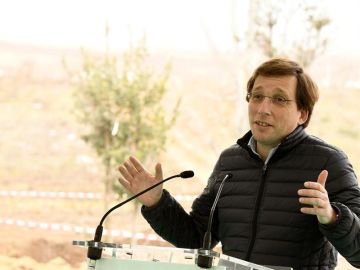 The mayor of Madrid and spokesman for the national PP, José Luis Martínez-Almeida, he has accused the "extreme left" of encouraging protests with an "institutional framework of messages" that remind him of the former president of the United States, Donald Trump, saying that "he was fine when they were storming the Capitol."
In an interview in Espejo Público, Almeida has given this example knowing that "it is going to upset the extreme left." "Those who rightly criticized Trump's speech when he told those in the Capitol first 'march on him' and then 'you have to go but you are absolutely right, you are fighting for your country, they have robbed us the elections' … It is the same breeding ground, "he said.
"It is the same breeding ground that the far left is using right now to fuel riots in major cities. They tell them they are doing well, as Trump told them they were doing well when they were storming the Capitol," he said.
Figures the damage from the riots in Madrid at about 200,000 euros
José Luis Martínez-Almeida has advanced that the damage caused in shops and furniture urban by the riots will amount to "about 200,000 euros."
The mayor has indicated that the associations of merchants in the area have already estimated "around 150,000 euros" the damage suffered. The councilor has said that he will study "all the necessary actions" for those responsible for the damage to compensate the City Council, although he has admitted that it will be "a complicated task."
There are 19 detainees after the riots carried out on Wednesday by protesters who were protesting in the Puerta del Sol in Madrid for the imprisonment of rapper Pablo Hasél, which also resulted in 55 people injured, including 35 policemen.