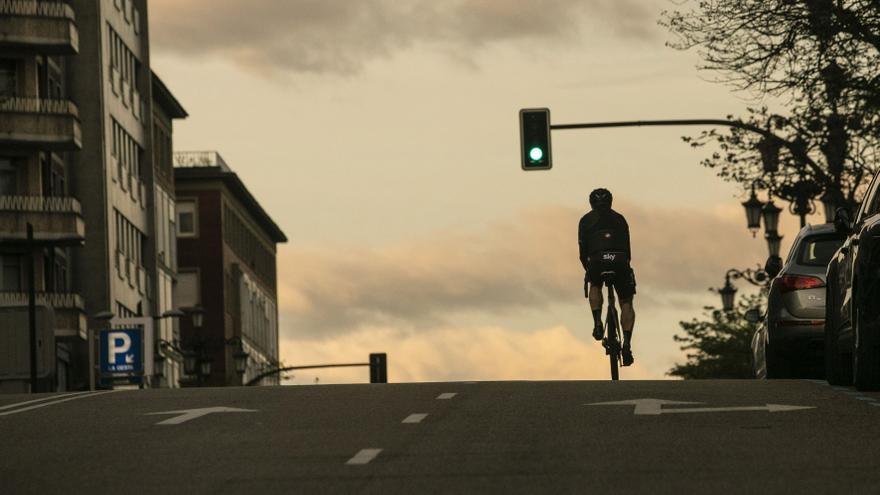 Aware of the many doubts that Asturian athletes have about what they can and cannot do in an extraordinary time of mobility restrictions, confined cities, a curfew and the closure of many activities, the regional government has published a guide Updated and simplified of the rules that may be of most interest to Asturians who practice sports. It is, say the specialists of the Principality, a document "without legal value that aims to facilitate a unitary interpretation of those aspects that in sports during the COVID crisis". The following are 18 questions and answers to facilitate the interpretation of these rules.
1.‐ Can I go out of Asturias to a federated national, international non-professional competition?
Yes, departures outside the territory of the Autonomous Community of the Principality of Asturias, for athletes and / or teams that attend a non-professional national or international federated competition, are allowed.
2.- Can an athlete or team from outside Asturias come to participate in a non-professional national or international competition that is going to be held here?
Yes; It is contemplated that athletes or teams from other autonomous communities, or countries, can go to Asturias to federated competitions of national or international scope, not professional.
3.‐ What documentation do I have to bring to be able to go out of Asturias to one of these competitions?
You must carry a valid federative license and a certificate that each Federation must issue, in which the Secretary or President individually identifies the person, the competition attended and the dates on which it is held. If it is a team traveling together, the Certificate may be unique, but it must contain the individualized list of the people who make up the expedition.
4.- Can I return from a competition during the curfew time (between 10 p.m. and 6 a.m.)?
Yes, it is possible to circulate on public roads at that time for that reason.
5.- With what documentation do I justify this presence on the street at night?
With the federative license in force, the certificate issued by each Federation in which the Secretary or President individually identifies the person, the national or international federated non-professional competition that has been attended and the estimated time of arrival at the place of residence.
6.- Are the sports facilities and establishments open to the general public?
No, the opening to the public of establishments, premises and facilities for sports or recreational use for public use, swimming pools, gyms, bowling alleys and circuits on public roads or open spaces has been temporarily suspended.
7.- Can I continue training in facilities or venues if I am a federated athlete?
Yes, as long as you are a professional athlete, belong to a team or participate individually in a regular national non-professional league or are a high level athlete or high performance sportsperson.
8.- What if I am a school athlete?
The Sports Games of the Principality of Asturias have also now been suspended in their training version, so I will only be able to carry out physical-sports activity, without competitive objective, in the educational center to which I belong, with the indications and limitations that my educational center have established. In this sense, what the Ministry with powers in the field of Education has available both for public centers and private centers supported with public funds or for private centers exclusively, as appropriate in each case.
9.- Can I continue competing in sports facilities or establishments in the Principality if I am a school or federated athlete?
I can only continue competing in these facilities if I am a professional athlete, if I participate in a non-professional national league or if I am a high-level or high-performance athlete.
10.- What document should I bring to access these venues?
My accreditation as a high-level or high-performance athlete (recognition resolution or certificate from the Administration that has recognized it as such), the corresponding Federation certificate stating that I am a member of a team or individual athlete that participates in a professional league or league regular non-professional national.
11.-Can there be an audience in professional federated training or competitions and non-professional regular national leagues?
It is not allowed, neither in training sessions, nor in federated competitions. In no sports category and in no sports modality.
12.‐ How long do these restrictions last?
These measures have an estimated initial duration of fifteen calendar days from 00:00 on November 4, 2020, although it is possible that successive extensions could be agreed.
13.- Can I go outside the municipalities or confined urban centers to train or compete in federated sports activities?
I can go out if I am a professional athlete, a high level or high performance athlete or an athlete who participates in a regular non-professional national league. Also if I am a federated athlete I will train individually and outdoors, outside of sports facilities. If I am in these cases, I must have a license for the corresponding sports modality in force and the Federation must have a protocol for the prevention of covid, for training and competitions approved by the General Directorate of Sport of the Principality of Asturias or approved protocol of the Corresponding Spanish Federation. You can check which Federations have the protocol for the prevention of COVID-19 approved, here: https://deporteasturiano.org/protocolos‐federaciones‐deportivas/
14.- Can I use showers in my sports facility?
Yes, if they are individual and there is an air renewal system in this space. The use of a mask is mandatory too.
16.- Should I wear a mask when training?
The use of a mask has been mandatory in training (not competitions) of all federated sports disciplines, provided that the safety distance cannot be ensured. Only exceptionality is considered in the performance of certain high intensity exercises in each activity.
17.‐ Who can practice sports outdoors? In what conditions?
Anyone can practice sports outdoors, individually or collectively, without exceeding 6 people (except in the case of cohabitants), without physical contact, respecting the interpersonal distance of at least 1.5 meters. The use of a mask will be mandatory when the distance of 1.5 meters cannot be ensured, except in circumstances that require a high additional supply of oxygen. Sports may not be practiced on circuits, or open spaces intended for sports competitions or practices, sports areas, "skate" tracks or similar outdoor public use spaces.
18.- Are there schedules for sports practice?
With the aim of facilitating daily physical activity or daily walks for people of all ages, recommendations were made public on 11/05/2020, establishing time slots that are as follows:
–6: 00-9: 00 and 18: 00-21: 00 Carrying out physical activity, walking or sports outdoors for people under 65 years of age.
-9: 00-12: 00 and 15: 00-18: 00 Time slots for people over 65, dependent people or people with risky pathologies.