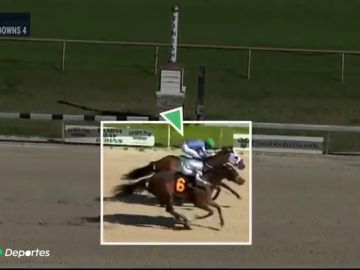 2,000 times the first has arrived. It is the racecourse of Tampa, in Florida (U.S). A historic day for Antonio Gallardo, the Jerez rider who triumphs in the United States: "My children did not go to school to see their father win the 2,000 races. I did not know whether to laugh or cry."
He broke his liver and several ribs
The 'Freckles', as they called him in his land, carries in his blood the love for the horse. At age 15 he began to ride and at 19 he fell off a mare and was about to die: "I broke my liver in half and several ribs".
But he got back on a horse, to feel the adrenaline of the race. And America left. He has made the American dream come true, glory awaited him there. Although he has also bit the dust: "It is a very competitive and strong world. There were not many Spanish jockeys here. It was a dream".
He is one of the most recognized jockeys in America. His record has generated millions. And, as a bad loser that he says he is, Antonio will continue to go all out: "You have to get to the 3,000".
Race to race, you are where you always wanted to be.
For his part, Nieves García will become the first female or male jockey to participate in the prestigious Saudi Cup, the equestrian competition with the largest economic endowment in the world. "I am competing with the best whips and we are not used to this level here in Spain. Winning would be the best," he tells Antena 3 Deportes.