Since we taught how to install Microsoft Teams on Windows 10, many readers who have started using this program ask us about different features of it in order to take better advantage of it. Indeed, the Redmond service has many features that are not visible to the naked eye, and we can only find out by digging around a bit. In this case, without going any further, we want to show you how postpone a message in Microsoft Teams. This is a fairly simple trick, but one that will be useful to you on more than one occasion.
As we said before, the first thing you have to keep in mind is that Teams allows users to set their status to "Do not disturb". When we set this status, we make sure we only receive alerts from those users that we have considered priority, as well as urgent messages.
Now, "Do not disturb" as a mode applies a general policy to all messages and may work well if you are trying to avoid distractions. However, it is not the most suitable alternative in case you also intend to manage your alerts. In that case, you should go ahead with this tutorial.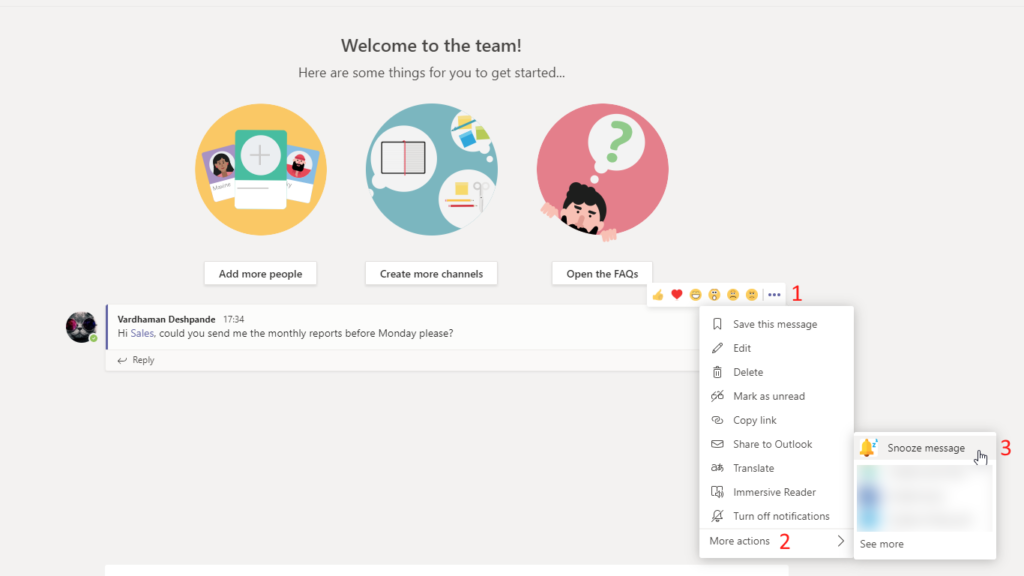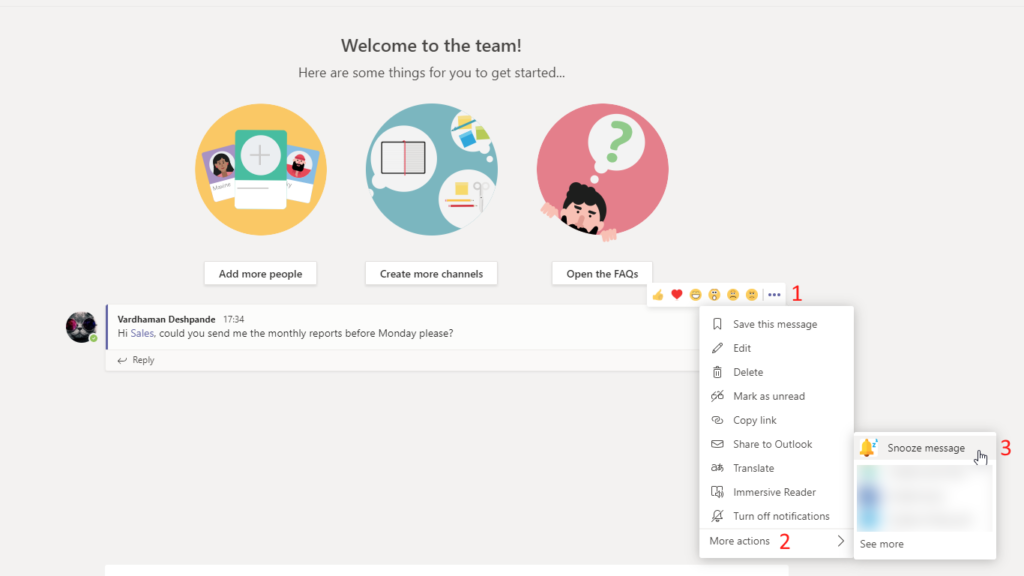 Snooze a message in Microsoft Teams step by step
If you are a regular user of this tool, surely you already know that Microsoft Teams has channels. Those channels are the ones that allow the sending of each message. In turn, under each message there is a chain conversation. For each message within the same thread, users receive a notification. And that can be annoying.
For this reason, for any given channel, we have the ability to customize the events that trigger the alerts. However, when it comes to messages, we only have the opportunity to enable or disable notifications. What many users do not know is that, in the same way that it happens with Slack, we have some bots that can be of enormous help in these cases.
The Snooze bot, the ultimate solution
Snooze is, as its name suggests, the ultimate solution in these types of situations. All we have to do is use it to postpone messages, so they don't get in the way without running the risk of losing them.
Search for the Snooze bot from this link Log in with your Microsoft Teams account When the system prompts you, open the Teams app or enter from the web app in your browser Click on the Add option Select the team where you want to add the bot
Now that you've added the Snooze Bot to your Microsoft Teams team, you can use it to snooze messages from any channel. It is an extremely simple procedure, which you can complete like this:
Find the message you want to postpone Click on the three dots that refer to the additional options Select More options and then Snooze bot Indicate the time for which you want to postpone the message Click OK to finish the configuration
Once that indicated time has expired, the bot will send you a message reminding you that you have a pending message. There you can postpone it again, go see it or review the entire channel, depending on what interests you.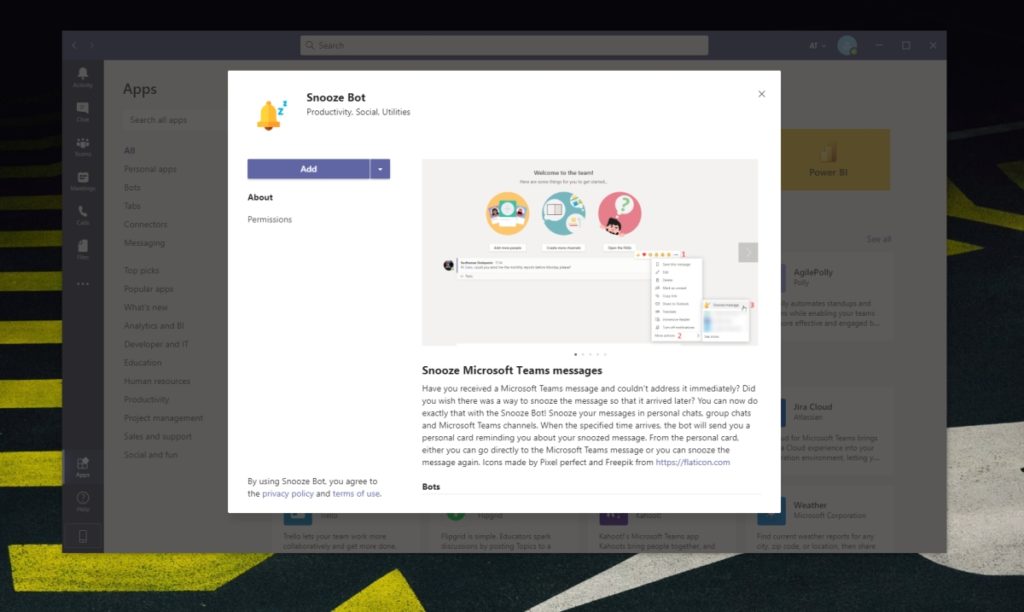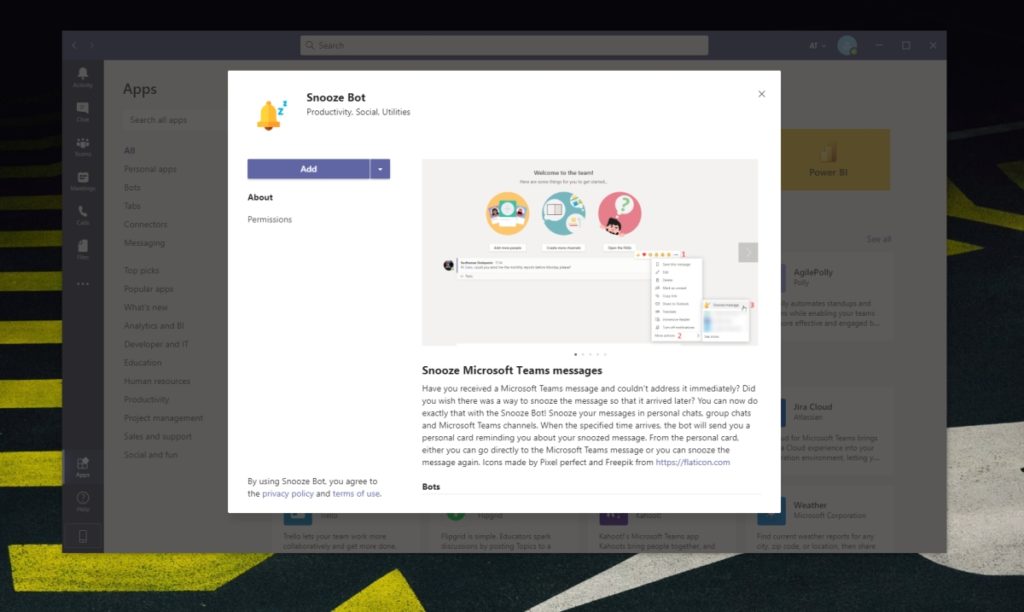 Conclusions
The main difference between silencing a message and snoozing it is that you will eventually be reminded of the postponed message at some point. This way, you are much more likely to return to that thread as soon as you have some free time. If you are a bit distracted or too busy, this solution is the most recommended.
Share it with your friends!