Covid-19 is going to make next Christmas undoubtedly one of the most atypical we have ever experienced. It seems that the situation does not quite subside at all, so Large gatherings with the whole family are ruled out for this Christmas, without forgetting that the suspension, for example, of the traditional Christmas markets or the Three Kings parades in some locations has already been announced. How to explain to the children that this is going to be a "different" Christmas?
How to explain Christmas 2020 to children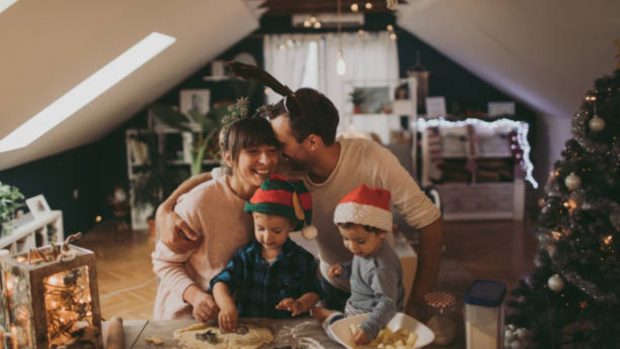 Does it make sense to explain to the kids at this point that this could be a slightly different Christmas, perhaps without large family gatherings and a completely altered holiday routine? And if so, how do we do it? Some boys or girls, especially the youngest ones, experience Christmas in an intense way, Therefore, after a very hard year for everyone, the fact of not being able to have the Christmas they are used to can create great sadness in them.
The key is in explain to the children that Christmas 2020 will not escape the routine to which they have already become accustomed. Let's remember when they had to go back to school with their masks on and with a series of rules and guidelines that today are already part of their routine and it seems that they have adapted quite well. We can explain that for Christmas we will have to maybe limit the number of people we meet, but that is not to say that they will not have gifts or they can't decorate the house. In fact, toIncreasing activity around the things that can be done this Christmas will encourage them and it will make them live this special time for them in a pleasant way.
The run up to Christmas
For children the weeks and days leading up to December 25, as well as January 7 they are really "magic" since they are dedicated to preparing everything for the celebration of Christmas. In this sense, they accompany us to buy decorations for the tree, they dedicate themselves to opening the Advent calendar, they are fascinated by the Christmas lights, they write letters to Santa Claus and the Three Kings, or they watch Christmas-themed movies.
All this kind of activities, if we think about it, they are entirely compatible with the situation we are going through. So let's not stop looking for a Christmas tree or decoration with the kids, or spend an afternoon at home decorating and making Christmas-themed crafts. Anything that "warms up the engines" of Christmas at home is something that will keep the illusion of children alive.
The true meaning of Christmas
On the other hand, let's take advantage of the pandemic situation and current restrictions to explain to children what is the true spirit of Christmas, Away from asking for gifts or being on vacation.
Let's calmly explain to the children what Christmas really is and in what way December 25 commemorates the birth of the Child Jesus, son of the Virgin Mary and Saint Joseph.
Somehow, this is a period of good wishes, solidarity and giving more than receiving. We may not go to meet the whole family as we have done in previous years, we may not be able to go on vacation or we may not see the Three Wise Men in the parade, but that does not mean that Christmas has been canceled. , since in reality the Christmas spirit is there and children can feel it if for example, we make a great family video call, yes we went for a walk with mom and dad to discover the Christmas lights of the city or if for example, we take them to a charity to leave the toys they no longer use and that they can serve other children without resources.
Let's not ignore the truth
Even when adults perceive an atmosphere in the air that does not promise anything good, this capacity for anticipation, often dictated by anxiety or worry, cannot be associated with the child as well. That is why it is better not to anticipate anything. Even if adults tend to make predictions, no one can know what will happen. However, if the child asks a direct question because perhaps he has a well-defined Christmas routine and is looking forward to it with joy (a trip, a visit to his grandparents, the white week) You must always tell the truth, without accentuating anxieties or giving certainty. In a sense, many parents have already been trained during confinement to better handle the emergency period with their children at home and the period anticipating Christmas will be no different, so Let's apply the above guidelines, and let's be honest with children although without losing optimism.
At no time should anxiety about the Christmas holidays be transferred to children and keep as much as possible the Christmas traditions they are used to. As in confinement, the success of a change in routine lies precisely in the ability of parents to transmit serenity to their children despite everything.
Guidelines to apply with children for Christmas 2020
To everything explained, we can also add a series of guidelines What are they going to allow, whatever happens, what children have a good Christmas 2020.
Fear not: There are not only the fears of children, but also those of adults. And the fact of not being able to hug grandparents or friends again, of living in uncertainty, only aggravates them. The important thing is not to pass them on to children if they seem serene.
Room for new memories: We still won't know if we will have to stay home or if restrictions will allow us to continue our holiday habits. But in preparation for the second case, it is better to focus everything on creating new memories, new habits that the child will associate with Christmas, even if it is a little different than usual.
Let's start with the decorations: Decorate your house in November? Nobody forbids it. The house acquired a new value during the confinement even in the eyes of the boy, who now lives it as a refuge even more than before. If you make it more beautiful for Christmas, you will acquire more points to live it to the fullest, even if you lose what is outside.
Whatever happens, they will always have mom and dad: A "lesson" that parents have learned in quarantine and that the child has internalized. Without family reunions, without vacations and perhaps without family or friends around, the little ones have understood that the constant is mom, dad and perhaps their siblings. An important key to understanding that they may not have Christmas as they have known it, but this certainty will never be undermined.