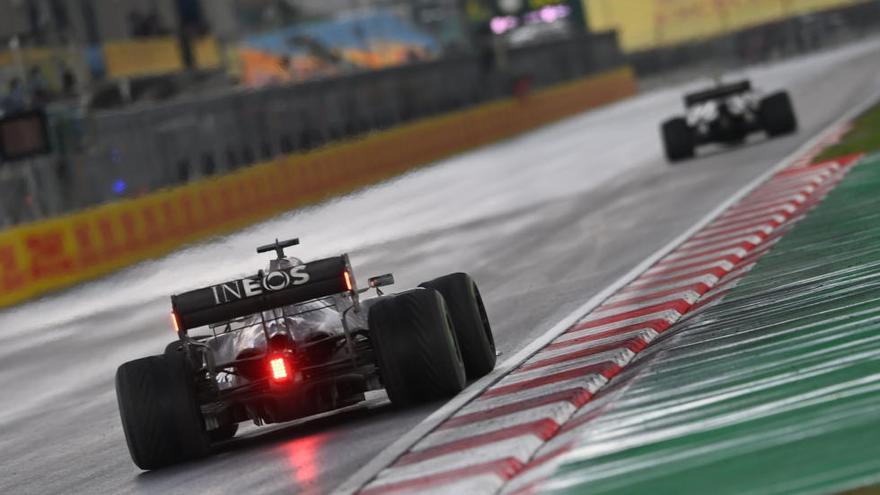 Briton Lewis Hamilton This Sunday equaled the historic record of seven Formula One World Cups of German Michael Schumacher by winning the Grand Prix of Turkey; a crazy race in which he showed himself in the wet, signing his tenth victory of the year and raising his own record of victories in the premier class to 94.
Hamilton, 35, who had started sixth, won on the track on the outskirts of Istanbul ahead of Mexican Sergio Pérez (Racing Point), who achieved the best result in the entire history of his team. In a race that the German Sebastian Vettel (Ferrari) finished third and the Spanish Carlos Sainz (McLaren), protagonist of another sensational comeback, he finished in fifth position.
The eccentric and spectacular champion of Stevenage won, again, big time. He would have scored his seventh title, with three races to go, without even scoring, since his teammate Valtteri Bottas, the only one who still had (remote) chances of snatching the crown, was fourteenth. He did not want to speculate and continued to polish his brilliant record with another victory, on a track that had not appeared in the World Cup since 2011. That, just resurfaced, was too slippery, making tire management too difficult.
Hamilton captured his sixth title of the past seven years, with Mercedes, which added to the one he had achieved in 2008 with McLaren. With what equaled the seven of the 'Kaiser', who won the top two in 1994 and 1995, with Benetton; before signing the best streak in history with Ferrari, chaining five World Cups between 2000 and 2004.
With wet asphalt and extreme rain tires, Stroll, who on Saturday had signed the first 'pole' of his F1 career – and this Sunday broke down, finishing ninth– it went right. Unlike the Red Bull of the Dutch Max Verstappen -sixth at the end- and the Thai Alex Albon -seventh-, surpassed, respectively, by 'Checo' and Hamilton, who went from sixth to third as soon as they left.
Vettel, who returned to get on a podium Since he was second last year in Mexico, he improved eight spots to the first exchange. And in the first of the 58 laps that were given to the track -located in the Asian part-, he was third, behind the Racing Points and ahead of the Red Bulls of 'Mad Max' and Albon, who had been recovered after overtaking Hamilton, again sixth.
Sainz also turned out well. Thirteenth in qualifying on Saturday, the talented Madrid rider was penalized with three grid spots -for obstructing 'Checo'- but started on the 15th, benefiting from the sanction of the other McLaren, that of the Englishman Lando Norris, who lost five for not respecting the yellow flags.
In the second lap he was already eighth, after returning overtaking to Finn Kimi Raikkonen, first winner in Turkey, fifteen years ago -with McLaren-, who this Sunday -with Alfa Romeo- finished 15th.
Leclerc was the first to switch to intermediate, on lap 7, one before Bottas stopped and two laps before Vettel and Hamilton did. Stroll did so in the tenth, temporarily handing over the lead to 'Checo', who entered the garage a lap later and returned command to his colleague.
Hamilton attacked Vettel in the 16th on the tricky wet line and the Englishman ended up losing fifth place to Albon, who would also overtake the German, so the two Red Bulls were again ahead of Racing Points. Until 'Mad Max' showed off his nickname and when he attacked 'Checo' he starred in a spectacular spin that made him lose five places, before stopping again.
On the twentieth turn, Stroll commanded with eight seconds on 'Checo' and twelve on Albon; with Vettel fourth, ahead of Hamilton; and Sainz seventh, closer and closer to Ricciardo, who was running sixth, stopping the Spaniard on a track that did not want to dry out. Bottas had returned to 'trumpeting' and was circulating seventeenth, so his captain had his seventh crown closer and closer.
Midway through the race – after 29 laps – 'Checo' was three seconds behind Stroll, with Albon third, five: three drivers who had never won in F1; and among those who only kept the Mexican type.
Vettel was fourth, eight seconds behind; Hamilton fifth, to ten; and Sainz seventh, behind Ricciardo, 25 seconds behind the Canadian. The Spaniard won a place by stopping the 'aussie' and Hamilton was already third, when he took advantage, at 34, of an Albon spin. Three laps later, Stroll stopped and gave the lead back to Pérez, who was soon overtaken by the insatiable Hamilton. Before the Montreal driver lost the north, who did not want to enter the pits when the team told him to: he finished unhinged and in ninth position.
From behind they 'flew' the Ferraris and Sainz, who could have finished even better, but who settled for fifth place and being promoted to seventh in the competition, which he occupies with 75 points, one more than his teammate Norris, eighth this Sunday in a race in which he signed the fastest lap. Both place McLaren in fourth place in the Constructors' World Cup – which Mercedes already scored two weeks ago -, with 149 points, five less than Racing Point, a team that next year will replace 'Checo' with Vettel.
The Mexican, whose future is uncertain and who does not rule out a sabbatical, claimed victory on a weekend in which on Saturday he had the provisional 'pole' in the absence of a final attempt that placed him third on the grid. From where he improved a position, in a crazy ending.
When Hamilton was already celebrating triumph and title, Leclerc, who was pressuring Pérez -who is already fourth, with 100 points-, launched a round trip attack, because, when passing the brave pilot from Guadalajara, he passed and lost a podium that yielded to Vettel, finishing fourth.
'Checo', who missed the two races in England for positive in covid-19, signed his ninth podium in the premier class in a test in which he demonstrated his enormous talent; confirming that, together with the English star, he is the only one who has scored points in all the races he played. He finished second and joined the great Hamilton party. That equaled the 'Kaiser' and became eternal.