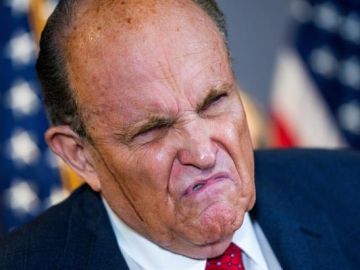 Donald Trump's personal attorney, Rudy Giuliani, has starred in a press conference lit and damaged by a trick that has played the dye of his hair.
The defender of the Republican candidate, Rudy Giuliani, He was emphatically advocating for his client's attempts to contest the elections from which it would have been virtually defeated, when the dye from her hair began to run down her face. A gesture that shows the complicated situation that the Trump team is going through.
In a frenzied appearance in which sweat mixed with hair dye, The former mayor of New York has insisted, as Trump has already done, on pointing out those cities with important African-American population centers, such as Detroit, Atlanta, or Philadelphia, as the main centers in which this alleged fraud would have taken place.
"I know the crimes, I can smell them. You don't have to smell this one, I can prove it to you in 18 different ways. I can prove to you that Pennsylvania won by 300,000 votes. I can prove that Michigan won, probably by 50,000 votes," Giuliani said.
Chris Krebs, one of the main officials of the Department of Justice, fired this week via Twitter by President Trump has assured that Giuliani's appearance has been "the most dangerous press conference in the United States."