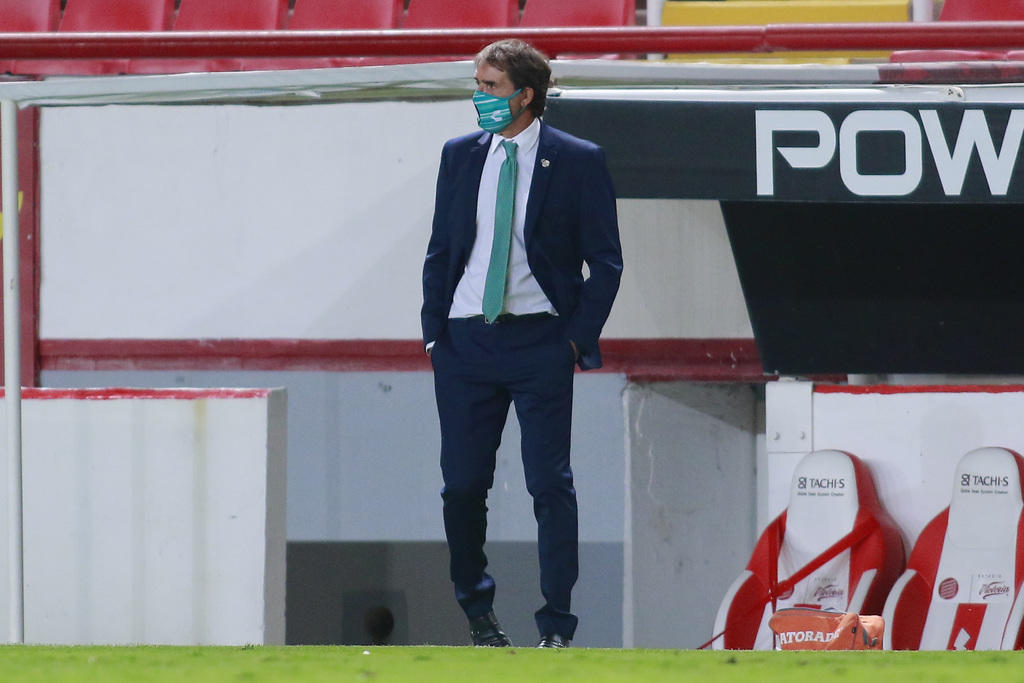 The last game of Guardianes 2020 against Mazatlán FC meant the 50th (of Liga MX or league) for coach Guillermo Almada at the head of the Warriors, becoming the eleventh coach who directs at least half a hundred games to the Albiverdes, both in the regular phase and in the league.
The Uruguayan strategist joined the select group of helmsmen led by Fernando Quirarte, who approximately two decades ago led the Albiverdes in a total of 119 matches.
He is also the fourth foreign coach in this group, behind the Portuguese Pedro Caixinha (108 games directed), the Chilean Pedro García (69) and the Argentine Rubén Omar Romano (53). All came to play finals with the Warriors, although only Caixinha could lift the title at the Clausura 2015.
The Uruguayan coach is by very little the one with the best record in his first 50 games at the helm of the Warriors, beating Alfredo Tena, who won the first Albiverdes title in Winter 1996, by just one draw. These two coaches are the the only ones who have been able to reach 25 victories in their first 50 games with the Verdiblancos.
The Uruguayan has a record of 25 wins, 11 draws and 14 losses, while the record of "Captain Furia" is 25 wins, 10 tied and 15 losses.
It should be noted that Almada is by far the coach with the best home record in this span of matches, adding 19 wins, five draws and just one loss, which was against the Pumas on matchday 9 of this tournament.
Like most of the Albiverdes coaches, Almada has failed playing as a visitor by achieving only six victories, with which he tied Luis Fernando Tena and the late Juan de Dos Castillo, below Pedro Caixinha (16), Daniel Guzmán (14 ), Fernando Quirarte (12), Alfredo Tena (12), Benjamín Galindo (11) and Rubén Omar Romano (9).
Almada's victories on the road were: 2-1 against Atlas, 3-2 against San Luis and 2-1 against América, in the Apertura 2019; Bravos de Juárez 2-1 in the unfinished 2020 Clausura, while Santos defeated Toluca 2-1 and Puebla 2-0 in 2020 Guardians.
On 8 occasions outside of Corona, they could not score with the South American coach, where they added the same number of defeats.
Guillermo Almada arrived at the Guerreros in Clausura 2019 as a replacement for Salvador Reyes, although Rubén Duarte was the interim coach; in that tournament he directed just three matches, with a balance of two wins and one loss. In the Apertura 2019 he led the Verdiblancos to the lead with 37 units but was out in the quarterfinals against Rayados de Monterrey.
Brands after 50 games
Technician JG JE JP
Guillermo Almada 25 11 14
Alfredo Tena 25 10 15
Ruben Omar Romano 24 13 13
Benjamin Galindo 24 12 14
Pedro Caixinha 22 17 11
Daniel Guzman 21 16 13
Luis Fernando Tena 21 14 15
Fernando Quirarte 20 17 13
Pedro Garcia 18 18 14
Rubén Maturano 17 16 17
Eduardo de la Torre 18 7 25
👍 I like it 😍 I love it 🤣 funny 😮 surprised 😡 angry 😢 sad