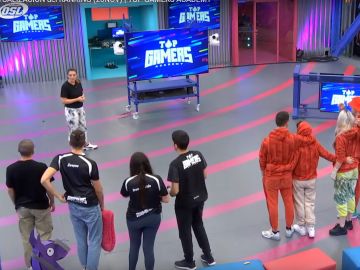 If something is clear to us, it is that in Top Gamers Academy our applicants are ready to compete. This may bring moments of tension, but nothing prevents the camaraderie and good vibes from reigning in the Academy in style. Therefore, it is time to review how this Friday, November 20, has been for the applicants and what great emotions have awaited them throughout this day.
English class with Íñigo Jordana
Since the competition started, the need to know how to speak languages ​​was very clear to our applicants. After all, one of the great prizes is traveling to the cradle of eSports and recently being able to speak English helped them a lot when it came to dealing with one of the OSL representatives. And all this is thanks to Íñigo Jordana.
The best thing about the classes of this great teacher is that he does not hesitate when it comes to being able to enjoy with the applicants. For this, he does not hesitate to encourage them to dance, to bring out their most creative side and seek to enjoy the learning a new language. All with good vibes and being a great support for these contestants.
Clash Royale class with Carlota De Solís
Of course, after a good English class where dance has started it all, it is time to enjoy Carlota's presence at the Academy. And the best thing is that this has come with the intention of encouraging applicants, not only to limit themselves to learning, but to really enjoy what they do, to participate once again in a great Clash Royale tournament.
After all, they are close to a new nomination and, with it, a new expulsion. Therefore, with that in mind, he asks them to enjoy it because not only can it be limited to wanting to win, but they should really think about having fun and enjoying what the Academy has given them to date.
Content creation with Sergio
Little by little, content creation is a topic that covers more platforms. But they all share a common point and many unique characteristics that Sergio, the Content Creation teacher, do not hesitate to share. This shows them some of the most interesting elements to take into account, such as being able to include promotions and raffles to their live shows and even interacting with their followers to maintain that connection with them.
Of course, those are not the only interesting facts that you have shared with them, but you have even let them see some interesting points when creating content. It tells them that it is important that their content is unique, different and exclusive and, above all, that think a lot about the use of the hashtag. In addition, he has not hesitated to mention that Instagram is also a good source to create your content, so it is one more point to be able to exploit.
WWE 2K tournament and casting class with Suja
As we told you, applicants have to continue advancing in the world of video games. And of course, in an Academy where these are so important, they cannot be limited to just three games. Therefore, WWE 2K comes to present new challenges, this time with the intention that they can scratch some more points for their team and where Tolosa has been declared as a great winner.
Of course, we not only find fun tournaments to enjoy good content. Rather, Suja has returned to the Academy and, this time, her intention is to bring out the most creative side of the applicants when it comes to commenting on the games. Something that brings them a little closer to Ibai Llanos, who casts the games of League of Legends, being one of the best in the world.
With Suja they have even raped, even becoming a different character to be able to play a great role. But this time, the one who has taken the Pepelu has been a great protagonist and the reactions have been, to say the least, varied. Without a doubt we have a curious caster who does not leave any of his companions indifferent.
Video call from a great team Manager: Mangel calls the applicants
Of course, after the arrival of a good competition and a class that has left with unforgettable moments, it is time for Mangel talks to the hopefuls who are part of the Lemon Sharks. They have not hesitated, after a couple of jokes, to ask the Team Manager directly how he sees them and this, inevitably, has made reference to the fact that they are currently last.
Currently they will get 30 extra points thanks to WWE 2K tournament and they are ready with their great videos, but still Mangel has not hesitated to look for the positives. And, despite the fact that they lose, he still wants them to have a good time. He is confident that they will come back in the tournament and, of course, they are looking for new strategies for the formation of the final team.
Fortnite benefit and Gran Turismo qualys
Even though we are close to the big tournament, our hopefuls still have a chance to get the extra hour of streaming thanks to Fortnite benefit. For this reason, although throughout the week they have already had their great competitions, they cannot give up, but must give everything to win the title of this week's great winner. Also, this is really important since it is the last Fortnite Profit tournament of the Academy.
Of course, to anticipate a bit all the action that will arrive the next day, the applicants must face one more competition. This time with the intention of being able to get the best places to race on the Gran Turismo circuit. How will order be for this Saturday now that the number of players is so small?
Ranking update and streams of the day
The moment of truth has arrived and, although we do not have team points to share, we do have great proposals when it comes to the Gran Turismo competition order and, of course, the great winner of Fortnite Benefit. From the latest bonus streaming for Top Gamers Academy hopefuls.
While the order of Gran Turismo is divided with the applicants who have achieved the best times, on the other hand we find the great winner of the Fortnite Benefit week. This is, nothing more and nothing less, that Stark, one of the best aspirants of the Academy within the battle Royale and who will have the opportunity to compete with his followers during an extra hour of streaming.
Of course, this could not take place without the great support of the fans of the program and followers of each applicant. So the contestants have the unique opportunity to thank all the support with streams to close the night. This time with the great presence of Tolosa, Zeepos and Toni Cortés.