That Google Maps is one of the most used services and tools today is beyond doubt. But since the pandemic began, Google has sought a way to be useful with all its digital arsenal to fight the Coronavirus in aspects such as updated and truthful information for its users. And it seems that Maps is going to join the project.
Covid 19 infected layer on Google Maps
More than a billion people turn to Google Maps for essential information on how to get from one place to another, especially during the pandemic, when security concerns are at the fore. Features like popular times and live traffic, COVID-19 alerts in transit, and COVID checkpoints in driving navigation were designed to help you stay safe when you're away from home.
And to continue helping, this week Google presents the COVID layer in Maps, a tool that displays essential information about COVID-19 cases in an area so you can make more informed decisions about where to go and what to do.
How does it work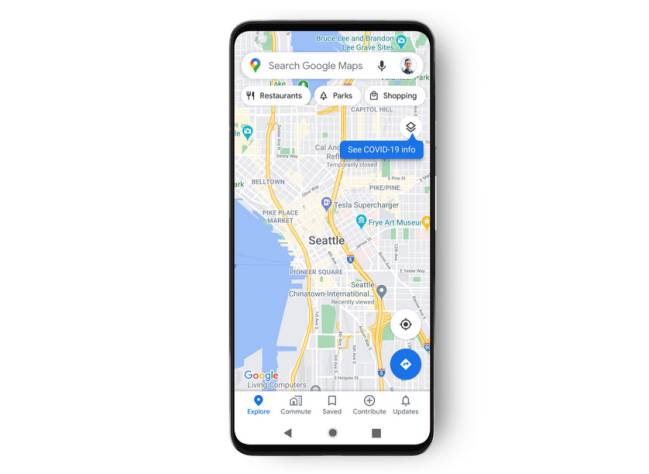 When you open Google Maps, tap the layers button in the upper right corner of the screen and click on "COVID-19 info". On the screen you will see a new layer that shows you an average of 7 days of new COVID cases per 100,000 people for the area of ​​the map you are looking at, and a label that indicates whether the cases are increasing or decreasing. Color coding will help you easily distinguish the density of new cases in an area.
Trend case data is visible at the country level for the 220 countries and territories that Google Maps supports -including Spain-, along with data at the state or province, county and city level when available.
Where does Google get the data from?
The data that appears in the COVID layer comes from "multiple authoritative sources," including the Johns Hopkins University in the United States – a private research center -, the New York Times newspaper and Wikipedia. These sources obtain data from public health organizations such as the World Health Organization, government ministries of health, along with state and local health agencies and hospitals.
Many of these sources are already used for information on COVID cases in Search, and now "we are expanding this data to Google Maps."