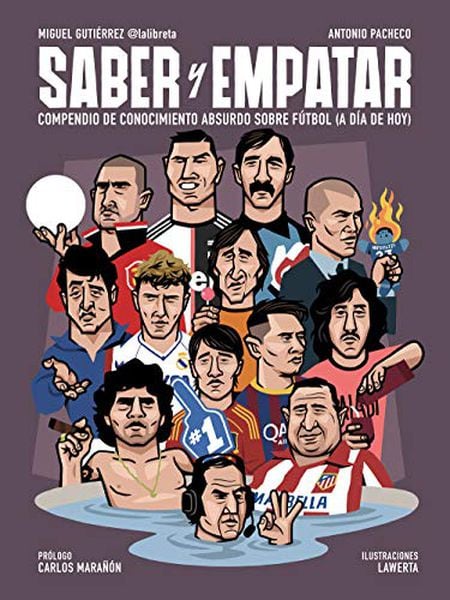 Cover of the book Saber y Empatar.
There are names and data that are incorporated naturally (and sometimes incomprehensibly) into the intellectual baggage of thousands of people. The Bora Milutinovic, for example, will act like Magdalena de Proust in the minds of many soccer fans who founded their passion in the 90s. And that was a name that appeared, on average, every four years.
Milutinovic led the national teams of Mexico, Costa Rica, the United States, Nigeria and China in the World Cup. He never made it past the quarterfinals. And yet there it is, forming part of the history of football, as a sympathetic memory of other times.
Saber y empatar (Corner), the work of the journalist Miguel Gutiérrez and the publicist Antonio Pacheco, with illustrations by Jorge Lawerta, is presented as a "compendium of absurd knowledge about football" but is, in reality, a generational guide to enjoy remembering images of other time. Where are those striking shirts worn by Mexican Jorge Campos, a player who went down in history as a goalkeeper-forward? How do you explain today, in times of pandemic, the positives and negatives that accompanied the points that each team added in the classification? Who remembers Onesimus's pranks repeated over and over in the Stadium Study on Sunday nights?
Under the prism of irony and humor, characters such as Dimitri Piterman, Teresa Rivero and Jesús Gil parade through the pages of the book. They offer a summary of the different Maradonas that existed in the world: that of the Carpathians, that of the Balkans, that of the desert … They remember that Brehme, Cafu, Piqué or Rijkaard played for Zaragoza. They leave messages for the press and their use of language – "Mengano is not going to play; Mengano is not going to be part of the game "-. They pose an interesting memory game with the referee's surnames as a hook. They rescued from oblivion the Ivorian Maguy, who signed in 93-94 for Atlético de Madrid. And, most important of all: they note that those who remember Atila Kasas (Kasac on the stickers) are a small crowd.