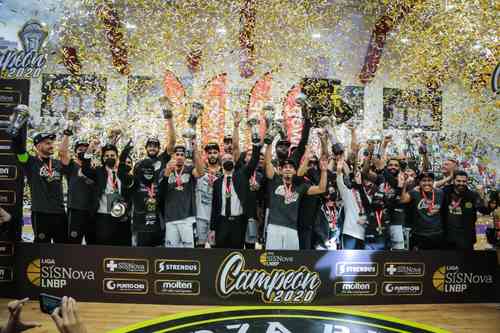 ▲ The Monterrey quintet achieved the title for the third time in its history.Photo taken from @Fuerza_Regia
From the Editorial Office
La Jornada newspaper
Friday, November 20, 2020, p. a42
There was no need for a fifth game and the Fuerza Regia team won the National Professional Basketball League title by defeating the Aguacateros de Michoacán 91-78 to seal the final series 3-1.
It was the third title of the Monterrey quintet in its history, although this time in a different way without spectators at the Nuevo León Independiente gym due to the Covid-19 pandemic.
The previous titles were given in the 2016-2017 season when they beat the Soles de Mexicali, and Capitanes, in 2019.
Joseph Ávila, who was the Most Valuable Player, got the highest score for the royal cause with 17 points, six rebounds and three assists, accompanied by Gustavo Aguirre who contributed 13 points and Paul Stoll, 11.
Rodney Green (24), Donald Sims (15) and Jerome Meyinsse (13) stood out for the Avocados.
The local team was always up on the scoreboard with a 12-point lead in the first quarter and went to the break 43-31
Upon their return, the Fuerza Regia offensive continued to dominate at will (66-56) to seal the victory in an overwhelming way (91-78) to celebrate the title.
For coach Francisco Olmos it represented the fourth final in five seasons with the Monterrey team and his third champion trophy.
The third came was the message accompanied by a video with which the three-time champions celebrated with the fans on social networks.
Without keeping a healthy distance, few players with masks, raising their arms with trophies, the brand-new monarchs celebrated with a loud cheer among themselves, the coach and managers of the National Professional Basketball League.