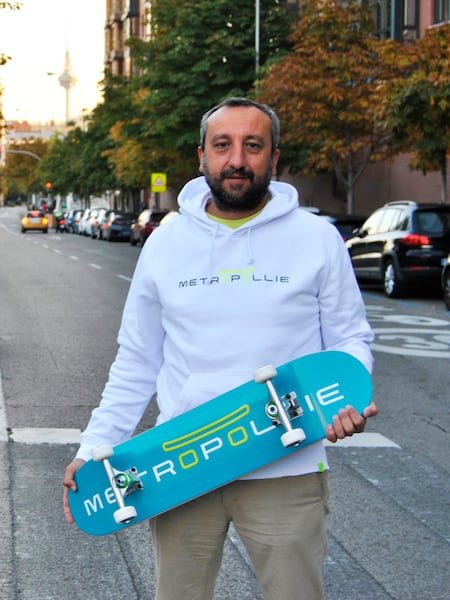 Fernando Gárate, founder of Metropollie.
The street is yours. At least as this entrepreneur understands it. His talent, his enthusiasm and all the time he steals from sleep he turns over to Metropollie, a young start-up that runs on four wheels and there is no asphalt that can resist it. It is the dream, come true, of the boy skater that was. Fernando Gárate is its founder and he still remembers those years when he literally left his skin "on my brother's board, made of rough wood and huge wheels." Today he lives overturned in the design, manufacture and commercialization of skateboards and urban clothing whose design does not leave indifferent. "We vindicate in clothes and tables social causes that affect society and concern youth," he says. His latest release, NO +, extends to reasons such as NO + Climate Change, No + Herds or No + Sex Discrimination. Topics that align with young people opting for engaged brands.
Thanks to them, Metropollie has reached a turnover of one million euros. "In this first year we have registered a volume of losses of 100,000 euros. Our strategy prioritizes growth and reinvesting everything that is generated in the business ".
Skateboarding is his life proposal. Outdoors and sports for a youth who need open spaces to interact and train their muscles. Today is on your side. The Tokyo 2021 Olympic Games welcomed skateboarding as an Olympic sport for the first time. Not in vain it is a discipline that has a worldwide turnover of 2,000 million euros and is practiced by more than 40 million people.
As a Spanish brand, Metropollie boasts of working with manufacturers and suppliers located in the country, "which allows us to be on top of the processes". And it is that Gárate, trained in advertising and design, is a self-made and multitasking man, capable of controlling and working both in the design and production and in the launch of his boards and sportswear. For a reason, he was one of the forerunners of e-commerce in Spain, together with his partner, Joshua Novick, when starting Antevenio, a digital marketing company, which was listed on the Paris Stock Exchange, with a presence in seven countries and 240 employees.
He always wanted to work on his own. When the Internet was unknown, he founded the Centrocom company. "We created the first online store for El Corte Inglés and the Casa del Libro." The keys for a business to work, says Gárate, are to seek customer satisfaction and for the brand to have a soul.