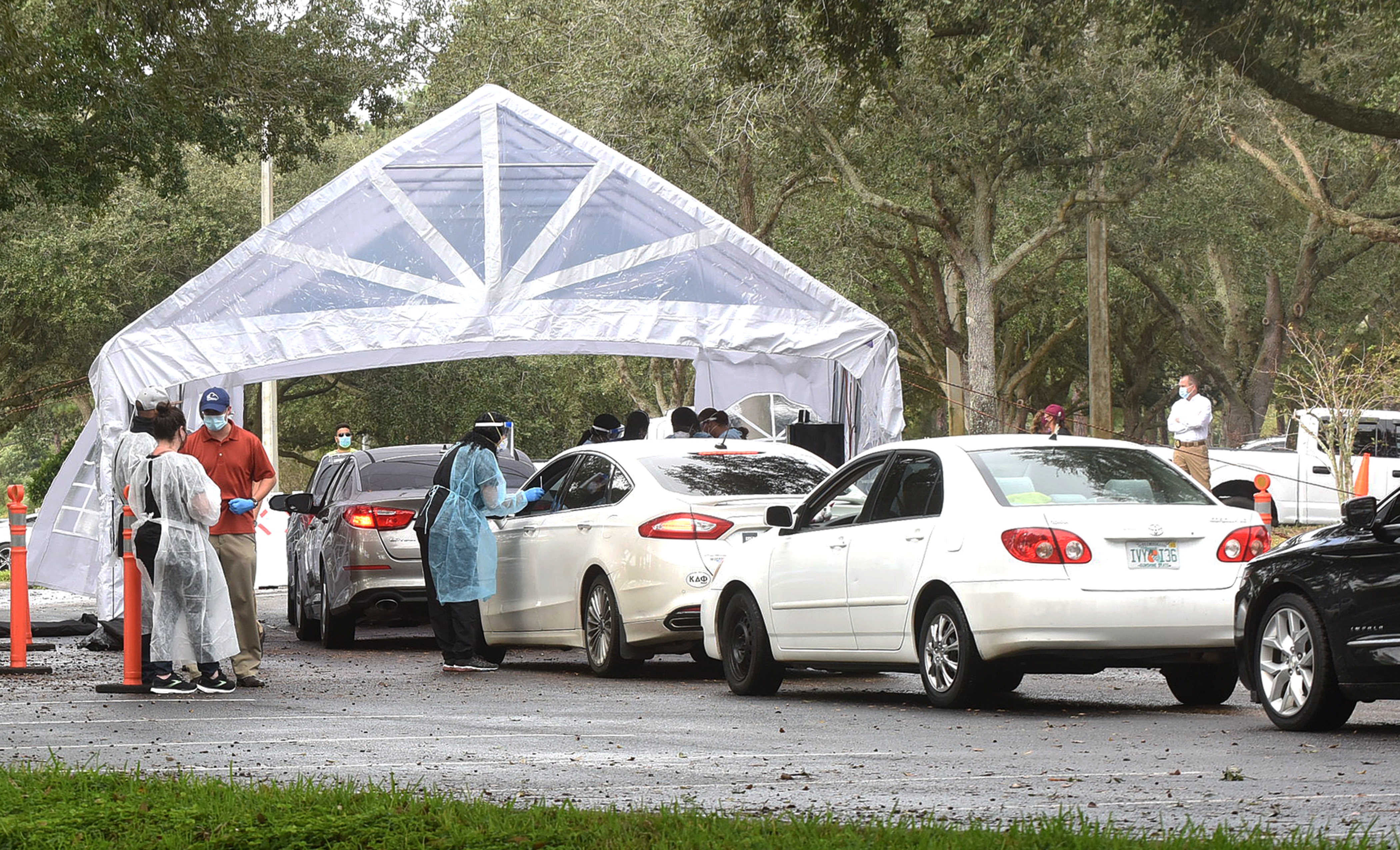 Coronavirus cases in Florida reached 889,864 Monday after 4,663 new positives and 41 additional deaths of residents in the state were reported, the Health Department reported.
In total, the results of 62,733 tests were reported with a positivity rate of 7.95 percent, staying above 7% in the last eight days.
In the last week, 42,043 new cases have been reported: 4,663 on Monday, 10,105 cases on Sunday, 4,544 on Saturday, 6,933 on Friday, 5,607 on Thursday, 5,838 on Wednesday and 4,353 on Tuesday. The average number of positives to COVID-19 in the last week is 6,006 per day.
Miami-Dade has had 203,654 cases so far and Broward 95,734. The two counties have the highest number of infected people in the state, where 17,559 residents have already died from COVID-19. Another 216 non-state residents have died in Florida, for a grand total of 17,775.
This Friday, more than 170,000 cases of coronavirus were registered in the country and more than 1,000 deaths from the disease throughout the country.
In Miami-Dade, 3,709 people have died from COVID-19 and in Broward 1,596.
In addition, Palm Beach County has had 58,754 positive cases, while Monroe accumulates 2,839. A total of 52,019 people have been hospitalized in the state during this outbreak, which is not to say that all are hospitalized at this time.
In the center of the state, Hillsborough County has 53,187 cases and Orange has 51,888 confirmed COVID-19 cases. In the Southwest, Lee County has 26,438 positives and Collier County 16,019.
Florida continues to be the third state in the country most affected by SARS-CoV-2, the coronavirus that causes COVID-19, after California and Texas. In just one week, the US registered one million infections of COVID-19 and remains the country most affected by the pandemic.
President Donald Trump said the United States government would not deliver a coronavirus vaccine to New York if one was available.
New York Governor Andrew Cuomo "will have to let us know when he's ready because otherwise we can't deliver (the vaccine) to a state that won't deliver it to its people right away," Trump said during a conference on press at the White House.
Miami Mayor Francis Suaárez insists on maintaining restrictions that, he said, contrast with the governor's opinion.
Although the main concern is that hospitals will collapse, specialists insist that they are better prepared for this new stage and that treatments such as convalescent plasma or remdesivir in seriously ill patients are giving results.
Dr. Aileen Marty, an infectious disease specialist at Florida International University believes that "this is going to grow to a very dramatic extent that is already being seen in other parts of the United States.
The 10,000 positive cases reported in Florida this Sunday are accompanied by an unprecedented number of tests in the state: more than 146,000 tests reported in a single day.