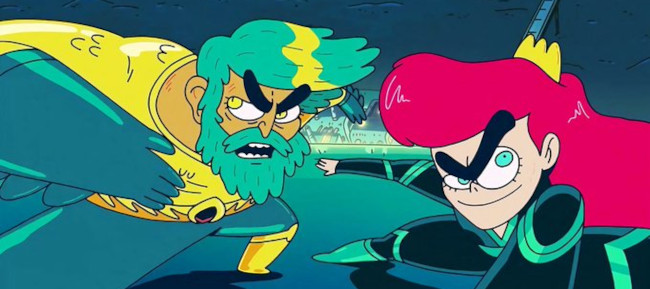 The first image of the future HBO Max DC animated miniseries is now available,'Aquaman: King of Atlantis'. In this image revealed on Twitter and available below we see the new animated versions of Arthur / Aquaman and Princess Mera, characters played by Jason Momo and Amber Hear in the 2018 film.
Focusing on the hero's attempts to rule the underwater kingdom of Atlantis, this three-part miniseries centers on Aquaman as he deals with unscrupulous surface dwellers, greater evils beyond time, and his own brother's attempt to overthrow him. Together with his two royal advisers: Vulko, the scholar and Mera, the warrior princess who controls the water, Aquaman must rise to the occasion and prove to his subjects that he is the only true ruler of Atlantis.
Victor Courtright and Marly Halpern-Graser act as showrunners and co-executive producers of this series based on the character created by Mort Weisinger and Paul Norris in 1941. For his part, James Wan produces the project under his Atomic Monster label, along with Michael Clear. , Rob Hackett and Sam Register. All backed by Warner Bros. Animation.
It is unknown if some of the actors from 'Aquaman' will lend their voices to the series. The DC character was first adapted into an animated series during the 1970s in the classic 'Super Friends' cartoons.
The first promotional image for HBO Max's AQUAMAN: KING OF ATLANTIS has been released pic.twitter.com/pfRwXAt6gn

– What's On HBO Max (@WhatsOnHBOMax) February 17, 2021