M. CARMEN TORRES
Barcelona
Updated 07/21/2021 – 20:55
If there is one thing that is clear in this Barcelona transfer market, it is that the Bara wants to do without Griezmann. His departure is economically necessary for the entity which. The Board understands that the French international must leave the Catalan squad so that the current dressing room is viable and sustainable. The exchange operation with the Atltico de Madrid for Sal has been frustrated, at least for the moment, because the Bara He was not satisfied with the conditions, but this blockade does not rule out, much less, his departure. The sports area is already studying other routes and other exchanges with other clubs, which are, however, at the expense of the approval of the bleu.
Griezmann is one of the players of the Bara with the highest record in the dressing room, but, in addition, he is one of the most valued and sought-after footballers of the squad, hence he is considered the main resource to solve the economic problems of the Catalan club. In fact, in the Camp Nou They believe that without their goodbye the viability and sustainability of the dressing room will be very complicated, since the numbers of their salary will not add up and they see it more difficult for other players to leave, who have less market and poster.
Cerezo, on the Griezmann-Sal barter: "Everything is possible"
Valued
The Bara, once stopped, not ruled out, the barter with Salt -the club which wants financial compensation taking into account that Griezmann has a higher appraisal-, studies other options. France, specifically the PSG, and England, There are several interested clubs, they are the main markets that the technicians are addressing. The great season he has done with him Bara and in the Eurocup endorse his great, and recognized, talent. From the Camp NouHowever, it was ruled out yesterday that they are considering an exchange with Juventus for Dybala, as L'Equipe pointed out.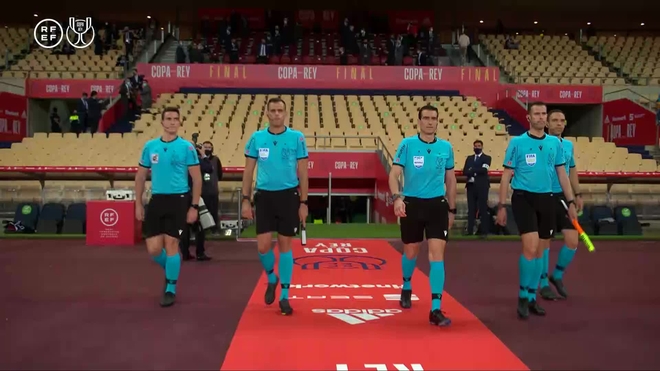 Final Copa del Rey 2020/21: Summary and goals of Athletic 0-4 Barcelona
Anyway, any operation is at the expense of the approval of the French, who not only wants to maintain more or less his current valuation but, logically, wants to go to a club in which he feels comfortable. Griezmann, that last year he was one of the players most used by Koeman and more determinants of BaraHe has a contract until June 2024. In the 20-21 season, he participated in 51 matches between all competitions and signed 19 goals. Its exit responds only to the economic hardship that the Barcelona.