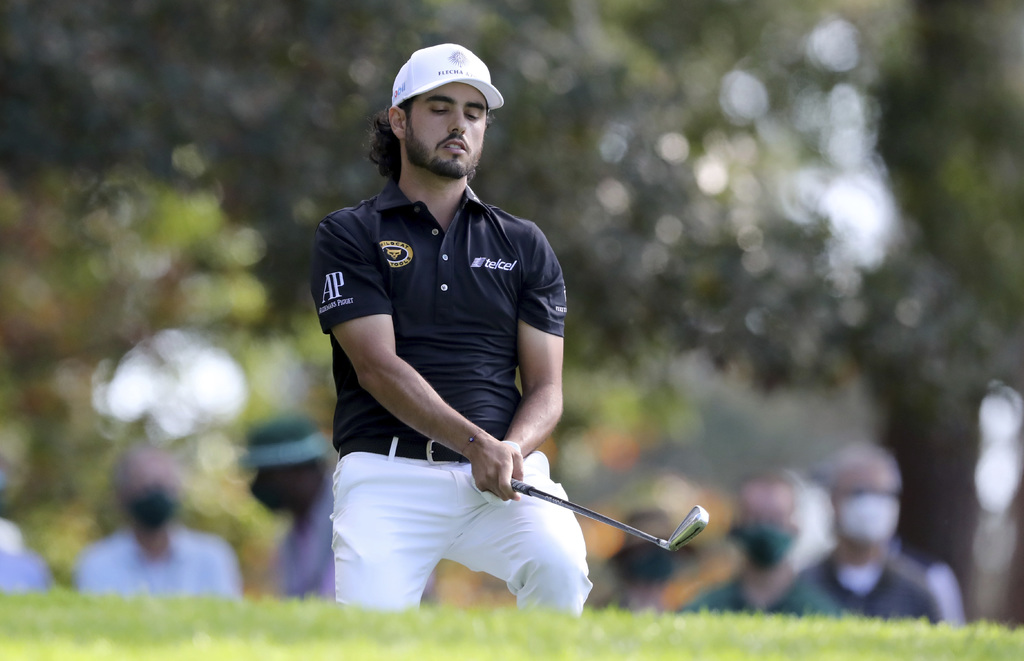 World golf number one Dustin Johnson donned the green coat for the first time, becoming the PGA Tour Masters champion, where he implemented a new record of strokes. Abraham Ancer, for his part, had a disappointing day.
The American not only kept the advantage of four shots with which he left for the last round at Augusta National Golf Club, but at the end of the 18 holes, he extended it, by taking five out of his closest pursuers, Australian Cameron Smith and the Korean Sungjae Im, who managed to be one apart, when they played the fifth hole.
In the traditional tournament, which was played for the only time in November due to the COVID-19 pandemic, after the four rounds, DJ added 268 hits (20 below field par), breaking the one established in 1997 by the champion of the Last year, Tiger Woods who added 270 hits (-18), the same number that Jordan Spieth equaled in 2015.
After his first birdie on the 3rd hole, Dustin had a couple of distractions on the 4th and 5th, for Im to cut back for the lead. They were the only mistakes the American made in the round, putting things in place with birdies at 6 and 8.
For the second lap, Johnson played conservatively, but put the accelerator on a bit, to string together "little birds" on 13, 14 and 15. He had a chance to close with another on 18, but missed the putt, when the title was in your hands.
"Today was a very difficult day where I started well. Starting at hole 6 I feel like I played very solid and played very good golf until the end," Johnson said. "Having grown up so close to here, since I played the first Masters has been the tournament I have always wanted to win," added the champion.
Tiger Woods for his part, concluded his performance with 5 birdies in the last 6 holes, unable to shake off an expensive 10 on hole 12 (par 3), the same one where last year he played masterfully and in which the Italian suffered Francesco Molinari, giving him the green jacket, which he gave to DJ yesterday.
Along with Englishman Paul Casey, Woods finished in 38th place, also alongside fellow countrymen Tony Finau and Billy Horschel, South African Christiaan Bezuidenhout, as well as fellow British Lee Westwood.
"I have hit too many hits that I did not want to hit today. And they are not going to put the green jacket on me today, I am going to pass it on to someone else," Woods said with a resigned smile.
ANCER FALLS
Regarding the Mexican Abraham Ancer, who came out in the honor threesome with DJ and the Asian, he did not have the best of days and signed a card on Sunday at 76 (+4) that relegated him to 13th place , a locker he shared with Japanese Hideki Matsuyama, local Kevin Na and Marc Leishman from Australia.
The "Turk" after starting with two pairs, began to have problems, accumulating bogeys in holes 3, 4, 6 and 7. He managed to breathe with a birdie in 8, but emotionally, it was difficult for him to return to fight for the top spots, especially because of the pace set by Dustin and Im.
Although he hit the balls in a good way, they were always very far from the flags on the green, so he did not have much real chance to improve his performance, which was complicated in the second round, with other bogeys in the 10th and 11th. his second and last "little bird" of the day at hole 15, with which he managed to make up his discreet performance in the final round.
"It was a super frustrating round, with a lot of bogeys that must have been birdies. I didn't feel very comfortable on the greens, but, well, tied at 13, I wanted to have an incredible final round and it didn't happen," said the tricolor. .
"I took a lot of learning from my first Masters … in five months I'll be back," promised Ancer.
"Every year I have been able to improve in my game. I still have things to improve and days like this are going to help me, they make me hungry to improve," he concluded.
👍 I like it 😍 I love it 🤣 funny 😮 surprised 😡 angry 😢 sad