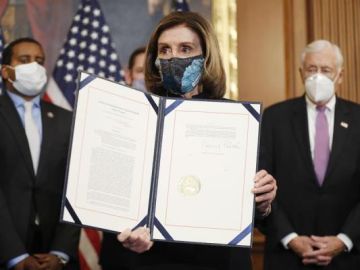 Donald trump has "unequivocally" condemned the violence of the past week, although his message comes late, after his followers stormed the Capitol. The outgoing president of the United States condemned the acts in a speech to the nation in which Donald Trump did not mention the impeachment approved in Congress.
"I want to be very clear. I unequivocally condemn the violence we saw last week. Violence and vandalism have absolutely no place in our country," Trump stressed without referring to the impeachment trial in which he is precisely accused of "incitement to the insurrection".
Referring to his supporters, he noted that "making America great again has always been about defending the rule of law, supporting the men and women of law enforcement, enforcing and defending the most sacred traditions and values ​​of the United States. our nation. " "The violence of the mobs goes against everything I believe in," he stressed, assuring that none of his followers could "disrespect the law or our great American flag." "If you do any of these things," he warned, "you are not supporting our movement."
The FBI in "red alert" before the inauguration of Joe Biden
FBI executives have warned the chiefs of police in large American cities that in the face of Joe Biden's inauguration they must be on a "red alert" and that they must communicate all the intelligence information available to possible violent attacks, which will take place on January 20.
According to the New York Times, FBI Director Christopher Wray and US Citizenship and Immigration Services Acting Director Kenneth Cuccinelli were deeply concerned in a 45-minute phone call that extremist violence breaks out, some of the participants in the conversation told the media.