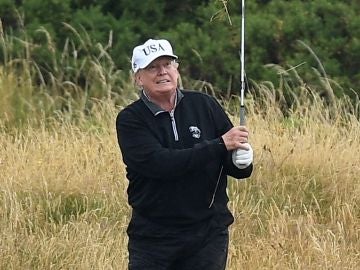 The current president of the United States, Donald Trump, has briefly attended the G20 virtual summit and dThen he went to play golf, a common practice of Trump after the elections of November 3 in the United States that gave victory to Joe Biden.
The virtual summit was attended by Pedro Sánchez, German Chancellor Angela Merkel, French President Emmanuel Macro, and King Salman bin Abdulaziz of Saudi Arabia; the Italian Prime Minister, Giusseppe Conte; and the presidents of Argentina, Alberto Fernández; South Korea, Moon Jae-in, and South Africa, Cyril Ramaphosa to discuss the different measures against the coronavirus. Trump was scheduled to participate in the inaugural session of the summit, organized by Saudi Arabia but which is being held virtually, but his speech was behind closed doors. About two hours after the start of the summit Trump went to his club to play golf like every weekend, as G20 leaders continued to debate the coronavirus situation.
Donald trump continues to blame pharmaceutical company Pfizer for hiding information about the coronavirus vaccine for after the US elections to harm his victory. The current president still does not reveal the results of the United States elections and is making decisions that could affect Biden's term as of January 20, 2021.
The Pentagon announced that Trump had made the decision to withdraw much of the troops in Afghanistan and Iraq. In addition to not providing Biden's team with secret information from the United States to begin preparations for the new government.