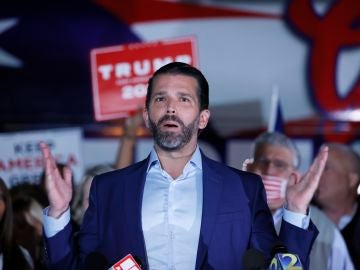 Donald Trump Jr., the eldest son of US President Donald Trump, has tested positive for coronavirus. Donald Jr. is the second of the president's sons to test positive for the new coronavirus, after the youngest, Barron, was diagnosed last month.
US media have revealed that you are currently without symptoms of the disease, for now, in isolation. "Don's positive result was known earlier in the week and he has been in quarantine at his cabin ever since," a spokesman for the president's eldest son said in a statement.
Trump Jr joins the dozens of advisers and members of Trump's inner circle who have been infected with the coronavirus, which struck the president himself in early October.
Trump intentionally underestimated the importance of the disease at the beginning of the pandemic, which he himself has recognized, so that there would not be panic among the population, and he refused to wear a mask in public for several months.
The White House announced this Friday that there will be about 40 million doses of the vaccine for Covid-19 available in the country towards the end of this year, thanks to the advances of the pharmaceutical companies Pfizer and Moderna.
USA it is the country in the world most affected by the coronavirus pandemic with more than 11.8 million cases and more than 250,000 deaths, according to data from Johns Hopkins University.