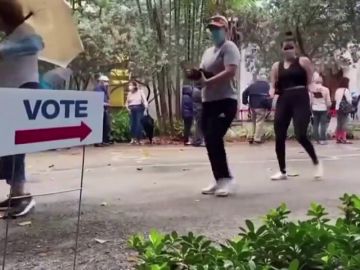 The outgoing US president, Donald trump, fired the director of the cybersecurity agency who claimed that the past presidential elections were "the safest in history." "The recent declaration of Chris Krebs on the security of the 2020 elections was very inaccurate, as there were massive fraud and irregularities"said the president on his Twitter account." Therefore, "Trump added," with immediate effect, Chris Krebs has been fired as director of the Cybersecurity and Infrastructure Security Agency (CISA), "a body that belongs to the Department of Homeland Security (DHS).
Safe only to the outside
In his series of tweets, the president stated: "The only sure thing in our 2020 elections was that they were practically impenetrable to foreign powers. In that, the Trump Administration takes great credit. "This Trump decision comes after the CISA, through its coordinating committee for electoral infrastructure, argued that the elections were "the safest in history"."There is no evidence that any voting system has eliminated or lost votes, has changed votes or has been affected in any way, "he said in a statement that had a lot of repercussion by directly contradicting the Trump fraud complaints. "Although," he added, "we know there are many unfounded claims and opportunities for misinformation about our election process, we can assure you that we have the utmost confidence in the security and integrity of our elections and you should too. "Krebs has been the first director of CISA, a position created in 2018 by Trump, since until then the agency was led by an undersecretary of DHS.Two weeks before the elections, Trump still does not recognize the triumph of president-elect, Joe Biden, a fact that he attributes without proof to a fraud orchestrated against him by the Democrats.