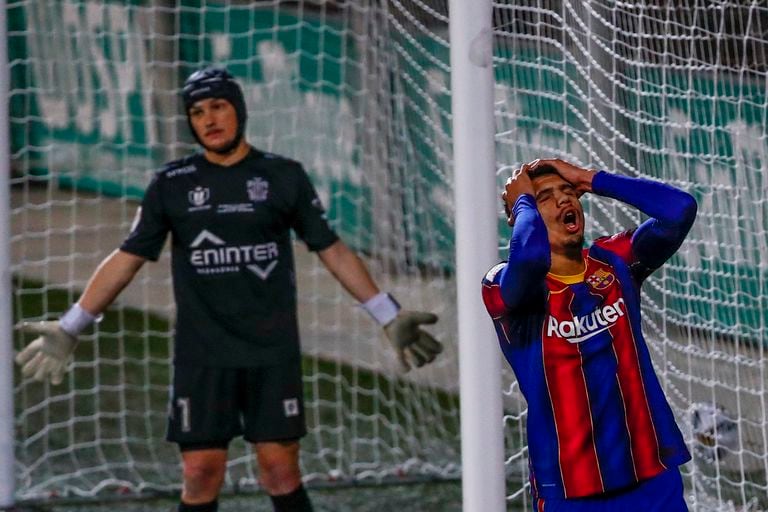 Araujo regrets a missed chance against Cornellà.Joan Monfort / AP
"Do not complicate yourself". That was the advice of coach Quique Setién when he gave Ronald Araujo (Rivera, Uruguay, 21 years old) the opportunity to defend Barça the previous year. At that time, the club considered him a bad signing – he paid the Uruguayan Boston River 1.7 million euros, plus another 3.5 in variables – because he had serious problems when getting the ball. "A matter of time", they replied from the sports area, convinced that it is very difficult to find a 1.90 meter center-back in the market with that starting and running capacity. But he sowed so many doubts at the beginning that he was compared with Yerry Mina (sold to Everton) and from the board that it was said that he had wasted money as also happened with Pedri. After the games, however, Araujo has shown that he is a reliable defender, an insurmountable wall for rival forwards.
It turns out that there is something that nobody beats the defender, because in the 15 games he has played this season, he has only been dribbled once (Morata, from Juve). Interestingly, he was a bit muscled and was switched in the middle. Araujo explains his recipe: "Before some games I think: 'If I mark Leo in training, what is going to be more difficult than him?" From the Barca dressing room they have it clear: "Don't think that it changes a lot in training. It is a good limpet if it is proposed. Where he is, he does not pass ". A sensation, a reality, that from the sports and technical area – also from the candidates for the presidency, now that the club is in the hands of a management committee – has delayed the arrival of Eric García (City) to summer and not rush plus the difficult economic situation.
Koeman trusts him so much that he is the only player who has played the 360 ​​minutes against Real Sociedad, Athletic and Cornellà (Super Cup and Cup games with extra time), followed by Lenglet (346) and Griezmann (341). Presumably, he will repeat this afternoon before in the visit to Elche (16.15. Movistar) because he has won the place, because while Lenglet has shrunk in the last duels, Araujo has grown.
Praised for his speed and anticipation, Araujo has, however, a blemish to improve. "Since I came to the club, I have worked hard to get the ball out. He came from another football, the one played in Uruguay, "the central defender told the . agency; "I admire Piqué a lot, especially when kicking the ball, how he plays with his feet, which I feel is what I lack." Verdict approved by Koeman: "He must improve his vertical pass and the first ball control. It is an important position in the team and, although he is young, he is showing that he has a lot of character and intensity, that he brings a lot ".
The numbers are clear. In the medium-short passes, Araujo accumulates a 94.4% success rate (for Lenglet's 94.9% and Piqué's 94.7%). But he becomes entangled when he must deliver the ball more than 30 meters, as he achieves 52.3% success in long displacements when Lenglet reaches 61.8% and Piqué, 77.8%.
Recently international with Uruguay, he is also reserved and even shy, religious because he always carries the Bible under his arm. From the club, and after advising him to watch videos about him, expectations are already skyrocketing: "It's the new Puyol." There is much left for that, but for now there is no one who can beat Araujo.