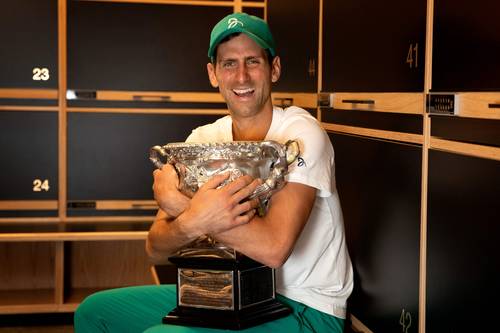 ▲ Serbian Novak Djokovic beat Russian Daniil Medvedev 7-5, 6-2 and 6-2 to add his Grand Slam 18. After 16 years he repeats the treble at Rod Laver Arena. Afp photo
Afp, Ap, Europa Press and Sputnik
La Jornada newspaper
Monday, February 22, 2021, p. two
Melbourne. In less than two hours, Novak Djokovic defeated Daniil Medvedev 7-5, 6-2 and 6-2, won his bet against abdominal injury, won his 18th Grand Slam and the ninth title at the Australian Open.
These two weeks have been a roller coaster for me, acknowledged the Serbian, number one in the world. Rod Laver Arena, I love you more and more every year. The love story continues, he said before about 7,400 viewers.
"From an emotional point of view, with everything that happened on the court, my injury and out, the quarantines, it is without a doubt the most complicated Grand Slam tournament I played," acknowledged Djokovic.
There are many mixed feelings about what happened in the last month with the tennis players who came to Australia, but I think it was a successful tournament. It was not easy, I think they should be proud of themselves for what they have achieved, he stressed.
The 33-year-old from Belgrade is two crowns away from tying Roger Federer and Rafael Nadal in big tournaments.
"We are talking about tennis cyborgs, in the best sense of the word. They are simply incredible and I am not ashamed to say so, "Medvedev said of the components of the so-called Big Three.
"Daniil is one of the most difficult players to play that I have faced. Don't worry, it's only a matter of time before you lift a Grand Slam trophy. But I would like you to wait a few years, "Djokovic smiled at the Russian at the award ceremony.
Medvedev lost his second final in a major after the 2019 US Open, and his series of 20 consecutive victories was interrupted. Today he is third in the ATP rankings behind Nadal.
He hoped to become the first Russian to win Melbourne since Marat Safin in 2005. That year, his compatriot had swept a 17-year-old Australian debut in the first round: Novak Djokovic.
Superb service
Too slow at the start of the game, Medvedev was soon 3-0 behind. He managed to equal three, but gave up his service at 7-5. And he was no longer threatening against an adversary who used superb service and his usual excellence on the line.
With a ninth title in as many finals in Melbourne, Djokovic is Australian Grand Slam history. He is still far from Nadal's 13 championships at Roland Garros, but he has already surpassed Federer's eight on the grass at Wimbledon.
After 16 years, the Serbian signed his second Australian treble. Two other tennis players won at least three titles in a row in Melbourne: Jack Crawford (1931-1933) and Roy Emerson, who won five from 1963 to 1967.
"He was in dire need of this victory, after the disappointment of the US Open (disqualified in the round of 16 for having inadvertently hit a linesman with a ball) and his poor finish at Roland Garros (surpassed by Nadal) That was not easy ", commented his coach Go-ran Ivanisevic.
The victory is even sweeter after the emotions and suffering he went through (injured abdomen). They criticize him for everything and he showed once again how strong he is mentally. There are people who can bear the pain and others cannot, summed up the former Croatian tennis player.