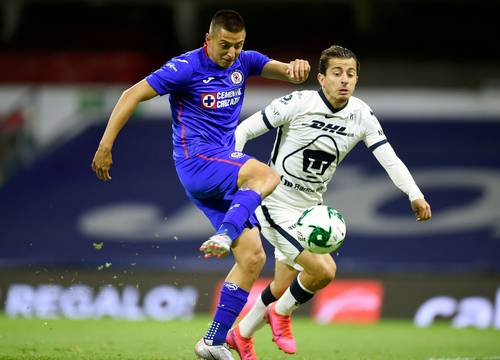 ▲ Roberto Alvarado, from Cruz Azul, competes for the ball with Alan Mozo, from Pumas, during the first leg of the semifinals of the Guardianes 2020 tournament, at the Azteca stadium. Photo Afp
From the Editorial Office
La Jornada newspaper
Friday, December 4, 2020, p. a43
Just a few minutes were enough for Cruz Azul to beat some Pumas 4-0 who were lethargic in the first leg of the semifinals of the 2020 Guardianes Mx League tournament. Roberto Alvarado (minute 2), Rafael Baca (at 8), Luis Romo (13 and 90 + 5) scored the goals, while the cats could not generate danger and saw the good tournament carried out fade.
The illusion leads the celestial fans to lose consciousness, which once again and without taking precautionary measures against Covid 19, gathered outside the Azteca stadium.
Once on the pitch, La Maquina took the lead with a goal from the dressing room. On a free kick rebound, Roberto Alvarado received the ball and after taking advantage of an error by defender Alan Mozo shot to make it 1-0.
The goal was enough to knock out the Pumas and they quickly unleashed another blow. On a rebound, Rafael Baca surprised by launching a ball from outside the area and rocking the nets before the astonished eyes of the rival.
Not even Baca himself or coach Robert Dante Siboldi believed the ease with which they had the advantage, but La Maquina was not satisfied and took advantage of the adversary's distraction.
Without complications, Roberto Alvarado sent a cross for Luis Romo to finish off with a cross shot and put the third goal. The cats tried to recover in the complement, but The Machine even reached the nets again although the referee Jorge Isaac Rojar pointed out of place.
Later, the controversy came when the felines asked for a penalty for an alleged hand of Pablo Aguilar, but the whistler did not signal a fault after intervention by the VAR. With the duel already won, Luis Romo put the fourth goal in compensation time. Thus, without great effort, the sky blue shot down the Pumas, who will seek to revive Sunday in the second leg at the Olympic University.