The coronavirus became the main protagonist of the great game of the day of the South American qualifiers. After the positive of Matías Viña on Sunday, the Uruguayan Federation confirmed on Monday that at least two other players, Rodrigo Muñoz and Luis SuárezIn addition to the press officer, Matías Faral, they have also contracted COVID-19 and will not be at the Centennial of Montevideo on Tuesday night for the expected match against Brazil.
Maestro Óscar Tabárez, who reached his 100th victory with Uruguay after the overwhelming victory against Colombia (0-3), will face a complicated puzzle to replace at least two starters, Viña and Suárez, although there is fear that in the results more surprises may come out this morning.
The young Agustín Oliveros, 22-year-old side of Nacional, should be Viña's substitute in which it will be his debut in the absolute Celeste. Viña gave stability to the Uruguayan left back, who suffered with the irregularity of Laxalt and with the failed experience of Martin Cáceres, with a changed leg.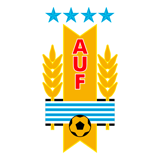 Up front, Darwin Núñez will most likely enter for Luis Suárez. The 21-year-old forward is on his honeymoon with the Benfica fans, a club that signed him for 26 million euros from Almería. He scored Uruguay's third goal in the victory against Colombia and is the pearl of the future for La Celeste.

Brazil travels to Montevideo, leader of the qualifying rounds, with three victories in their three matches, but also with important casualties such as Neymar, Coutinho and Fabinho, injured, and Casemiro and Militão, also due to COVID-19. Allan, Everton midfielder, who occupied the position that would be Casemiro or Fabinho in the victory against Venezuela (1-0), is doubtful due to muscular discomfort and Arthur can start as a starter.
Uruguay – Brazil
Probable lineups:
Uruguay: Bell; Cáceres, Giménez, Godín, Oliveros; Nández, Torreira, Bentancur, De la Cruz; Darwin Núñez and Cavani.
Brazil: Ederson, Danilo, Marquinhos, Thiago Silva and Lodi; Allan (Arthur), Douglas Luiz; E. Ribeiro; Gabriel Jesus, Richarlison and Firmino.
Referee: Tobar (Chile).
Stadium: Centenario (Montevideo).
Time: 00:00 (Movistar Plus)