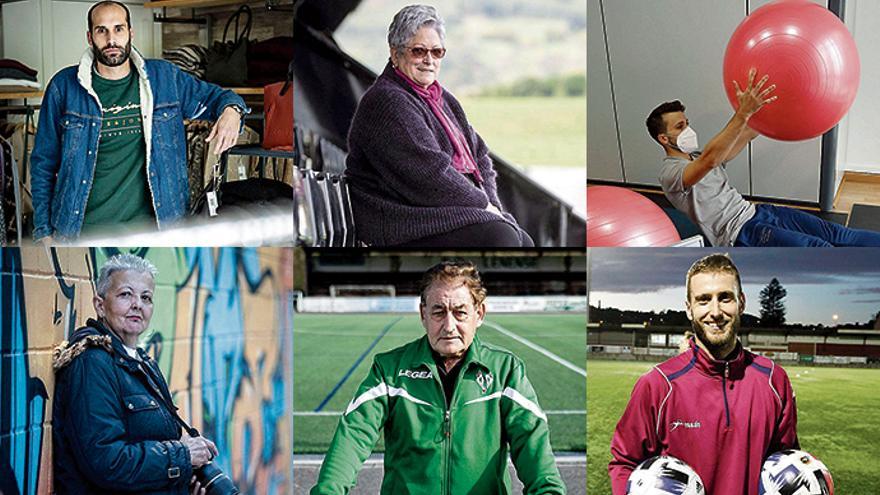 A directive taped to the radio
Covid hits soccer out of mud hard
The feelings of Josefa Rubio (Cornellana, Salas), with almost 70 years of age and more than 30 at the foot of the canyon with Lealtad, are summed up in one sentence: "Take it fatal, but fatal to fatal". Josefa is something like the all-rounder of the Malian club, in Second B. She is a directive (vocal), but much more than that: laundress, dressmaker, cleaner and, except to score goals, whatever it takes. An entire institution in the village club. Josefa must adopt a lower profile in the day-to-day life of the club due to the pandemic, although fortunately for her mental health she can continue to go to Les Caleyes to watch the Loyalty matches. If it weren't for the covid, I would also go to meetings outside the home, which instead continues passionately with the radio to my ear and suffering a lot. Josefa shows her concern for the economic future of Lealtad – "this could be a ruin" – and laments the weekly tedium – "I no longer know which day of the week I live, they are all the same." They are all the same, he repeats with a smile, except when playing his Loyalty. "I just love them a lot."
The clinic does not take care of itself
Covid hits soccer out of mud hard
Mario Sánchez (Avilés, 28 years old) did not know it at that time, but when the covid still sounded like a distant Chinese tale and the masks were only used in the operating rooms, he played his last football game with the Avilés Stadium, in Third Division. His plan after last year's suspension was to continue competing this season, but everything was twisting at the same rate as the pandemic was increasing in intensity in Asturias. The reason? Strictly labor. "I have a physiotherapy clinic in Avilés and I run it alone. I can't risk closing it if I have to quarantine. It was football or work and the decision cost me, but it was for the best ", admits Sánchez. The clinic is almost two years old and combining it with football was always accessible, but not so much with the virus: "I didn't even consider the possibility of leaving it in March, it even seemed possible to play this season. It's a shame, but I had no choice because the risk was enormous ". Sánchez is left with the good health of his clinic and the memories of a long career in modest regional football.
The blackout of the Tuilla camera
Covid hits soccer out of mud hard
"Taking photos of people with masks is horrible." It is said by Adoración Sánchez (Anieves, 60 years old), "Dori" for everyone, but especially for Tuilla. Dori is a kind of rare bird in regional football: she has been immortalizing her Tuilla for almost a decade. The covid has momentarily turned off its camera. "I live quite shut up because I am a risk person. I go out for a walk and shopping, little else. I get really bored and I miss football ", admits Dori, who received a kidney transplant eight years ago and has suffered many health problems throughout her life. The photographer follows the day-to-day life of the club through her husband, Fredo, who is the vice president. "He tells me everything. He makes sure the kids do well. It takes them to the fever ". Dori hopes that the storm will subside, and that the hugs will return to El Candín, the field of Tuilla, although she warns: "Everything is fatal. Without an audience we don't even have to pay the referees ". He saves some post-pandemic photos that he was able to take and ends with an interesting reflection: "When we see them in a few years we will hallucinate."
Clothes are washed at sixty degrees
Covid hits soccer out of mud hard
When Domingo González took early retirement from the mine, a Lenense manager made a request that would change his life: "Why don't you come here?" And Domingo left. "My boy went to the first team from youth and my wife encouraged me. He told me to go there, that way I wouldn't have so much bored at home. " That was 22 years ago. Since then, under the position of utillero, Domingo has been an all-rounder for the humble club of Pola de Lena, who plays in Third. The covid has changed mechanisms of his daily work, but the veteran fixes himself. "The players cannot use the dressing room and have to change outside, that was not the usual thing. We continue to wash their clothes, now at 60 degrees, which is what the protocol requires, "explains Domingo. The utility man, all positivity, tries to see the glass half full. "Before I went to the field every day at 9.30 and now, since everything is stopped, I go an hour later. Let's hope we get out of this together. The kids are young and they have courage: they are one of those who if it rains, they get wet, "says Domingo, who has the Lenense squad crazy by hiding their age. Exceeds 70 years.
Third player, base coach
Covid hits soccer out of mud hard
On weekends you can compete as a player, but not as a coach. Alberto Álvarez, "Chopa" (Gijón, 9-24-1990), Gijón Industrial striker in the Third Division, also works as a coach in the lower categories of the club, directing the Fabril youth and the Calzada Women's Soccer School. Mechanical Engineer and student of a higher degree in Computer Science, he lives a duality in sports. "We have already seen cancellations of matches in Third due to infections and the situation looks ugly," says the man from Gijón. "Chopa", nickname that comes from his passion for fishing, has been linked to the Industrialist for a lifetime, of which he is a youth squad. "I love football and watching children learn. The main thing now is to make them enjoy adapting to this new situation ", he explains. Train on the Lauredal track and at the El Frontón field. A few meters away is Santa Cruz, where he himself exercises with the Third team. "At first there were colleagues who changed in the car and even now not all of us use the showers as a precaution. That, after a training session in the rain and in almost winter is hard ", he says.
Family, business and football
Covid hits soccer out of mud hard
The story of Mario Bujanda (Oviedo, 32 years old) flows between two of the sectors most affected by the pandemic: sports and commerce. Bujanda, a Basque surname, made a tough decision this summer: to leave football after 26 years of intense practice in various Asturian teams. His last team was San Claudio, Preferente. Bujanda runs a clothing store in the center of Oviedo and lives with her parents, both at risk. He had to choose. "Leaving football after so many years was a very thoughtful decision. On the one hand, there is the business: if I have to keep isolation due to covid, I have to close. And on the other hand there is the family and the risk that can happen with me playing every weekend ", explains Bujanda. "Soccer was my day to day and it is a way of life. It is a sport that creates an atmosphere of camaraderie. I no longer have that ", he emphasizes. Now, with the current situation, Bujanda has neither football nor the business open due to the restrictions of the Principality. His store is two and a half years old and was going from strength to strength: "Let's see if we can get out of this one."