The coronavirus detection test round that all teams undergo before each game is a new moment of tension in this pandemic football. In the last three games, Madrid suffered the casualties of four players after knowing the results of the tests. Militao fell before the first game against Inter, Casemiro and Hazard in the previous Mestalla and Jovic after returning from the Serbian concentration in the national team break. The forward still has several days of isolation to fulfill, the Belgian has already returned against Villarreal, while the two Brazilians took a false step and an indeterminate result (when they had already rejoined the team after testing negative previously) prevented them from facing each other. to the groguet team.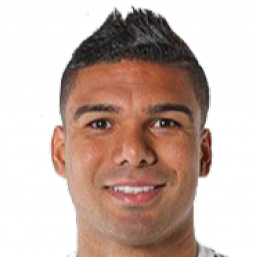 Casemiro and Militao will again undergo a new test this Monday that clarifies the indeterminate result that last Friday showed. The test will determine the availability of both for the decisive match that awaits them at Giuseppe Meazza. Their presence is important given the shortage of troops that Zidane suffers. In addition to the aforementioned Jovic, they will not be able to face Inter Odriozola, Ramos and Valverde, losses to which must be added the doubt of Benzema, who this Sunday still trained individually.
The return of the midfielder is vital before a meeting of the demand that awaits Madrid in Lombardy. Until his positive, Casemiro had played, with more or less minutes, all Madrid games this season. And the situation in the center of the field, without Valverde, is complicated. Without the paulista or the Uruguayan, Zidane had to modify his drawing at the Estadio de la Cerámica. He resigned from 4-3-3 and opted for a 4-2-3-1 that, although it is not alien to him, makes Madrid more fragile in the center of the field.

Champions League
* Data updated as of November 22, 2020
Madrid suffers without Casemiro. Without going further, the white team has been unable to win in the four games in which the Brazilian has been out of the starting XI this season. Zidane gave him rest against Real Sociedad and Cádiz and the team only got one point at the Reale Arena. In the two matches that Case has missed due to the coronavirus, Madrid only scratched the Vila-real draw.
Casemiro has played the last 13 Champions League games for Real Madrid, in which he has added all the minutes except 33. The last two European games he missed were due to the ankle injury he suffered at the end of 2018. Then he could not play the last two commitments of the group stage: in Rome ( 0-2) and CSKA Moscow's visit to the Bernabéu (0-3).