Although vaccination campaigns are progressing in many countries, including Spain, masks will still accompany us for a while, one of the most widespread protection measures against COVID-19. That is why it is very important to choose well which one we buy. Among the wide catalog of masks that we can find in the market, are the from BSafe Protection Masks, a Alava company with headquarters and own plant in Vitoria-Gasteiz. In addition to traditional surgical and hygienic masks, the company has developed an innovative model that achieves prevent glasses from fogging up.
Surgical masks: BSafe anti fog
It is about surgical masks they own three hats, is it so made of polypropylene and meet all safety requirements. Is it so approved as Type IIR, and comply with the regulations EN 14683: 2019 + AC: 2019. As specified by BSafe, its bacterial filtration is above 98%, being in most cases 99%.
A few days ago, the company revealed the creation of a mask with the same efficiency as a common surgical, but with the advantage that prevents glasses from fogging up, one of the biggest problems that the population has had to face. It is very uncomfortable to walk on the street with noticeably reduced visibility. That is why BSafe has just launched this mask, baptized as BSafe anti-fog, "which practically totally reduces annoying mist of the glasses ".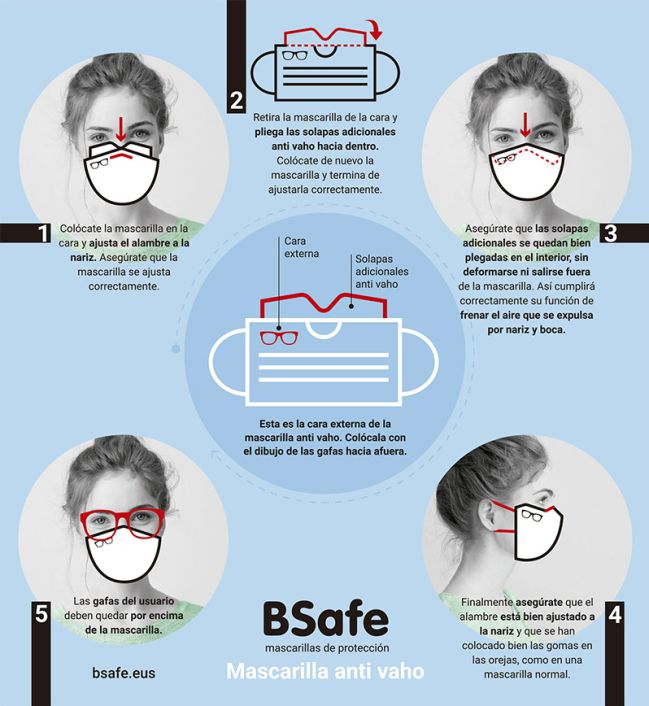 BSafe-stepsbox-z BSafe
"Its effectiveness is the consequence of a unique system of 'sealing flaps' which has been developed and patented by the company's R&D team. These two flaps they are attached to the top of the mask so that once folded towards the inside, obstruct the exit of the air that is expelled through the nose or mouth, which reduces the fogging of the glasses ", they explain from the company.
Price and how to buy
The company does not specify the price of the masks on its website, it only explains that all models go in boxes of 20 units, although hygienic can also be purchased in bundles of 200 masks or in a box of five 'pocket' format units. To place an order, you can contact BSafe via email mascarillas@bsafe.eus or calling 945 290 555.