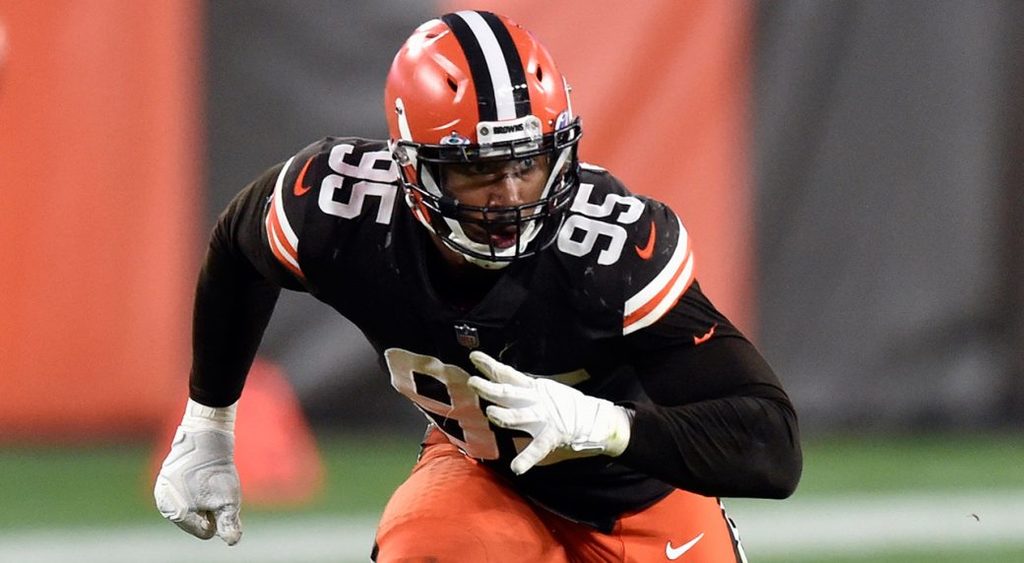 Coronavirus cases continue to increase in the NFL and yesterday the Cleveland Browns and the New York Giants joined the long list of teams affected by COVID-19 infections.
The Browns' dynamic defensive end Myles Garrett, the league's leader in sacks, will miss Sunday's game against the Philadelphia Eagles – and perhaps more – after testing positive for coronavirus, dealing a severe blow to a team of Cleveland trying to end an 18-year streak without a playoff ticket.
The Browns (6-3) will not have Garrett against the Eagles and at the moment do not know when he will rejoin. According to NFL protocols, any player who tests positive for COVID-19 cannot return to the team for at least 10 days after symptoms appear, plus a period of at least 24 hours after symptoms have resolved. missing.
Garrett, 25, stayed home and missed training Wednesday and Thursday because of symptoms. Following their engagement against the Eagles, the Browns will visit Jacksonville on November 29.
Garrett, who has 9.5 sacks this year, will not have a chance to face an Eagles offensive line that has allowed quarterback Carson Wentz to be sacked 35 times, the most in the league.
THREE IN GIANTS
For their part, the Giants announced that three more of their players tested positive for COVID-19. New York, which is off this weekend, received the test results Thursday night and said unidentified players will have to undergo self-isolation. Contact tracing has started.
Earlier this week, kicker Graham Gano tested positive, and punter Riley Dixon and depth kicker Casey Kreiter were ordered to isolate themselves because they had had close contact with Gano. All three were added to the COVID-19 Reservations list.
The Giants (3-7) have registered infections among five players this season. Starting guard Will Hernandez tested positive in late October before a game against Tampa Bay on November 2. He missed two games and returned to the field last weekend against Washington.
New York's next game is a visit to Cincinnati on November 29.
While the Denver Broncos board of directors has announced to their fans that due to the increase in COVID-19 cases, Sunday's game against the Miami Dolphins will be the last to be played with fans at Mile High's Empower Field. season.
The Broncos had allowed 5,700 spectators in the stands. Denver's last three home games this year, against the Saints, Bills and Raiders, will be deputized with no fans present.
👍 I like it 😍 I love it 🤣 funny 😮 surprised 😡 angry 😢 sad