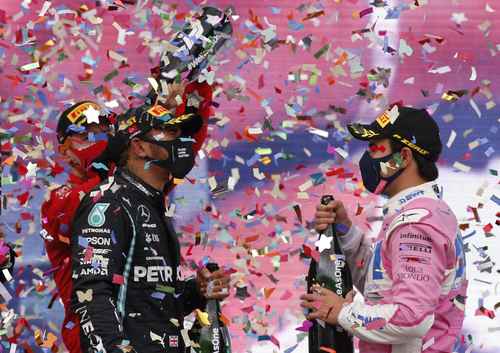 ▲ German Sebastian Vettel pours champagne on Britain's Lewis Hamilton and Mexican Sergio Pérez (right), who finished second in the Turkish GP. Photo Ap
Ap and Afp
La Jornada newspaper
Monday, November 16, 2020, p. 2
Istanbul Sergio Pérez finally achieved a podium finish of the season, the ninth of his career, finishing in second place at the Turkish Grand Prix, where Britain's Lewis Hamilton won his seventh Formula One title to extend his record to 94 victories.
An elusive podium for the Mexican – who had not been up to be awarded since 2018 – with Racing Point, from where he will be relieved the following campaign by German Sebastian Vettel. The team was responsible for Checo not achieving that podium twice, the last one even recognized by the team itself as a bad decision.
As for Hamilton's seventh title, he is now tied with Michael Schumacher, after replacing the German at Mercedes in 2013.
The British driver only needed to finish ahead of teammate Valtteri Bottas to claim his sixth Mercedes title. The Finn finished in 14th position after a poor start. Hamilton's other title was with McLaren in 2008.
The victory on a complicated track and with rain also served to claim respect, by ensuring that this result is not only the result of driving a Mercedes, the best machine in the competition.
I think I deserve respect. I have it from the rest of the drivers who know that a day like today is very hard and that the result has nothing to do with the car, he agreed.
Hamilton appeared to be crying when he spoke on the team radio moments after crossing the finish line in Istanbul.
Dream of the impossible
This is for all the kids who dream of the impossible, he said. They can do it.
The Brit started in sixth place, but took advantage of mistakes and poor tire strategies from other teams to win this race for the fourth time in a row, his 10th in a season in which he has been dominant.
I know I often say that it goes way beyond my wildest dreams, but all my life I have secretly dreamed of being as tall as this, he commented; This ambition seemed so far-fetched. I remember watching Michael win all these world championships. Getting one or two or even three is so difficult. Seven is unimaginable.
Hamilton finished 31 seconds ahead of Checo Pérez and Ferrari German Sebastian Ve-ttel, who beat teammate Charles Leclerc for his first podium of a difficult season.
It was also the Mexican driver's first podium of the season, while teammate Lance Stroll finished ninth, despite leading for much of the 58-lap race.
Stroll started ahead of Red Bull's Max Verstappen on a slippery and resurfaced circuit, which had not been used in Formula One since 2011 and described as an ice track by Hamilton.
A chaotic start where Versta-ppen skidded as Hamilton moved into third position only to lose control and be overtaken by Red Bull's Alexander Albon and Verstappen.
Vettel made a great move to climb from 11th to third place while Bottas spun and went off the track.
The impatient Verstappen went too far to try to pass to second place from Checo Pérez and lost control, causing him to run off the track twice.
Halfway through the competition, Stroll and Pérez were ahead of Hamilton, but were losing ground. Stroll came in to change tires on lap 37 and Hamilton used the DRS to pass Perez a lap later and take the lead.
Czech will be replaced by Vettel at the end of the season and Racing Point will change its name to Aston Martin. That leaves the Mexican without a team, despite being in his prime at 30 years of age and with nine podiums on his record.
You have to be delivering everything every weekend. You are as good as in your last race, Pérez commented; so it is important to finish well, but the rest is no longer in my hands.