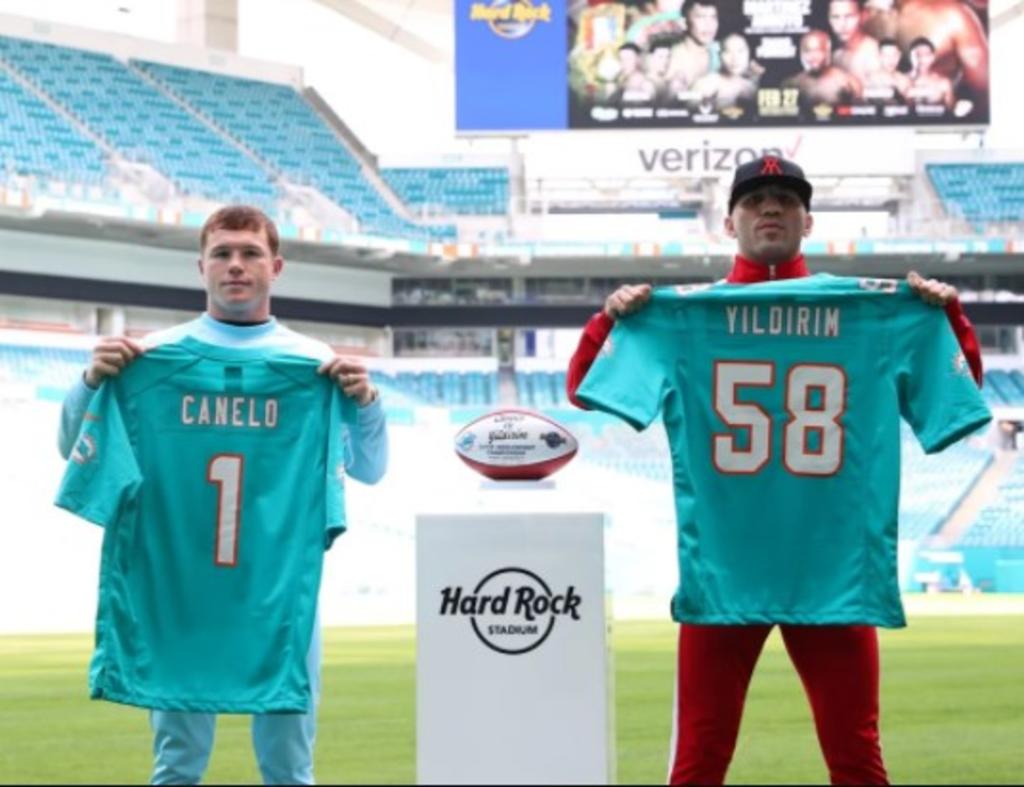 Just under three years later, Saúl Álvarez (54-1-2, 36 KO's) and Avni Yildirim (21-2, 12 KO's) met face to face again, although this time it was not in a training session, but as the men who will decide the super middle champion of the World Boxing Council (WBC) and the World Association (WBA), belts that -for now- belong to the Mexican.
The "Canelo" and his Turkish challenger had the first "face off" of the week, and it was in a very peculiar way, since it took place on the hard rock stadium, home of the Miami Dolphins in the NFL and headquarters of their fight this Saturday.
@Canelo and Yildirim with the @MiamiDolphins swag at the @HardRockStadium #CaneloYildirim pic.twitter.com/jKXz5bTEQb

– Matchroom Boxing (@MatchroomBoxing) February 22, 2021
Álvarez and Yildirim posed with jerseys from the Florida franchise. The tapatío showed one with the number '1', while the ottoman showed one with the '58'.
Almost three years ago, when Saúl was preparing to face Kazakh Gennady Golovkin, Yildirim was one of his sparring partners, due to his complexion and reach of arms. This time, he will be his challenger, in pursuit of snatching the super-medium sashes he owns.
#CaneloYildirim • @HardRockStadium pic.twitter.com/inOmnbYv9X

– Matchroom Boxing (@MatchroomBoxing) February 22, 2021
👍 I like it 😍 I love it 🤣 funny 😮 surprised 😡 angry 😢 sad