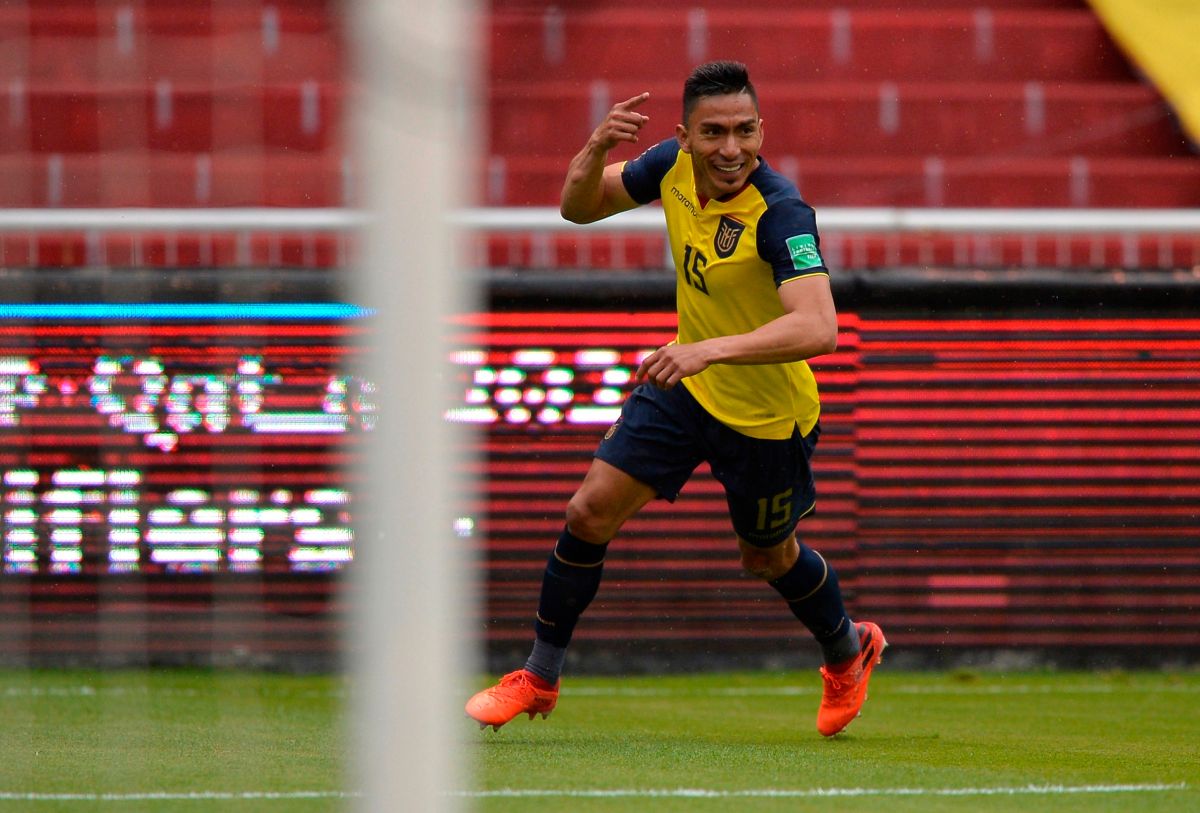 Ángel Mena is the leader in assists, with 3, and adds 2 goals in his individual account.
Photo: Rodrigo Buendía / .
Two players from the Ecuador squad stood out on the FIFA date recently concluded, in which days 3 and 4 of the World Cup qualifiers were played for Qatar 2022.
The entire team, from the coach, did a great job and achieved the goal of getting the six points, but among them Ángel Mena and Beder Caicedo shone brighter.
Mena is currently the leader in assists (3) in the tournament, and in these two dates he achieved the 2 goals that he has in his individual account so far. Against Bolivia he scored the second goal, the one that gave his team a boost to win the game in one of the most complicated customs in South America: La Paz.
The 32-year-old forward has a long history as a successful scorer, especially from 2014 to date, since he exploded with Emelec and scored 43 goals in his last three seasons with the Ecuadorian club, which attracted the attention of the Mexican teams and that led him to sign for Cruz Azul in 2017, scoring 7 goals in his debut season. Then came the ups and downs and he was loaned to León, where he was reborn from his first campaign, in which he was crowned scoring champion, with 14 goals, in the Clausura 2019. In the current tournament he has 7 goals in 12 games and, in great partly because of him, the emerald team finished as number 1 in the regular phase of the Mexican championship.
@DIRECTVEcuador Player of the Match: Ángel Mena was chosen as the figure of 🇪🇨 #LaTri in the 6 × 1 victory against 🇨🇴 #Colombia on Date 4 of the ⚽️ #Eliminatory. pic.twitter.com/EuyU95Ipil

– futbolecuador.com (with 😷) (@futbolecuador) November 18, 2020
For its part, Beder Caicedo entered both games as a refreshment, but was decisive in both and in a short time made more than many headlines: against Bolivia He debuted as a scorer with the La Tri shirt and he scored the equalizer that prevented a possible debacle in La Paz. His goal was the first that made the fans dream seriously of Qatar 2022. He scored when nobody believed too much in Ecuador. Against Colombia he reaffirmed his talent. He entered the substitution in the second half and fully fulfilled his work as a defense, but not only did he do that, but he went further, joining the offense through the left lane and creating danger in the coffee area.
GRANDE BEDER 🇪🇨⚽️👏🏼 # BederCaicedo scored his first goal with the Ecuadorian National Team shirt 🇪🇨 and couldn't hold back his tears 😢. pic.twitter.com/rNKYrNhT95

– Imperio Futbol EC (@ ImperioFutbol11) November 13, 2020
Caicedo, 28, plays for Independiente del Valle and was runner-up in the Recopa Sudamericana last February.