Otto Wallin wins decision over Dominic Breaze Robert Easter Jr. dominates Ryan Martin
Former four division world champion Adrien "The Problem" Broner returned from his two-year hiatus from boxing with a unanimous decision victory over Jovanie santiago in the main event of Saturday night's SHOWTIME CHAMPIONSHIP BOXING telecast. , live on SHOWTIME from Mohegan Sun Arena in Uncasville, Conn., at a Premier Boxing Champions event.
The popular attraction was Broner (34-4-1, 24 KOs), who last fought legend Manny Pacquiao in January 2019, started slowly but used the second half of the fight to advance the scorecards of the judges. The fight was scored 116-111, 117-110 and 115-112 and the three judges made Broner win rounds seven through ten.
"That was great," said Broner, who raised his hand for the first time in four years. "I want to go home and really watch my fight. I haven't fought in two years. But I felt good, I felt like I had won the fight. I felt like I had beaten him with the jab, honestly. But it felt good to raise my hand. "
Cincinnati's Broner landed just 35 of 138 punches in the first six rounds of the fight, while previously undefeated Santiago (14-1-1, 10 KOs) landed 93 of 305 during the same stretch. At the end of the fourth round, Santiago had a point deducted for a punch that landed after the bell. In the final six frames, Broner landed 63 of 300 punches while Santiago landed 114 of 392. Broner was most active in the ninth round when he landed 14 of 38 punches. Although he was outmatched for the entirety of the fight, Broner landed quality punches during the second half of the fight, earning him the victory.
"I knew it was going to be tough because he is 14-0," added Broner. "And anyone who has that '0' wants to keep that '0' so they will fight like a tramp fighting for a sandwich. I went in and finished the job. There's a lot of work going on at 140. Right now we're going to the drawing board with Al Haymon to see what's best for me. But I will definitely be back in the gym and looking forward to one of those titles this year at 140. "
Unofficial SHOWTIME scorer Steve Farhood scored the fight 114-113 in favor of Puerto Rican Santiago, much to Broner's chagrin. Santiago, on the other hand, was not surprised by the judges' scorecards.
"No, the decision does not surprise me," he said. "Broner did a good job there. The decision could have gone both ways. He fought a great fight. We were in it to win this fight and he made the decision. I think boxing fans know who I am now, but in this fight I should have applied more pressure and the fight would have gone my way. "
In the co-main event, the Swedish heavyweight contender Otto Wallin (22-1, 14 KOs) continued his rise in the division with a unanimous decision over the former world title challenger Dominic Breazeale (20-3, 18 KOs). The judges scored the fight 117-111, 116-112 and 118-110.
Veteran Breazeale, whose only two previous losses were to unified champion Anthony Joshua and former WBC champion Deontay Wilder, showed signs of rust in the ring after a 21-month layoff. He started slowly and it was Wallin who was able to get his offense on track early and often. Left-hander Wallin landed a huge left hand that caused swelling over Breazeale's right eye in the fifth round. He jabbed Breazeale 103-37 and landed more than twice as many powerful shots as Breazeale (129-54).
Wallin, who consistently declared his desire to get over the Tyson Fury fight that he nearly won in 2019 in the lead-up to the fight, scored the most impressive victory of his career in his second appearance on the Mohegan Sun "Fight Sphere."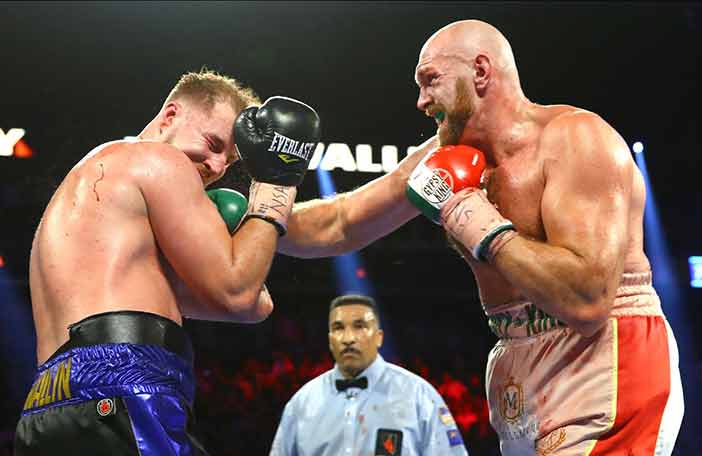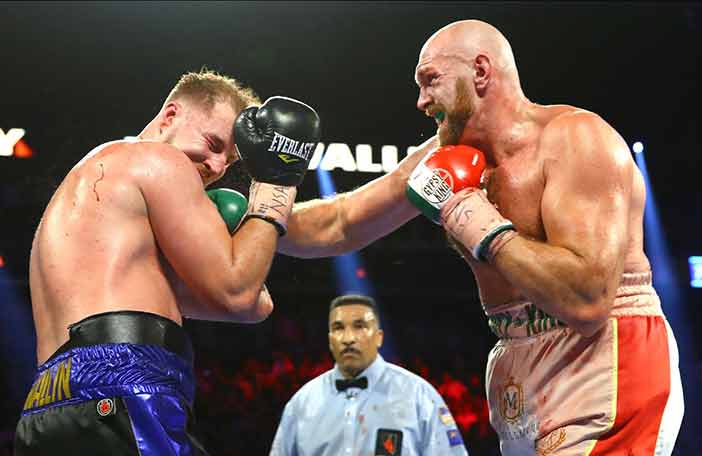 Otto Wallin:
"I think I had an advantage because I fought here before," said the 30-year-old, who lives and trains in New York City with former world champion Joey Gamache. "I was more focused this time and I think I came out better than last time. We knew coming in that he had better footwork, better speed, so I wanted to use that. And I also have a good defense. It hit me here and there, but nothing too serious. " I said before the fight that I just have to do what I'm good at and that's what I tried to do.

"My ultimate goal is to be a champion. But I have to keep improving, I haven't arrived yet. I have a lot of work to do, I am improving. I'm not so focused on who I fight, I just want to fight, keep moving forward and when I get another chance, I'll be ready for that. "
Breazeale:
"I let the first few rounds slip away," said the 2012 US Olympic Breazeale. "Otto is a good fighter and he did a good job hitting and moving the entire fight. I did too many head searches in the beginning and paid for it in the end. "
In the opening fight of the night, the former world champion Robert Easter Jr. (23-1-1, 14 KOs) showed off his championship pedigree with a dominant unanimous decision win over Chattanooga, Ryan Martin from Tennessee (24-2, 14 KOs). The judges scored the fight 117-111 and 118-110 twice.
With the victory, Easter improves to 5-1-1 in fights that have lasted the scheduled 12 rounds, while Martin lost for the first time in 12 rounds.
Easter was strong from the start of the fight, using his jab and movement to dictate the pace effectively. The former IBF lightweight world champion, fighting for the first time in 16 months, was successful in his second bout at 140 pounds. He showed no signs of rust in the ring when he landed 82 of 339 punches and landed 40 percent of his power punches. While Martin was busier, throwing 90 more shots than the Toledo native, it was Easter who was much more accurate as he outscored Martin 161-118 in total shots.
Easter was cut for the first time in his career after an accidental header in the eighth round, but he still continued his dominance for the remainder of the fight in a masterful and serene performance.
"He was just comfortable," said 30-year-old Easter. "Once I stay boxing, I feel comfortable. I get a little bored, but everyone says that when I box, when I use my jab, I keep my distance, I make the fight a lot easier. So that's what I've been working on throughout the camp. My dad and I have been emphasizing using the jab, keeping our distance, and that's what we did. I wanted to fight, but you see, when I wanted to fight, they gave me a head butt. So it was better to keep our distance.
"Whoever has those straps, whoever is on the road is going to feel this anger. AB and I are going to shake up the 140-pound division and that's it. There is no particular fighter, I love them all. We come for all those straps. "
Martin, who was denied the opportunity to represent the United States at the Summer Games in London as a substitute when he lost to Easter in the fans, was unable to exact revenge or execute the game plan that coach Mark Ferrait selected.
"I thought it was competitive, but obviously it could have done a lot better," said Martin, 27. "I followed him too much and he was able to take away our game plan. He did a great job keeping me out. Not much to say, he was the best man tonight. His jab didn't bother me much, but it kept me from getting in. I was never surprised or affected by that, but it should have sped it up a bit more. "
Saturday's broadcast of SHOWTIME CHAMPIONSHIP BOXING will repeat on Sunday at 8:05 am ET / PT on SHOWTIME and Monday at 10 pm ET / PT on SHOWTIME EXTREME.
Veteran sportscaster Brian Custer hosted the broadcast. Versatile combat sports voice Mauro Ranallo called for action alongside Hall of Fame analyst Al Bernstein and three-division world champion Abner Mares. Two Hall of Famers rounded out the broadcast team: boxing historian Steve Farhood as world-renowned unofficial scorer and ring announcer Jimmy Lennon Jr. The broadcast was available in Spanish via Secondary Audio Programming (SAP) with former junior middleweight world champion Raúl "El Diamante Márquez and Alejandro Luna calling to action. The executive producer was a four-time Emmy ® award winner David Dinkins, Jr. The director was Bob Dunphy, son of legendary Hall of Famer Don Dunphy.
The event was promoted by TGB Promotions. Breazeale vs. Wallin was promoted in association with Salita Promotions.