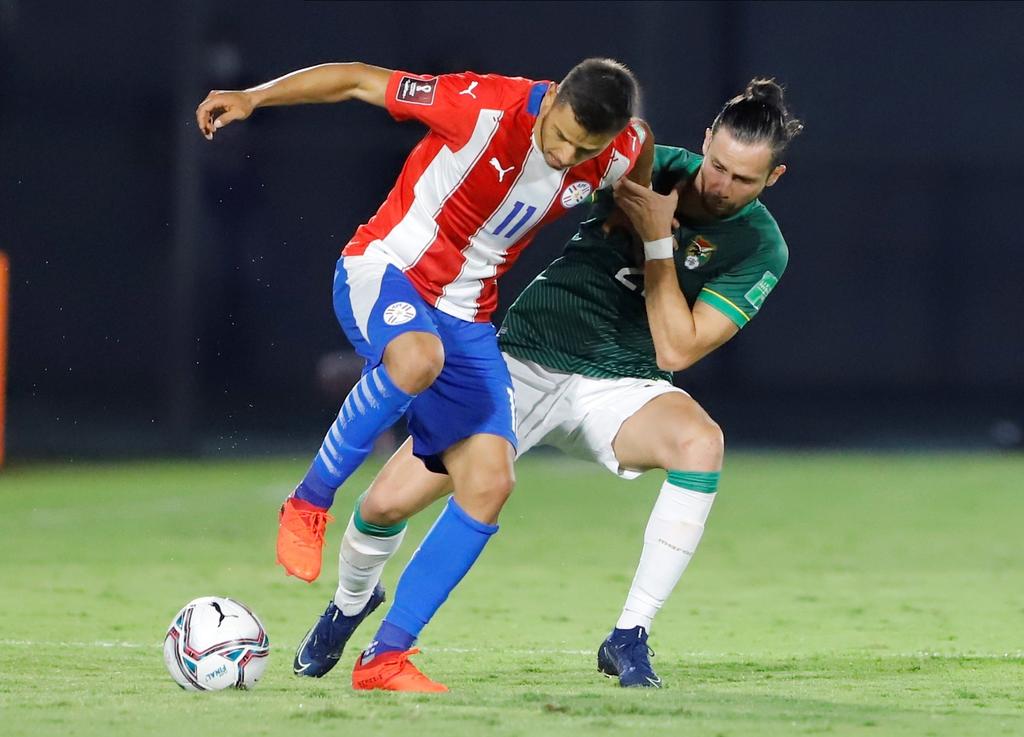 Bolivia broke its losing streak on Tuesday by drawing two goals with a Paraguay that was losing and still without winning at home in this South American tie for the World Cup in Qatar, on matchday four.
Ángel Romero and Alejandro Gamarra scored the local goals, and Marcelo Martins, the best of the Bolivians, and Boris Céspedes, scored for the visitors.
With the result, Bolivia adds its only point, but takes a breath after their defeats against Ecuador (2-3), Brazil (5-0) and Argentina (1-2).
The Paraguayans remain with six points, after their draws with Argentina in Buenos Aires (1-1) and with Peru (2-2) and after their victory against Venezuela (0-1).
Paraguay came out in a whirlwind, with twins Ángel and Óscar Romero as points along with Antonio Sanabria, and had control of the ball for most of the game, but lacked ideas and a game builder.
However, he scored in the 19th minute on a penalty awarded to defender Ronny Montero, who held Paraguayan captain Gustavo Gómez by the shirt.
Ángel Romero beat Carlos Lampe for his second consecutive maximum penalty goal, after last week's against Argentina.
La Albirroja revved engines in search of the second, but without depth and with the only opportunities in the set pieces.
On the other hand, Bolivia went to play it as soon as it verified the null productivity of the locals, so that it launched the counterattack with the speed of the gunner Martins and Edwin Saavedra.
The combination of both had its fruit in 41, when Martins shot just inside the rival area and beat Anthony Silva.
With the Guarani puzzled and their defense leaking, Boris Céspedes made the second of the Bolivians, also in goal, the pending issue for Paraguay.
In the second half, the locals settled in the rival area, but with their usual lack of definition.
In 69 Gómez emerged, turning a great pass from Ángel Romero with his head that the VAR canceled due to the captain's offside.
The equalizer came thanks to Alejandro 'Kaku' Romero, who had entered minutes before and made the second of his team by hooking a ball that Sanabria had stolen.
– Data sheet:
2. Paraguay: Antony Silva; Alberto Espínola (m.61, Hernán Pérez), Fabián Balbuena, Gustavo Gómez and Junior Alonso (m.61, Matías Rojas); Gastón Giménez (m.82, Mathias Villasanti), Ángel Lucena Cardozo (m.56, Alejandro Romero Gamarra), Richard Sánchez; Óscar Romero, Ángel Romero and Antonio Sanabria.
Coach: Eduardo Berizzo.
2. Bolivia: Carlos Lampe; Óscar Ribera, Adrián Jusino, Ronny Montero and José Sagredo; Leonel Justiniano (m.93, Diego Wayar), Boris Céspedes (m.80, Víctor Abrego), Juan Carlos Arce (m.80, Jorge Flores) and Edwin Saavedra (m.93, Erwin Sánchez); Marcelo Martins and Gilbert Álvarez (m.69, Alejandro Chumacero).
Coach: César Farías.
Goals: 1-0, m.19: Ángel Romero, from a penalty. 1-1, m.41: Marcelo Martins. 1-2, m.45: Boris Céspedes. 2-2, m.72: Alejandro 'Kaku' Romero.
Referee: Venezuelan Alexis Herrera admonished Jusino, Pérez, Saavedra and Rojas.
Incidents: match of the fourth day of the South American qualifiers for the Qatar World Cup played without an audience at the Defensores del Chaco stadium in Asunción.
👍 I like it 😍 I love it 🤣 funny 😮 surprised 😡 angry 😢 sad