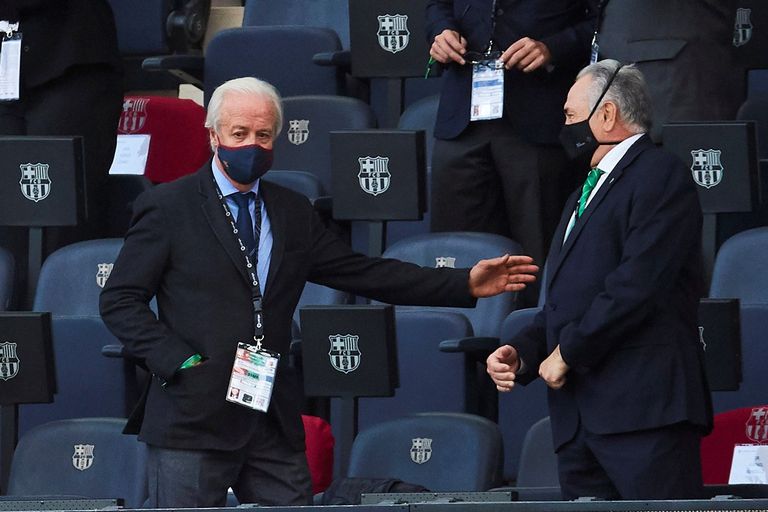 Carlos Tusquets and the president of Betis, Rafael Gordillo, in the last game of Barcelona at the Camp Nou.Alejandro García / .
The elections to the presidency of FC Barcelona will be held on Sunday, January 24, 2021. This was proposed this Thursday night by the Management Commission chaired by Carles Tusquets. The calendar, as well as the voting venues and the logistics of the process, will be announced in the coming days, once it has been agreed that the voting will be carried out in a decentralized manner and following the criteria to be agreed with the Generalitat. Therefore, the call is not official yet and it could be the case that the elections will be held for two days and not just on the 24th.
"We are interested in a huge participation so that the next president, whoever he may be, has a very strong backing from the social mass," Tusquets had assured. The objective of the management committee, according to its president, was to find a date to vote "with all the sanitary guarantees, because they must be representative and with a guarantee of confidence for the next president and the board of directors." On the weekend of January 24, Barcelona play Elche in Alicante. The elections of the Barça entity, on this occasion, do not consider with the match day, a situation that is justified in the current health context after the Covid-19 pandemic.
Electronic voting, for now, is discarded. Despite the fact that Víctor Font, one of the presidential candidates, insists on its use. "We are aware of the legal difficulties that electronic voting and voting by mail are facing right now, both in the legal system of the club and in what depends on the Catalan sports law. But I am sure that with a timely negotiation with the Generalitat and a transparent explanation to the members of Barça, it would allow us to overcome any legal obstacles that may arise, "said Font in a letter addressed to Tusquets. The Chairman of the Management Commission had already given his point of view: "We will allocate all the logistics and employees of our entity. We can organize multiple voting locations and also increase voting by mail. What we will not do is apply electronic voting because it is not contemplated in our statutes or in the sports law ".
Some applicants awaited the call to present their candidacy; It would be the case of former president Joan Laporta and perhaps Joan Rosell, former president of the CEOE. The confirmed candidates are Víctor Font, Toni Freixa, Agustí Benedito, Jordi Farré, Xavier Vilajoana, Lluís Fernández Alà and Pere Riera. The former director Emili Rousaud is also considering the possibility of forming a candidacy.