Erendira Palma Hernandez
La Jornada newspaper
Saturday, February 20, 2021, p. 9
Mikel Arriola, president of the Liga Mx, assured that acts of racism will not be tolerated after Santos' defender, Félix Torres, said he was the victim of a discriminatory insult by a member of San Luis in the match of the day seven of the 2021 Guardians tournament.
Given the events reported in the match between Atlético de San Luis and Santos, I reiterate that any type of discrimination will not be tolerated in Liga Mx. Once the investigation is concluded, the corresponding sanctions will be established to prevent these regrettable expressions from being repeated, he published on Twitter.
The Liga Mx turned the case over to the Disciplinary Commission to open a file and pointed out that if they determine responsible for the indicated acts, it will be sanctioned in accordance with the established regulations.
He assured that as part of the values ​​promoted by sport there is no room for any violent or discriminatory act on and off the field.
Although an investigation is already underway, Dante Elizalde, president of Santos, told the Espn portal that the San Luis striker, Germán Berterame, was the one who insulted Torres.
It was when there was a quarrel, Berterame uttered those words, and to surprise there is no penalty, nor was it settled in the arbitration certificate, Elizalde lamented.
Matheus Dória, Santos captain, denounced on Thursday night that they launched a discriminatory insult against his teammate Félix Torres when a brawl broke out in the match against San Luis and caused the expulsion of the defender.
Felix was a victim of racism, he is crying in the dressing room, it is not fair, this cannot be allowed, neither here nor anywhere, we want to play with respect, he said at the end of the match played at the Alfonso Lastras stadium.
I apologize for coming to say these things, many people will say that Felix is ​​crying because we lost, but beyond that, with racism it is not possible. All cameras must be checked when he was expelled, suffered an act of discrimination, we have already gone through that, but we have no color difference, we are the same; racism is an old thing, he added.
Shortly after, Félix Torres appeared before the media and saddened he regretted the situation he faced on the field. I feel affected and very sad. My colleagues, no matter what color I have, they love me that way. I love my color and I thank my colleagues for their support. This cannot continue to happen in football, it hits you a lot, he said.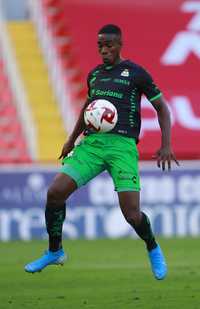 ▲ Félix Torres, Santos Laguna defender, appeared yesterday before the media to denounce the insults he suffered in the match against Atlético de San Luis Photo Jam Media
The media also revealed a video where insults are heard against the whistling Adonai Escobedo for having expelled the San Luis coach, Leonel Rocco.
The San Luis club affirmed that it will deliver all kinds of material in which any physical or verbal violence is exhibited at the same time that it signaled a push from Felix Torres against a basketball player, of the U-17 category and for which he was expelled from the game.
The group of Santos indicated that we await a thorough analysis by the Liga Mx and the Mexican Soccer Federation to reach the last consequences and ensure these football situations are eradicated.
The Mexican Association of Soccer Players rejected any discriminatory manifestation for reasons of race, gender or any other nature.
Gabriela Iturralde, specialist of the National Institute of Anthropology and History on Afro-descendant issues, indicated that beyond imposing only economic sanctions, it is necessary to carry out workshops to raise awareness and educate, because discrimination is a recurring and minimized theme in sport.
He pointed out that if physical aggressions are sanctioned, racism should also be addressed and pointed out that although Félix Torres committed a previous offense, it does not mitigate the act of discrimination of which he was a victim.
Soccer is a place of great excitement and euphoria, but it is not normal for these situations to occur. Change must be sought to be able to respect all people in all their dimensions and the best way is to give dignity to any individual.
Meanwhile, the Red Star club of Belgrade has apologized to Swede Zlatan Ibrahimovic after the Milan forward repeatedly received ethnic insults from a Serbian fan on Thursday during a Europa League game that was supposed to be played without an audience in the stands. .
In images of the party broadcast by the N1 network, the voice of a man can be heard insulting Ibrahimovic on several occasions, especially using the phrase balija (a pejorative term that Serbian nationalists give to Bosnian Muslims) disgusting.