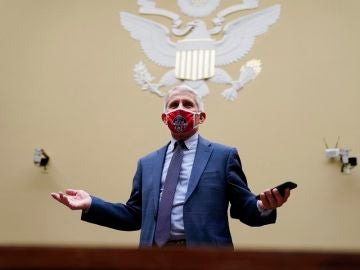 The country with the most coronavirus infections in the world is still the United States, which has already exceeded 11 million; the last million has been added in just 6 days. Anthony Fauci, the chief scientific advisor to the White House, say what Donald trump He hasn't been to pandemic meetings for months. In fact, he has already asked you to let him work with Joe biden.
This is what the virologist has declared in an interview on CNN; Fauci says he would like Joe Biden to assume command as soon as possible to be able to fight the coronavirus pandemic. Furthermore, this doctor believes that between April and July it will be when, in his opinion, it is possible to return to normality.
"Of course it would be better if we could start working with them," said Fauci, director of the National Institute of Allergy and Infectious Diseases from the United States. "As you know, I have been through multiple transitions, having served six presidents for 36 years. And it is very clear that the transition process that we go through … is really important to achieve a smooth delivery of information, since it is almost like passing the baton in a race, "said Fauci.
Return to normal
On the other hand, Fauci pointed out that he believes that the nation could begin to return to "relative normality" by April or July 2021. Fauci warned that the immunity that the vaccines against covid-19 will provide could decline in one or two years , so it would be necessary "get vaccinated" every so often.
The experience of scientists with other coronaviruses, such as colds, "indicates that the duration of immunity it's not like measles, which basically lasts a lifetime, "Fauci said in a virtual chat organized by the British think tank Chatham House.
You will have to be vaccinated more than once
Immunity will be "definitely finite, probably measured in terms of a year or so, or two, but not twenty, thirty or forty years, "said the leading US epidemiologist, who has spent 36 years at the helm of the most important infectious disease research center in the country.
"That means that once we have successful vaccines, which will allow us to overcome the situation we are in, we will probably have to take a good look at their durability, because this could become endemic and it might be necessary to re-vaccinate intermittently, "said the scientist.
"How often (will you have to be vaccinated)? We will have to see that as we study vaccinated people over a period of a couple of years to determine how long immunity lasts, "he said.