The dream of becoming a footballer forced Andrés Fernández to give up his other vocation, the universe of technology. At the age of 19, he left the Higher Technical School of Engineering to go to Palma and try his luck at the RCD Mallorca branch of Segunda B. He did well. Two seasons later he had already made a hole in the elite, where he is on his way to add 200 games, but he had also run out of time to return to university. To continue fueling the curiosity of that child who grew up assembling computers in his living room, he had no choice but to enroll in programming courses and carry heavy technical manuals before facing Messi and Cristiano Ronaldo. Until one day he took a step further. Since he could not dedicate himself fully to thinking and creating innovations, he decided that he would help others who could, first as a startup investor and then as the founder of Biyectiva, a leading company in artificial intelligence.
The 33-year-old goalkeeper from Murcia who defends this season in the colors of SD Huesca in LaLiga Santander embarked on the adventure of starting in 2018, when he was still playing for Villarreal CF. Felipe Segura and Rubén Martínez, two engineers aged 29 and 33, found out that there was a certain Andrés in their land, a kind of patron whom they had never heard of, and they went to see him at his house to tell him about their projects. As often happens in summers, the crush was immediate. In a couple of months, the three of them became partners and the footballer took his new teammates out of the room of a shared flat that served as an ideas laboratory to set up a spacious office in Cartagena. "He told us: 'you are the geniuses' and gave us all the confidence," explains Segura, one of the founders of Biyectiva.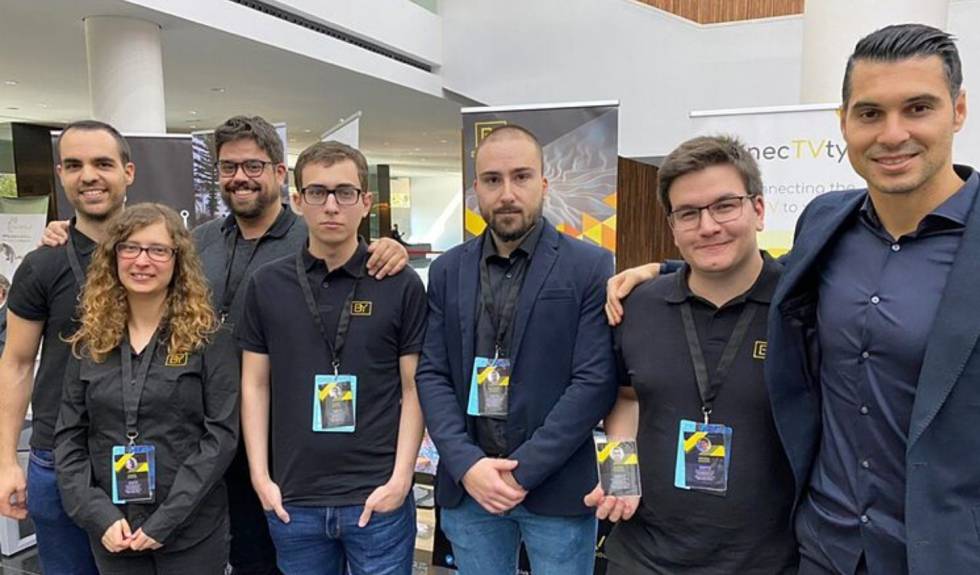 Members of the Biyectiva team with Andrés Fernández, at the far end of the image on the right, and Felipe Segura and Rubén Martínez, at the opposite end of the photo. Bijective
Despite the unforeseen pandemic, the company, which has ten employees, continues from strength to strength. Its solutions based on machine learning techniques are applied to clients as diverse as the Martinavarro Group, one of the main citrus producers in Europe, or the Ripoll y De Prado sports clinic, which has treated stars such as Pau Gasol or Xabi Alonso. They have also patented a series of tools, including a system that processes invoices and forms, reducing the work of an accountant for hours to a procedure of just one minute.
In his spare time, Fernández continues to apply the principles he learned from his family. "At home, before we started playing they forced us to learn. My father is the one who brought the first computers and encouraged us to do all kinds of activities that opened our minds, "he explains by phone. For this reason, when the competition allows it, and without skipping the guidelines for eating and resting, he prefers to sit at a table to resolve matters rather than watch series or go out for a coffee. He does it from four to eight in the afternoon and together with his partners by videoconference at least once a week. "They are the ones who carry the day to day, but we review the general situation and the issues to be addressed."
In front of the computer screen, the doorman goes from being the star, the famous, to a work colleague. "We don't know much about football, nor do we find out if they score a lot of goals," says Segura, an industrial engineer by training, with a laugh. "His role was key because he had the clairvoyance to see something that we didn't even see. When it comes to motivating us and giving us an external point of view, he is a crack. In addition, its role of representation is key because it is in contact networks. Rare is the week that they don't introduce us to someone ", he adds.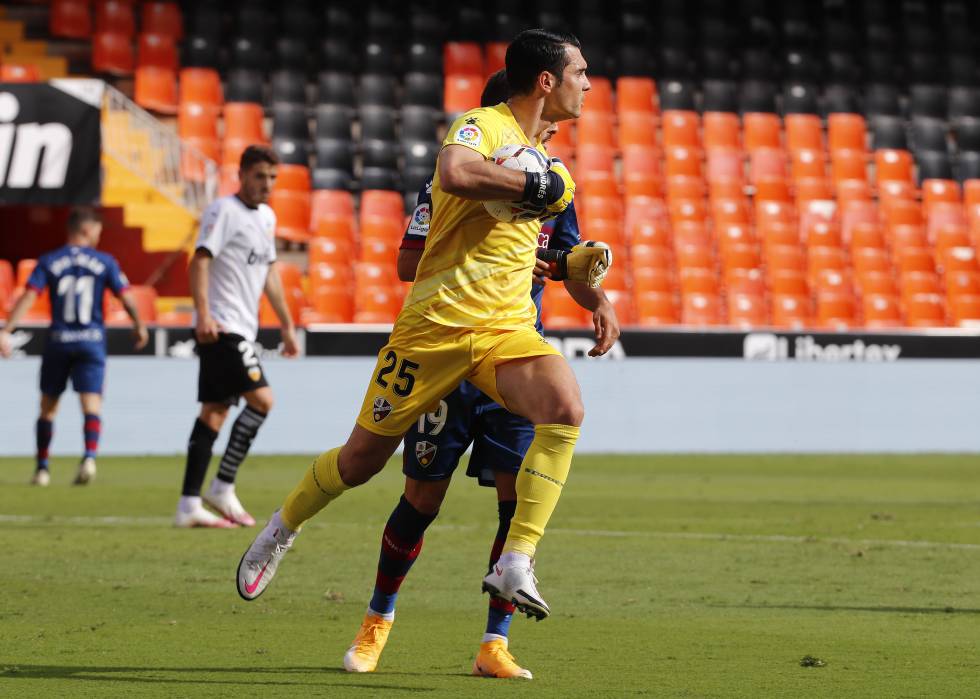 SD Huesca goalkeeper Andrés Fernández in this season's match against Valencia CF. The league
Inside the dressing room, the player's teammates, who have also passed through the ranks of CA Osasuna or Granada CF, have taken advantage of their status as a technological expert. Some to be interested in how profitable investments in the innovation sector are and others, the majority, to solve small mishaps and doubts of daily life. "Before going to buy they usually ask me, but above all they came to ask me when the Mac asked them for an update and they didn't know what to do."
The goalkeeper who began practicing athletics before playing soccer has always tried to have other occupations and commitments beyond dressing short for the weekend. Proof of this is his love of reading, which ranges from novels to biographies of businessmen such as Disney CEO Robert Iger, and his adherence to the Common Goal project, in which he became the first Spanish soccer professional to donate 1% of your salary to solidarity causes.
After making his debut in LaLiga Santander in 2007, Fernández is still just as clear that he is not going to let himself be absorbed by "the bubble" of football. "This is over very soon and there is a lot of world to explore."
You can follow EL PAÍS Sports on Facebook, Twitter or subscribe to the Newsletter here.