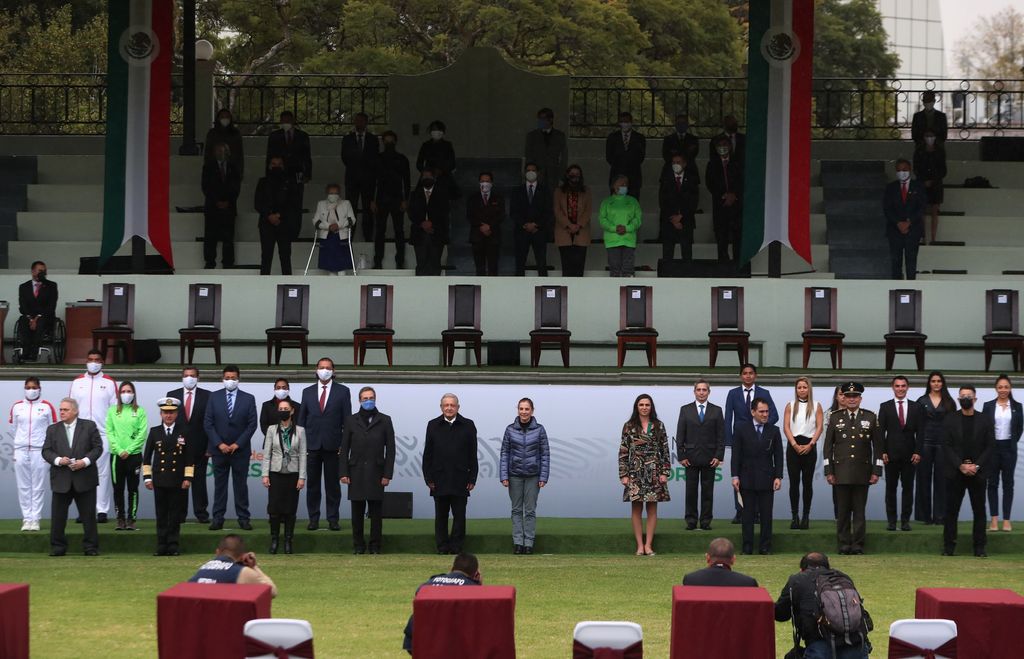 President Andrés Manuel López Obrador led yesterday afternoon, on Campo Marte, the ceremony for the 2020 National Sports Award.
In the presidium, the head of the Executive was accompanied by his wife, Dr. Beatriz Gutiérrez Müller; General Luis Cresencio Sandoval, head of the Secretariat of National Defense; Admiral José Rafael Ojeda Durán, Secretary of the Navy; Claudia Sheinbaum, head of government of Mexico City; Arturo Herrera, head of the Ministry of Finance and Public Credit; Esteban Moctezuma Barragán, head of the Ministry of Public Education; as well as Ana Gabriela Guevara, director of the National Sports Commission.
The 2020 National Sports Award was awarded to athletes, coaches, judges and businessmen who stood out this year in their respective disciplines, this being the 45th year in which it is held.
In non-professional sports, the winners were the Women's Softball Team, which is already classified for the Tokyo Olympics, Jessica Salazar Valles, cyclist and Pan-American champion, as well as Yael Castillo and Juan Celaya, who won bronze in the world series of nailed.
In professional sports, the winner was the tennis player Renata Zarazúa, when she played the second round at Roland Garros.
Juan Diego García López in the discipline of taekwondo won in the Paralympic category.
Diving coaches Sefan Marinof and beach volleyball Jesús González Arreola also received the award, as well as judge Lucía Venegas, central referee of the FMF.
For sporting merit, former pitcher Fernando Valenzuela won the award, while for sport promotion it was received by Mauricio Sulaimán, president of the World Boxing Council.
The National Sports Award consists of a diploma signed by the President of the Republic, a first class gold medal of 0.900, which will be complemented with a rosette and an economic amount of 796 thousand 05 pesos.
👍 I like it 😍 I love it 🤣 funny 😮 surprised 😡 angry 😢 sad